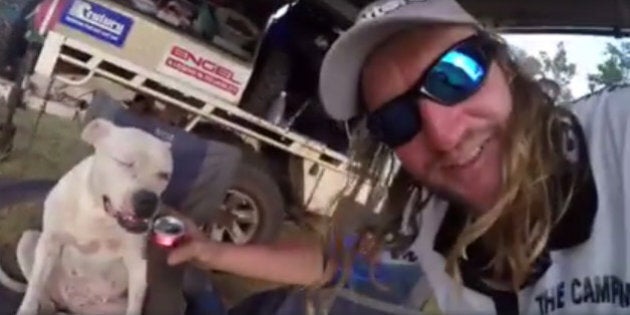 Meet The Camp Man, a fair dinkum Aussie lad who loves the simple things in life: his ute, his music and his dog, Spook.
Sporting a baseball cap, shaggy long hair, a goatee and shiny blue servo sunnies, The Camp Man has uploaded a tip-top video to describe his "life in about three minutes", to "show anyone can live this way".
"This way", evidently, means travelling around north Queensland in his truck, sipping on coldies in the bush and blaring Barnesy on his stereo.
"A lot of people are sayin', 'did you save a fortune to do this?'" he said to his hand-held camera.
"Nah. To be honest, I left with my dog... me swag and me ute [sic] and that's all I had. And I took off with just that."
Since then he's worked various jobs on a banana farm, a pub and has also turned his hand to spinning decks as a full-time DJ.
"I love music, absolutely love it, um... sorry about saying um so much!" he continued, with Jimmy Barnes' 'Strayan classic 'Working Class Man' playing in the background.
"I've built me little empire, and that's me right now. Do I work? Yeah I work. I didn't win the Lotto, believe me I pay for all this."
His little empire includes a swag of batteries, a kennel for his dog, a quad bike, a tinnie and an outboard motor.
"I love taking photos and I love my dog. As long as me and the dog's fed, it doesn't really matter to me, I'm happy."
He then describes "just campin'" as his full-time job. It's probably why he calls himself The Camp Man.
"This, right here, is my life. I don't make plans, plans never work for me. I just go with the flow."
Modern-day Australian life brings with it many stressors, from mortgages to taxes to being constantly plugged in to technology. The Camp Man's simple life? Well, strewth, it seems pretty bloody appealing by comparison.
*Ed's note: Your reward for reading to the end is bonus Jimmy Barnes. Turn your speakers up. You're welcome.