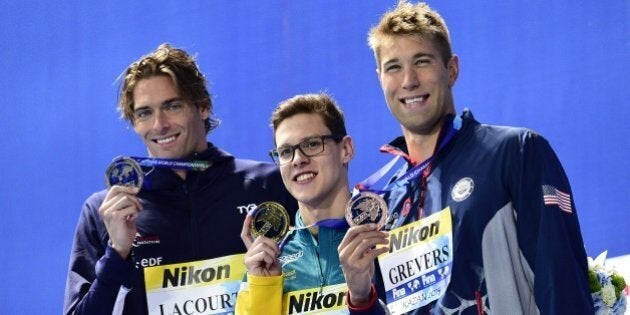 Did you see Mitch Larkin win the 200m backstroke last night? Wow. He was impressive in the 100 too. So impressive that if you If you had to put money on one Australia swimmer winning an individual gold medal at the Rio Olympics, it'd definitely be Mitch.
But who is this superstar who looks like Clark Kent out of the pool and Superman when he's in it?
Well, if you watched the TV coverage of the Australian Swimming Championships this week, you'd have heard that Mitch won both the 100m and 200m backstroke at the world championships in Kazan, Russia, last year.
For these and other feats, he was named Male Swimmer of The Year by swimming's governing body FINA. Yep, swimmer of the year. No Australian had ever claimed that honour before. Not even Thorpey or Hackett.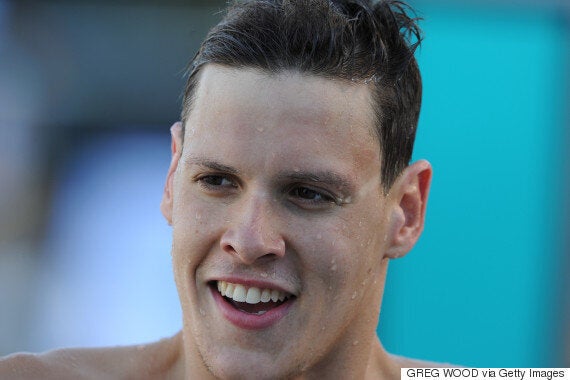 He's as clean living as he is shaven.
But like we said above, who is Mitch Larkin? The Huffington Post Australia caught up with him recently to find out.
Ant: Hi Mitch, let's start with the very important question which we ask every sportsperson. Who would win a fight between a kangaroo and an emu?
Mitch: I'll have to back the kangaroo. They've got some pretty big legs on them and a powerful tail. They'd be a bit quicker, a bit more agile.
Ant: You don't think the emu could do some damage with its beak?
Mitch: I was just thinking which one would I'd rather not be attacked by.
Ant: Clever. So without being in the least disrespectful, most of my colleagues at work haven't heard of you. Admittedly they're not really into sport, but still…
Mitch: That doesn't surprise me too much and to be honest, that's how I like it. I grew up loving sport and swimming and I do it for that reason rather than to become famous or make a name for myself. I think certainly most swimmers know my name now, and young swimmers know my name which I find quite exciting.
Mitch: I'll give you the back story…
Ant: Ha ha, "back" story.
Mitch: Ha! So I was a breaststroker as a pre-teen. Then I became a medley swimmer. I trained significantly for the 400m medley but I came third at the Olympic trials in 2012.
Ant: But that wasn't good enough because only the top two qualified for London.
Mitch: Right. I was pretty upset and disappointed but I'd also entered the 200m backstroke later that week for another swim. My coach Michael Bohl said 'you're fit, it hasn't been the main focus of your preparation but you've done a lot of training and I think you're ready to go'.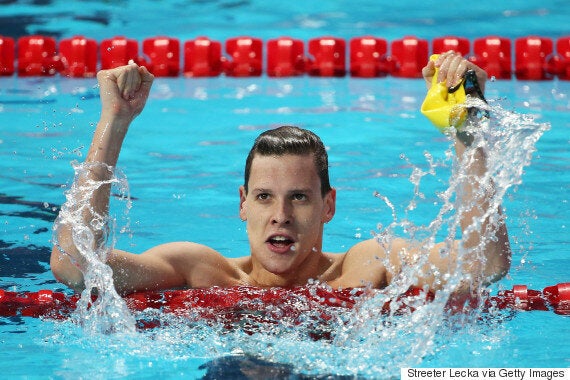 Ant: And you ended up winning the race at the trials.
Mitch: I did. I qualified for the Olympics in an event I hadn't really trained for. After the trials I had about four months preparation for London. I ended up swimming a PB and making the final. For me that was a massive achievement because I didn't expect a gold medal. I was only 18 at at the time and I haven't looked back since.
Ant: Except that when you swim backstroke, you actually are looking backwards. So do you still swim medley at all?
Mitch: I do a bit of medley training to keep things exciting. I'd like to go back to swimming medleys one day but for now it's all about backstroke.
Ant: If I'm swimming backstroke laps at the pool, I'm always worried about slamming my hand into the wall and hurting it. Do you professional backstrokers worry about that?
Mitch: Not really, sorry. Outdoor pools can be a problem because the wind tends to blow the flags at five metres, which is where we count our strokes from. So you can end up a lot closer to the wall than you expect. But at a World Championships or an Olympics, the pools are always indoors so the flags stay in their place.
Ant: But surely you still slam your hand into the wall sometimes. This is important. I've wanted to ask a backstroker this for years.
Mitch: Sometimes I guess. But if you smash your hand onto the wall it means you've had a good finish and you've come in strong. We sort of practise those things a lot and it's second nature. I don't even count the strokes, I just know where the wall is. When my legs and arms are screaming the then I know I'm pretty close to the wall
Ant: Fair enough. So there's that famous photo of you after the 100m at the world championships where as the gold medallist, you're pictured between the Frenchman Camille Lacourt and the American Matt Grevers. Those guys look huge. But you're not actually that short are you?
Mitch: No, Lacourt is 6 foot 7. Grevers, who won gold in London, is 6 foot 8. When they posted those photos, everyone on social media was commenting about me saying 'he's so short, he's tiny' but I'm not that short. I'm actually 6 foot 1. To be honest they're probably the two tallest guys in men's swimming.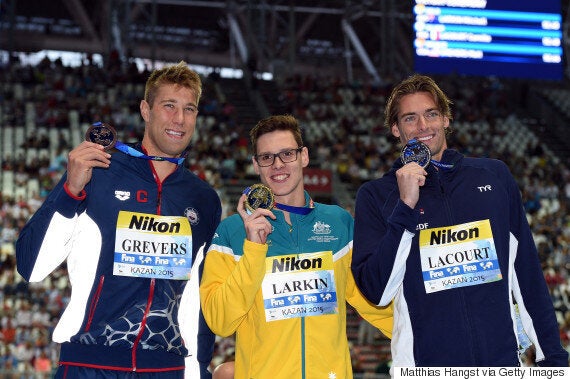 He's hit the very big time.
Ant: So clearly height's not an advantage
Mitch: Not necessarily. It has its benefits. They're pretty powerful guys and both are over 100 kilos but as a result they don't race 200 because they're a little too big and too heavy for that. I'm able to race both the 100m and 200m and I've developed a technique that suits me.
Ant: How different are the two races and which one hurts more? Im guessing the 200.
Mitch: They're both very different and it's hard to say which one I prefer. I have a 200 background through my training. You've got to have a lot more respect for the pacing in that event and making sure you don't go too hard. The 100 is a two lap dash. The 50 is quick as you can, controlled yet fast, then the last 50 is pretty much all you've got left.
Ant: I don't mean to pry but why the glasses?
Mitch: I've got pretty bad vision. I can't see long distances very well. My eyes are getting worse being on the computer studying [he's studying engineering] and focusing on close things. I don't wear contacts when I race.
Ant: A black line's still a black line if it's blurry.
Mitch: Yeah but scoreboards are hard to read sometimes. I had absolute no idea what happened at the world championships. After my heat of the 100 I saw a time of 53.5 on the scoreboard and I was thinking that was a pretty good swim. It wasn't till I got out that I saw it was a 52.5.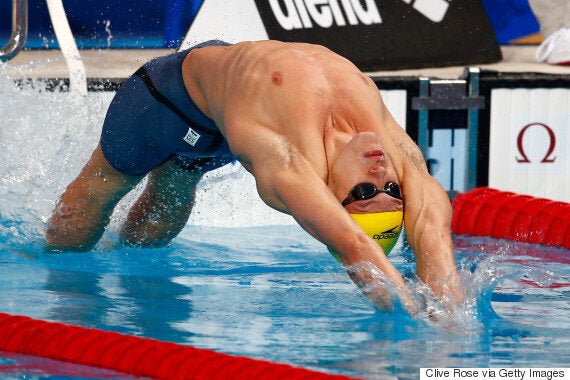 He's now the arch enemy of the international backstrokers.
Ant: You've improved so much in the last year or so. So here's a quote from your coach Michael Bohl. This was late last year after you were named Swimmer of the Year:
"His speed must continue to develop and his endurance must also continue to improve. There is also more work to be done in the gym and we are working very hard on improving his starts and turns.
Ant: So basically, you've got nothing and everything needs improvement. Talk about a hard taskmaster! Or was he just playing mental games?
Mitch: He's serious like that you know. After I won the 100 at the world championships, I came back to him with a big smile on my face and he said 'that's solid'.
Ant: 'That's solid'. That's all he said?
Mitch: Yeah I was like 'are you kidding me? This is something you dream about as a young kid. This is the win we've been really working towards and your answer is solid'? But in a way he was right. As soon as you're complacent then people overtake you, and before you know it they've got better speed and better skills. There are always areas to improve. He's a hard man to please but I just thank him for that.
Ant: If you win an Olympic gold medal, do you think he might give you a 'good' rather than a 'solid'?
Mitch: I really hope so. I'm always aiming to get a 'good' out of him rather than a 'solid'. If I end up winning with a slow time or if I've had a bad turn or something, he'll still focus on that. But after the worlds, we spent some time together and he said he was really proud and happy and couldn't have expected anything better. So yeah, if I swim well at Rio, I might get a 'good'.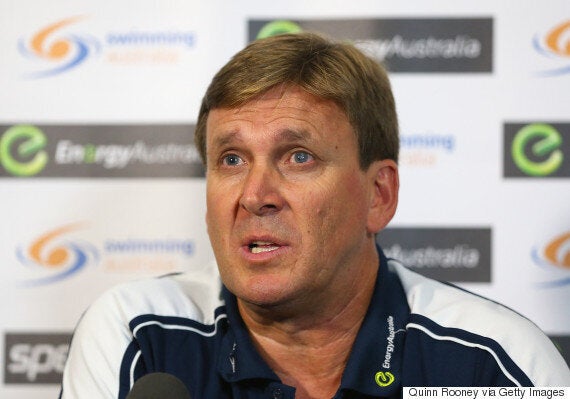 There's no room for Bohl crap where this bloke is concerned.
Ant: In all seriousness, Bohl is renowned as a supreme motivator and a coach who really understands the individual behind each athlete. Is that your experience?
Mitch: That's one of the best things he does. While all coaches develop [training] sets, there's no secret set that makes you a world champion. It's the atmosphere he creates. Like you said, he really understands each individual athlete. He says every swimmer is a lock and the coach has the set of keys.
Ant: Does he have the keys to you?
Mitch: He likes to push my button at times, but I think so. Even this morning, he took time to speak to me and make sure I'm happy and that I'm handling the nerves and pressure.
Ant: Speaking of close relationships, are you willing to chat about a relationship you may or may not be having with your fellow world championship backstroke double gold medallist Emily Seebohm?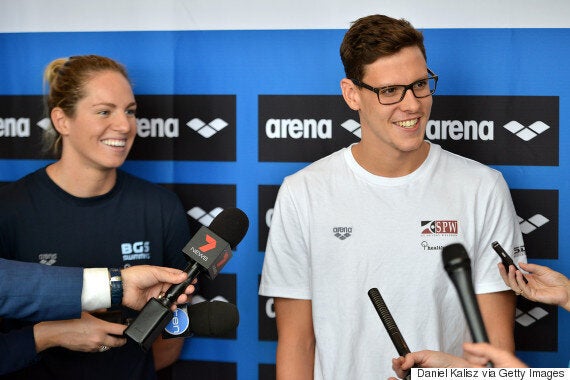 They both won the 100m and 200m in Russia... and each other's hearts.
Ant: Do you guys talk a lot about backstroke technique and stuff?
Mitch: No, not at all. We have so much in common but we don't come home after training sessions and go 'what times did you do?'. We just ask how the session was and go 'good, yeah' and that's pretty much it. Every now and then we do talk a little bit of swimming but that's rare. It's just good to know she supports me and we both know what each other are going through with the pressure.
Ant: The finals start at 10 pm in Rio and could go on after midnight. How are you plannning to deal with that?
Mitch: To be honest that's the last thing on my mind. You've prepared for four years and when you're walking out for a final, you're not going to be looking at your phone or your watch and saying 'oh it's dinner time or it's bed time, I've got better things to do'. You've just got to set your routines around when the race is on and adjust to that. It's such a high intense exciting atmosphere at the Olympics. We'll just try to sleep in later and warm up later. It's no different to the adjustment to jetlag which we do a lot as Australians.
Ant: Seems like every second athlete is called Mitch or Mitchell lately. We had three in the Australian cricket team at the same time last summer. Who is your favourite athlete called Mitch?
Mitch: I'll keep with the aquatic theme and say Matthew Mitcham even though he's just retired. When he dove that perfect 10 in Beijing we were all watching and just amazed at his ability.
Ant: And we're amazed at yours. But how did this all start? There's often an interesting story about how champion swimmers got into the sport. For example Thorpey got into it as a way of dealing with his asthma. How about you?
Mitch: I grew up on the Sunshine Coast where we had a creek in our backyard and it was a five minute drive to the beach. There are lots of photos of me playing in the pool as a kid, I was always in the water.
Ant: Was the creek really muddy and horrible?
Mitch: No the water was quite clean and fresh. It had lots of eels, though.
Ant: Well we hope you swim faster than Eric The Eel at Rio, Mitch. Thanks for talking to The Huffington Post Australia.