Facebook
The murder confession from Sofina Nikat of her 14-month-old daughter Sanaya Sahib has devastated the community that held vigils and searched for the missing baby.
The toddler was reported missing on the weekend, with a claim of abduction from a shoeless man "of African appearance", smelling of alcohol.
As the police investigation moved from the park where the girl was allegedly snatched, to the home where mother and baby spent the evening before, the community reeled from the news.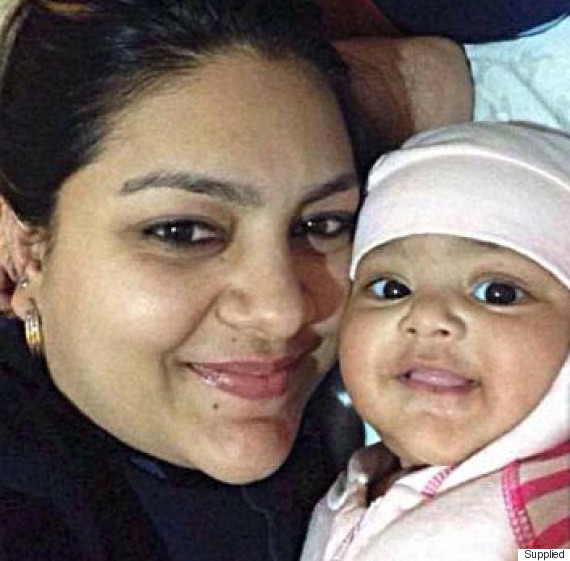 The community of Heidelberg West, 10km from Melbourne's central business district, was the site of the 1956 Olympic Games athlete's village, which was in turn made into community housing.
It's been described as "the town Melbourne forgot" .
A Herald Sun feature describes the late-night scene of Heidelberg West:
"Teens huddle in the park late at night awaiting their next hit. Others linger in laneways to get boozed before leaving behind smashed bottles, takeaway food containers and the ever-strong stench of urine."
Never-the-less, this community sprang into action with news of a missing baby girl. Locals searched the former village site for clues to her whereabouts. Her body was found by a family, who were still out searching past 2am in the morning, because they too had experienced what it felt like to have a missing child.
Police search for missing toddler who vanished from Heidelberg West park. Photo of search by Penny Stephens pic.twitter.com/P8Zvox2cgt

— The Age Photography (@theage_photo) April 10, 2016
As police investigations continued, the Heidelberg FC United club was brought to a standstill for a minute's silence, dedicated to baby Sanaya.
The ABC reported Sanaya's family members attended the match.
"[I'm here] just to pay respect to my beautiful granddaughter, who's no longer with us today," Sanaya's grandmother Zureen Sahib reportedly said.
Today Sanaya's mother was formally charged with murder but was excused from a court hearing amid concerns about her mental health.
The matter is expected to return to court for a committal hearing in August. The community, meanwhile, continues to leave flowers and toys near the spot where her body was found.
Flowers and pink teddies left near Darebin Creek where the body of toddler Sanaya Shaib was found @ACurrentAffair9pic.twitter.com/v6fco83Cpy

— Alicia Muling (@AliciaMuling9) April 10, 2016