When Marvel Comics bigwig C.B. Cebulski met a group of Indigenous Australian kids who'd made a graphic novel of their own, they had something to say to him.
"Oh man you shoulda' got that old guy to play Hulk. He was way better. The new guy sucks! And you should make a new one with a black Hulk!"
It's this type of cheeky pluck that the Love Punks are known for.
In this world, the Love Punks take on the universe in exotic adventures. In real life, this crew is kids from a regional Western Australian town called Roebourne, and is learning all about digital production and storytelling.
Check the Love Punks out here figuring out how to get out of a bind in a futuristic radiation-destroyed world with flesh-eating cannibals, or is it robots?
The NEOMAD series this month won Australian comic book accolade the Gold Ledger Award in Melbourne and and for the 40+ young Indigenous people involved in the project, it's yet another indication that the world can't get enough of their unique combination of ancient culture and modern video game-inspired storytelling.
For writer and artist Stuart Campbell, the real accolades for NEOMAD come from the kids themselves, who continue to find useful applications for the skills they learned on this project.
"Part of the project was done in school, and there's always a hundred complex factors at play but a lot more kids have gone back to school since," Campbell told The Huffington Post Australia.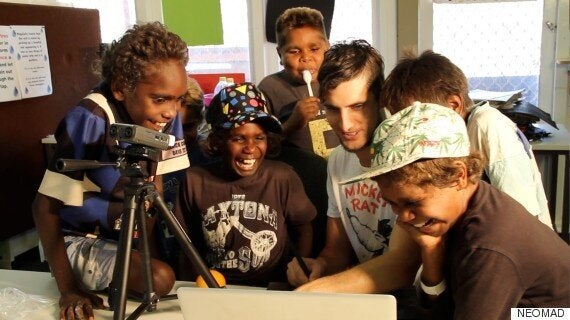 Learning and laughing with Nelson Coppin, Ezekiel Williams, Ashton Munda, Jordan Coppin, Stu Campbell, Jaxon Aubrey and Lester Darby.
"Two kids hadn't been to school in five years and now they're enrolled in an amazing transition school in Fitzroy Crossing designed for kids who've fallen out of the system.
"Then some of the guys have gone on to boarding school in Perth and one of the kids was telling me about how they were in the classroom and started Photoshop and he thought 'hang on a second, I know all about this'. I bet he was king of the class that day.
"Now we're looking at what's next, we're always thinking about ways we can create new projects that leverage off the skills they've learnt."
For Maxie Coppin being part of Love Punks kindled a love of storytelling.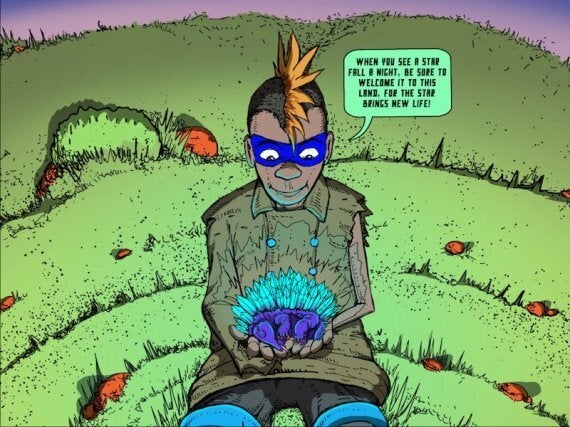 "I want to be an actor now," Coppin told HuffPost Australia.
"When we did the first voiceover for the comic, all the girls and boys were getting shame, but then in the second series, we were starting to get confident.
Since then, he's directed his own short film that has been shown on national station NITV, all in the space of five years.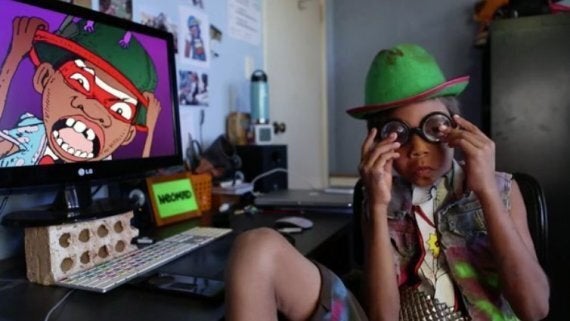 Part of the challenge of creating NEOMAD was to entwine elements of the oldest living culture on Earth with the video game culture the kids loved, all to a backdrop of the Pilbara's stark beauty. Campbell said he had a moment with an Elder that showed him they got the balance right.
"The comic has speech bubbles that you tap on and you hear the voices of the kids," Campbell said. "One of the elders came up to me and pointed out how this oral tradition was so relevant to their culture.
"It was a nice meeting of young and old."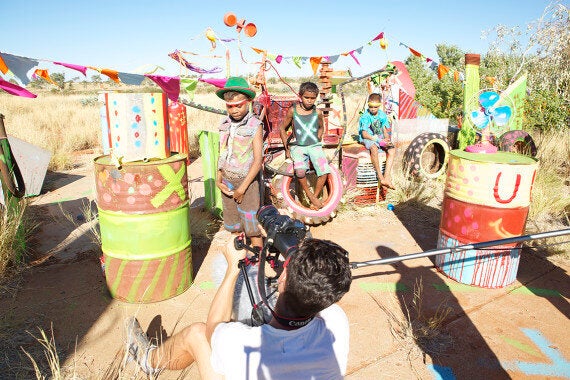 Shooting the Love Punks in the Pilbara.
The graphic novel was featured at ComicCon South Korea (where star Maveric Eaton confronted Marvell's C.B. Cebulski about The Hulk) and has been celebrated around the world from people who've downloaded the interactive app showing a slice of this tiny Pilbara town.
"Only a short drive away, communities are being closed and a lot of the kids involved are from there. It's felt by everyone, Roebourne is very conscious of what's going on.
"In some ways [the success of this project shows we're ] post geography. This animated project shows the value of the people of Roebourne -- that their history and heritage are valuable to Australia.
"NEOMAD has got the attention of some of the biggest commentators in the comic industry.
"It shows there is a lot potential there and also demonstrates just how powerful and interesting the stories and mythology are."