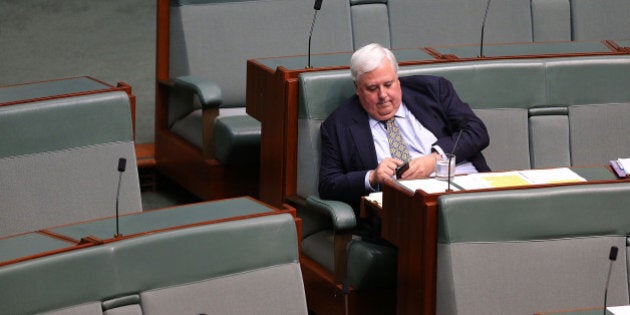 As Clive Palmer continues to defend allegations he funnelled $200 million out of the Queensland Nickel refinery to his other businesses, he compared Scott Morrison's response to the allegations to Adolf Hitler's Gestapo.
It appears that the Federal Member for Fairfax has taken a leaf out of Kanye West's Twitter etiquette book -- tweeting relentlessly while trying to promote something; whether that be a press conference or The Life Of Pablo.
So let's clear a few things up.
Firstly, the Gestapo during Hitler's Nazi Germany were the secret police force predominantly led by Heinrich Himmler. The Gestapo acted outside the federal court system with their own judges and juries.
Morrison's "comments" which Palmer refers to were the ones where the Federal Treasurer said the Australian Securities and Investments Commission (ASIC) would hold Palmer accountable.
"Scott Morrison said he would lean on ASIC to take action against me. His comments were similar to what Commandant Himmler used to use in the Gestapo in Germany," Palmer said on Tuesday at a press conference in Canberra.
Palmer said Queensland Nickel has not received any government bailouts because of his position in parliament.
"Independent government officers in the commonwealth should be free from ministerial prejudice, interference and allow the rule of law to prevail in this country, not political direction," Palmer said.
Palmer's social media activity comes as the Queensland Government rushes to pass new environmental legislation through this week, which will force those who profit from mining to take financial responsibility for the clean up. If the bill is passed this week, Clive Palmer will foot the bill for the Queensland Nickel refinery, instead of taxpayers.
On Wednesday night Clive Palmer called the proposed legislation "draconian", again likening it to legislation in Nazi Germany.
"The structure of it does [seem similar], where the Government can say that you're responsible for something. You don't get a hearing. You don't get an appeal. You have to pay this money to the Government. If you don't, we'll take your assets off you," Palmer said on The 7:30 Report.
"It would allow anyone who is in a position to profit from an organisation or influence it to be liable for any environmental clean-up."
The bill to clean up the dams at Queensland Nickel's Yabulu refinery will be more than $90 million, the state government told the ABC.