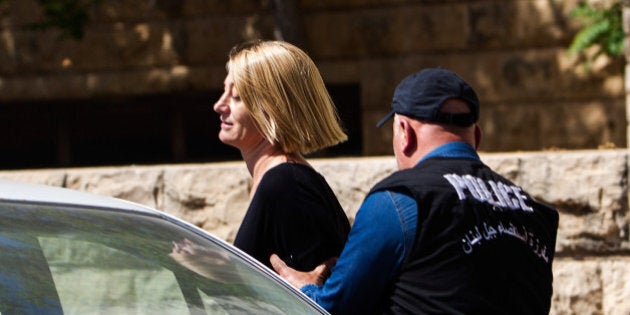 The Nine Network has launched a full review into a bungled child recovery operation involving a 60 Minutes crew, as its members were released from jail alongside Brisbane mother Sally Faulkner, and made the journey home to Australia.
Reporter Tara Brown and the crew, along with Faulkner, were pictured leaving a Beirut prison overnight and are currentlyin Dubai.
Former Australian soldier and "child recovery agent" Adam Whittington along with two others reportedly remain in custody over their alleged part the attempt to kidnap Faulkner's two children from her estranged husband, Ali Elamine.
Elamine has said he had not received a "dime" amid reports the group was released following a financial deal struck by the network.
Nine Network CEO Hugh Marks has announced a full review will be launched into the events which led to the crew's arrest.
The Review will be headed by Gerald Stone, with David Hurley and General Counsel Rachel Launders, "to ascertain what went wrong and why our systems, designed to protect staff, failed to do so in this case", Marks said in a statement.
"We will task the review with recommending the necessary actions to ensure that none of our colleagues are put in a similar position in the future."
But he also said the issue of child abduction was "profoundly in the public interest".
"What has happened to Sally happens all too often and affects thousands of Australian families," he said.
Elamine told Melbourne's 3AW on Thursday he hadn't received any money and he thought members of the 60 Minutes crew "were decent guys".
"I haven't got a single dime," he said
"At the end of the day, I want it over."
However he reportedly told another radio station he was angry at the treatment of his mother by the "child recovery" team who he said had been tossed aside by the three men like a "bag of chips."
"Mum got a concussion and received internal bleeding from three different hits. She's a 70-year-old lady and she got chucked around like a bag of chips. She wasn't much of a threat to three guys," he is reported to have said.
"Someone did that and someone is going to have to suffer for what they did."
Earlier Brown and Brisbane based Faulkner, who was attempting to retrieve her children from her estranged husband, gave an interview to Channel Nine in the back of the car as they left the jail.
"Had a chance to call John -- I was ordered to call home straight away," Brown said.
"But (I haven't spoken to) the kids yet, I can't wait to speak to them obviously, although they have no idea about any of this.
"It's great to talk to home and it's great to be going home."
Faulkner said while she had been well treated by authorities, she was "just so glad to be out of there". She will remain in Lebanon for a future court hearing.
Elamine, dropped the charges against the crew and his estranged wife Sally Faulkner in a deal struck between their lawyers behind closed doors on Wednesday.
After the secretive meeting, they appeared in court for the third time, where Elamine asked the judge to drop the charges against Faulkner and the 60 Minutes team. He reportedly told the judge that he believes they were just doing their job.
They were bailed, but may face future criminal charges.
Channel Nine was reportedly ordered to pay a bail payment before 9pm (AEST) on Wednesday before the crew could be released.
Elamine denied that any money had changed hands between himself and the Nine Network, saying, "I don't care about the money."
Judge Rami Abdullah said "no comment" when asked whether a financial settlement had taken place between Elamine and the Network.
As part of the agreement Faulkner has agreed to allow her children, Lahala and Noah, to stay in Lebanon with her estranged husband, giving up claims to custody. She will also formally divorce Elamine.
On Monday, Elamine had admitted that the children wanted to return to Australia with their mother, but appeared to dismiss their wishes.
"They're kids, they always want what they don't have," he told reporters. "When you take kids to a toy store they want the whole store."
He also dismissed the idea of allowing the children to travel to Australia to visit their mother in the near future.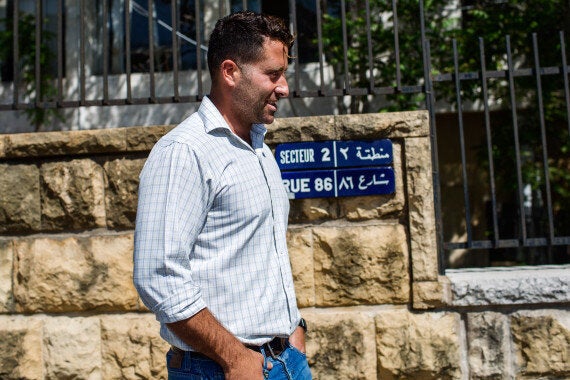 Sally Faulkner's estranged husband, Ali Elamine, leaves the Beirut court on Monday after refusing to drop the charges against Faulkner and the 60 Minutes crew.
However, outside court on Wednesday he appeared more contrite, saying the children will "carry on with their regular lives" but "we'll figure out something with Sally".
While the 60 Minutes crew have been granted bail and the personal charges have been dropped, the judge warned that criminal charges are still in place and the crew will be expected to return for them.
Judge: "I release all the Australian crew on bail because Ali Elamein has dropped the charges"

— Tom Steinfort (@tomsteinfort) April 20, 2016
Judge: "that is the personal charges that have been dropped. But criminal charges remain. They will have to return for them"

— Tom Steinfort (@tomsteinfort) April 20, 2016
Deal DONE in Beirut #60mins case and it's positive says lawyer for mum Sally Faulkner.

— David Murray (@TheMurrayD) April 20, 2016
On Monday, Elamine had said he would not be dropping kidnapping charges -- amongst others -- after Faulkner, the 60 Minutes crew and child recovery service workers were arrested over the botched child recovery of Lahala and Noah.
While the 60 Minutes crew return to Australia, Faulkner will remain in Lebanon. She and Elamine have been ordered to again come before the judge at 11am on Thursday local time with their children.