Network Ten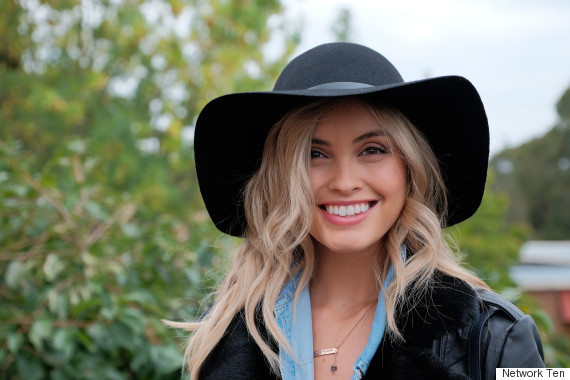 It's been 30 years since Ramsay Street's most iconic couple, Scott and Charlene stumbled into each other's lives, and on Friday their legacy will continue when their daughter, Madison, arrives in Erinsborough.
The youngest child of Kylie Minogue and Jason Donovan's on-screen couple, Madison Robinson will be played by actress and social media star Sarah Ellen.
Ellen, 18, explains her research for the role involved many hours on youtube watching Scott and Charlene marathons, since she wasn't born when her on-screen parents made telly history with their tulle-filled 80s wedding.
"I loved going back and watching the episodes, especially the wedding. They are so cute together. I can see how Australia fell in love with them," Sarah Ellen told The Huffington Post Australia.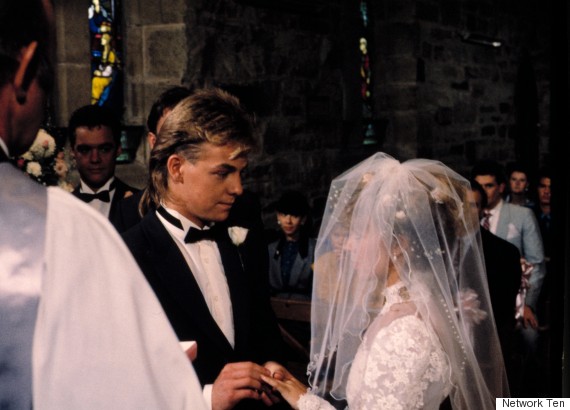 Scott and Charlene's 1987 wedding.
Having met (and taken a selfie) with Minogue on the red carpet at the ARIAs earlier this month, Ellen explains she had to keep her role a secret as it hadn't been announced yet.
"I knew, but Kylie didn't know and neither did anyone else. But when it was finally announced I uploaded our selfie to Instagram and Kylie commented on it -- she said, 'text me when you get to Ramsay Street -- I hope you arrive safely.' She's been really lovely and supportive," Ellen said.
While she couldn't reveal too much about her character, we know that her arrival on Ramsay Street is to check on her brother, to make sure he's making the right decision about his imminent wedding.
"She's a very loving character but at the same time she's extremely cheeky and little feisty like Charlene," Ellen said.
Like her mother, Madison also has a penchant for cars. But as far as her career goes it looks as though she's following in her father's journalistic footsteps.
While doing press for Neighbours in the UK, Ellen also got to meet Donovan.
"He was being interviewing on BBC's 'The One Show' and I surprised him. I came on the set and said, 'hey dad, how ya goin'?' He had no idea, it was really hilarious. I feel very lucky that I got to meet both Kylie and Jason," Ellen said.
Ellen, who became an internet sensation at 14 after uploading a video to youtube of her "dancing eyebrows" has been gradually building an empire of her own with modelling work and collaborations with the likes of YSL, Topshop and Maybelline.
But it's acting that she finds most fascinating.
"I've always been really interested in acting and in the past few years I've been studying it more seriously. What's really refreshing about this role is that it didn't come through social media. I got to go through the audition process like any other actor," Ellen said.
So how does an 18-year-old Aussie girl watch her television debut as the daughter of the country's most loved on-screen couple?
"My friends and I are getting together to watch it -- I'm a little scared! I'm going to be hiding behind a pillow," Ellen said.