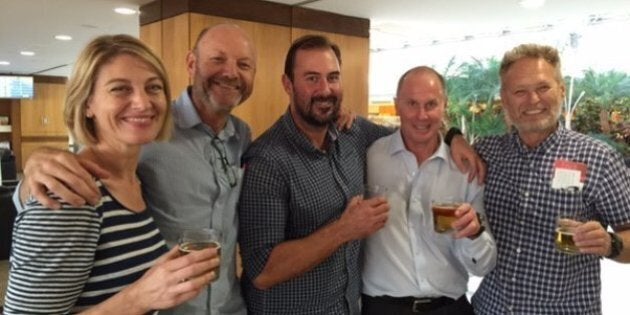 The 60 Minutes crew involved in a botched child-snatch in Lebanon have arrived in Sydney, after being jailed and then released on bail.
Journalist Tara Brown and three crew members were released from a Beirut prison earlier this week after kidnapping charges were dropped and arrived in Sydney about 10pm Thursday night.
"I am just so glad to be home, I am really very happy to be home," Brown said.
Earlier, the crew was pictured with head of news and current affairs Darren Wick, who had travelled to Lebanon to negotiate their release, smiling and drinking beer at an airport lounge.
Brown, as well as producer Stephen Rice, cameraman Ben Williamson and sound recordist David Ballment, have arrived home to speculation the current affairs show may have directly paid the child recovery service as opposed to paying Faulkner for her story.
Estranged husband Ali Elamine, meanwhile, fumbled over claims money exchanged hands after dropping charges against estranged Faulkner and the 60 Minutes crew. The father-of-two also said it was Faulkner's idea to send the pair's children to Lebanon.
Speaking on The Project on Thursday night, Elamine said he would not comment on money exchanging hands elsewhere over a deal made on Wednesday, dropping charges against Faulkner and the 60 Minutes crew.
Elamine said that, under the agreement, Channel Nine will not air the footage and Faulkner has given up her right to custody of the children in Australia. Elamine maintained his position he has not been paid in the deal, but then Carrie asked whether Channel Nine "paid anyone surrounding you or connected to you anything?"
"I can't comment on that," Elamine said.
Judge Rami Abdullah said "no comment" when asked whether a financial settlement had taken place between Elamine and the Network on Wednesday.
Elamine's version of events leading up to the botched child recovery operation which left the crew detained in Lebanese cells for two weeks also varied from Faulkner's past claims.
On The Project, the father-of-two said it was Faulkner's idea to send the children to Lebanon in April 2015 after Noah said he wanted to live with his dad.
"I said, either both of them come or both of them stay with you. It's not that easy. And then she said, 'Well, why don't you take them for the summer?'," Elamine said.
Once the children, Lahala and Noah, were in Lebanon, Elamine said "through the iPad, I just saw things that I wasn't really appreciative of to be happening in front of my kids."
When asked what he didn't like about Faulkner's parenting style earlier on Thursday, Elamine told Kyle and Jackie O: "Lahela kept on telling me mummy's friends would sleep in the same bed and was always around, and I wasn't OK with that,"
Elamine claims to have seen communication between Faulkner and Child Abduction Recovery International which prompted him to keep the kids.
On April 7 Faulkner, the 60 Minutes crew and two child recovery workers were detained under charges including kidnapping, physical assault and conspiracy to commit a crime. While Elamine has dropped charges against the crew and Faulkner, the two child recovery workers remain detained.
The journalists could still face criminal charges in absentia.
Elamine has said his mother was concussed during the child snatching, and someone needs to take responsibility for it.
The Review will be headed by Gerald Stone, with David Hurley and General Counsel Rachel Launders, "to ascertain what went wrong and why our systems, designed to protect staff, failed to do so in this case", Marks said in a statement.