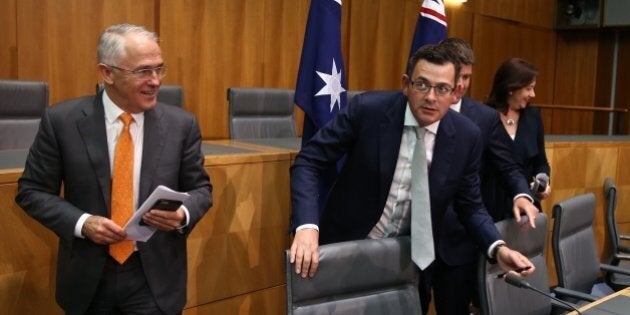 He's no social media superstar like Mike Baird. He doesn't have the NSW Premier's perfect white smile or tanned skin, nor Baird's "cool dad" vibe.
He doesn't have the sophisticated gentleman's appeal of Malcolm Turnbull, the silver fox with the silver tongue. But Victorian Premier Daniel Andrews has quietly established himself as the country's most effective, determined and gutsy leader -- with nary a selfie in sight.
What you will find, however, is a portrait of a leader achieving policy goals with enviable speed.
Andrews' recent political track record reads like a wishlist for Australian progressives. Australian-first program of medical cannabis? Check. A $572 million package for domestic violence, more money even than the federal government spends nationwide? Check. Directly defying Canberra and standing in opposition to cutting funding for LGBTI education program, the Safe Schools Coalition? Check. An Australia-first LGBTI "pride centre" and specific gender-diverse health services? Check. Massive funding boost to drug courts, to better address drug-related crime? Check. A huge increase to legal services for asylum seekers? Check.
Oh yes, and that has all come in just the last month.
Andrews was elected as Premier in December 2014, his Labor government winning the two-party vote 52-48. The winning margin wasn't massive, and his administration holds a slim majority of 47 of the 88 seats in the lower house, but with only 14 of the 40 in the upper house, needs seven of the nine crossbenchers to pass his legislation. Andrews' track record would be impressive enough for a government with a clear majority in both houses, let alone one that constantly needs to negotiate with minor parties to pass anything.
"You can't very well say, 'We have to have gender equality, but equality around sexuality, oh well, well that doesn't really matter, it's a kind of optional extra.' No. Everybody should be treated fairly."
Malcolm Turnbull has seen his massive popularity shrink, and his lead over Bill Shorten cut dramatically, in the wake of a series of half-hearted policy test balloons that were shot down almost as soon as they were tentatively broached. Mike Baird -- Australia's most popular leader, according to the polls -- was once the golden boy of political social media, but his new #CasinoMike nickname has stuck and his recent Facebook updates have been hijacked by opponents of NSW's strict nightclub lockout laws.
Andrews, by contrast, is keeping a low profile online and speaking up when it matters. He still does the stock-standard photos with constituents; shaking hands, opening public facilities, listening intently to voters. But there's rarely a goofy selfie, a photo of his lunch or coffee date, or a #ThrowbackThursday of his earlier days. Daniel Andrews, it seems, is too busy getting stuff done.
As governments around the country agreed to scale back the Safe Schools program, Andrews was the lone voice committing to keeping the money flowing in; indeed, he said his government would fund the program fully, if necessary. As the federal government tore funding from community legal centres and the homelessness sector (which they have recently started to reverse, with $100m for domestic violence and a $30m ad campaign), without much fanfare Andrews announced more than half a billion dollars for family violence.
His government is less than two years into its fixed four-year term. Keep an eye out for what he does next.