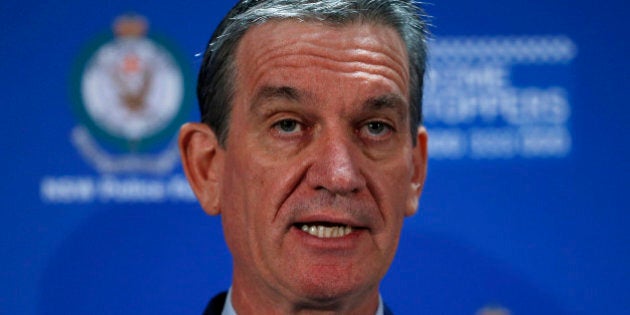 The Sydney teenager charged with planning a terrorist act on Anzac Day was being monitored by police and had been involved in an anti-radicalisation intervention program.
The 16-year-old was in the advanced stages of planning a terrorism attack on Sydney's Anzac Day commemorations, according to police.
The boy was arrested on Sunday near his Auburn home in Sydney's west, accused of attempting to obtain a gun in preparation for a terrorist act at an Anzac Day service on Monday, the ABC reports.
Police had been monitoring his online activity and made the decision to arrest him when the alleged attempts to obtain a firearm were made.
He was charged with one count of acts in preparation for, or planning, a terrorist act, an offence that carries a maximum penalty of life imprisonment.
The matter was heard in the Children's Court on Monday morning. The teenager did not apply for bail but his lawyer, Zemarai Khatiz, said the case would be defended and a bail application lodged when the matter returns to court on Tuesday.
Justice Minister, Michael Keenan, commended police for their efforts on Monday at a media conference in Perth while also urging Australians not to avoid commemorative services.
"People will obviously be concerned about this news and they will be asking themselves whether they should continue to attend Anzac Day commemorations around the country," he said.
"We have to have confidence in the ability of our agencies to keep us safe. The arrest that they made overnight is actually a good example that they have the capability and the tools that they need to do that and again."
Security was ramped up at Anzac Day services following the arrest.
NSW Police Commissioner Andrew Scipione addressed the media at the conclusion of the Dawn Service in Martin Place on Monday, saying that police were unsure which Anzac Day event the teenager had planned to target.
"Officers were forced to act yesterday afternoon. We had to do that in order to ensure the safety of the community," he said.
"Clearly we've taken action with community safety on the eve of the sacred day which is Anzac Day.
Both Scipione and Keenan said that the boy's age was of significant concern.
"Unfortunately this is part of a pattern that we have been observing, where younger and younger people are targeted and incited to go and commit an act of terror," Kennan said.
NSW Premier Mike Baird praised police for the arrest but told NSW residents they should not be deterred from attending Anzac Day services.
"The important point is not to look at the hypotheticals, but to look at the actions that have been taken. Actions were taken by police to prevent actions, to keep us safe," he said.
"My strong encouragement is if you are intending to go, go. This is a day where we should be out there commemorating such a proud day of our history."