Greens MP Jeremy Buckingham has attracted international attention after setting the Condamine River in Queensland on fire - a process which he says is caused by the leaking of methane gas into the river from fracking.
In a video which has gone viral online, the NSW Member of Parliament is seen holding a lighter to the river, which catches alight while the flame is still some way from the water.
"Unbelievable! A river on fire!" Buckingham exclaims as the river is set ablaze, the flames licking up the side of his rowing boat.
"A tragedy in the Murray Darling Basin. This is the future of Australia if we do not stop the fracking, who want to spread across all states and territories and do this to your community, to your environment."
The MP posted a video of the fire on his Facebook page, which had been shared over 90,000 times by Monday night.
The fire continued to burn and spread for over an hour, Buckingham said, and resisted the rowers' attempts to splash out the flames with their paddles.
In a statement published on his website, Buckingham attributes the methane in the river to nearby fracking by Origin Energy, which began in 2012.
The Greens have been campaigning to ban fracking right across Australia, due to concerns about the impact on local environments as well as the impact that methane leaks have on climate change.
The Government has began investigating the causes of the leaks, but is yet to confirm their source.
Professor Barrett is the director of the Gas Industry Social and Environmental Research Alliance, a partnership between the CSIRO and the CSG industry. He told the ABC in February that the methane is bubbling to the surface of the river along a fault line which intersects with the river.
"We know that the methane that is bubbling in that river is varying in time and the reason for that — while it is unknown — could be perfectly natural," he said.
A 2013 report by analysis firm, Norwest Corporation, noted several possible causes for the methane leak, which included drought and the recharging of aquifers after floods as well as coal seam gas operations and water bore drilling.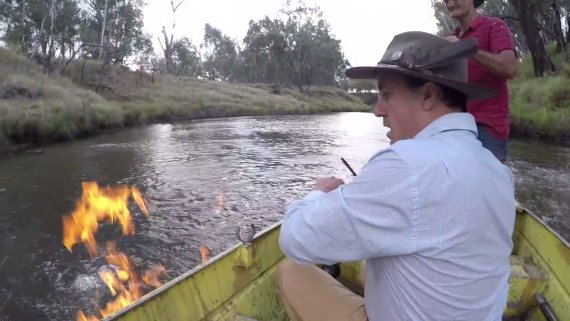 Greens MP Jeremy Buckingham recoils as flames rise up over the side of the boat.
However, local Chinchilla resident, John Jenkyn, lives next door to the QGC Kenya gas field and gas processing facility and says in the Greens' statement he has watched the situation worsen each year since fracking began.
"Over the last few years, more and more patches of bubbles have appeared on the river and the pressure of the gas has increased to the point where it is like an over-sized spa bath. It's a river, it shouldn't be doing that," said Mr Jenkyn.
Another resident, Karen Auty, questions the health implications of the leak.
"As local residents we want to know whether it is safe to live among all these gas wells and infrastructure, what are the impacts on our health?"