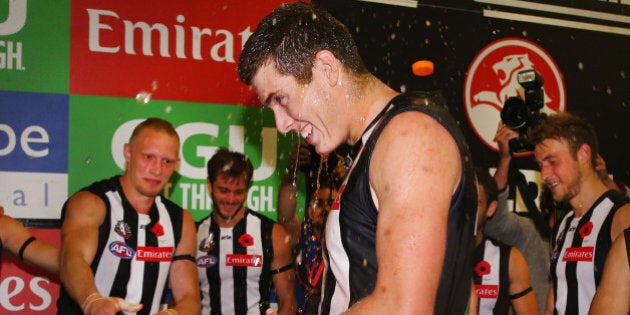 Sky high, Mr American pie. Those five words are all you need to describe Mason Cox, the 211cm Collingwood player who debuted in Monday's Anzac Day clash, kicking the first goal of the game with his first touch of the footy. Nice.
Cox, 25, had never heard of Australian Rules footy until a couple of years ago. At that point in his life he had a job as an engineer lined up in Houston. But one thing led to another, which led to Cox trying out at the AFL "combine" in Los Angeles. That's an event where the AFL does skills and fitness testing on prospective players. Cox tested off the charts. You can read more of his back story here.
Cox was solid throughout the lopsided Anzac Day clash, taking three marks and having ten touches as Collingwood beat the ASADA Bombers 22.10 (143) to 11.7 (73). Essendon Bombers, sorry. Not the ASADA Bombers. Our mistake.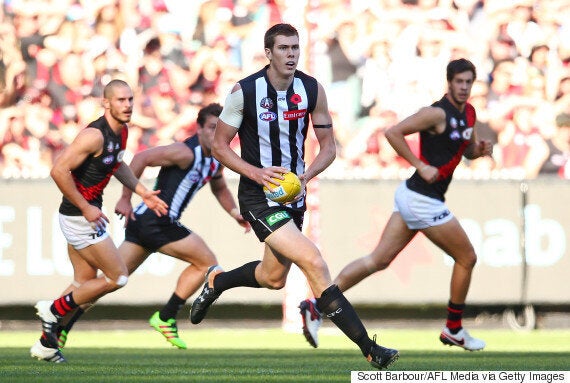 One last thought. If an American can look at home in our national winter sport after just two years, and if Canadian Mike Pyke could win a premiership with the Sydney Swans (in 2012) after barely five years in the game, what does this say about us? Are we perhaps not as good at AFL as we think? Just because we're the only nation in the world who plays the game seriously, how do we know we're any good at it?
Fremantle aren't very good at it right now, that's for sure. They lost to Carlton over the long weekend. The team which many tipped for the flag are now 0 and 5. Nothing sums up their misery better than this. The ball is going through the goal. But Freo forward Matt Taberner needlessly decides to mark it on the line. And then drops it. The coach just filled 100 swear jars.
In other AFL news, Channel Seven has apologised for interrupting The Last Post during its Anzac Day footy coverage. For many viewers, this act of disrespect was the last straw.
Over in the NRL, the Wests Tigers are having an even worse time. They got smashed 60-6 by the Raiders over the weekend, meaning the club which has made the finals just three times in 16 years has now lost six in a row. It also means everyone wants coach Jason Taylor sacked.
Here's the thing about that. A former Tigers player on a Fox Sports panel show used the image below as proof that the coach had "lost the room". Which may or may not be true. But the guy next to him addressing the players? He's one of the assistant coaches who always does so at halftime.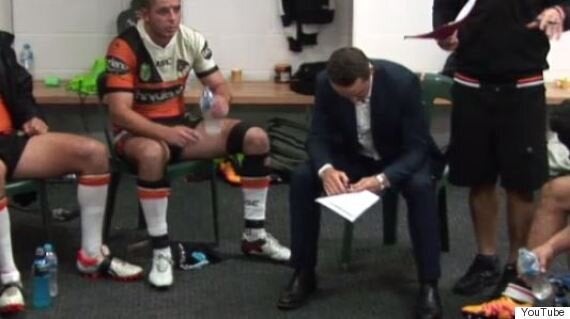 A picture paints a thousand words, most of them wildly inaccurate.
People, we have ourselves one heck of an A-League grand final to look forward to this coming Sunday. Adelaide United will host the Western Sydney Wanderers in a decider featuring the teams who finished first and second in the regular season.
This will be the Wanderers third attempt at winning an A-League grand final. But they almost didn't get there. Down 3-0 against the Brisbane Roar, they somehow concocted an escape. Highlights and analysis here.
Meanwhile in the English football, Leicester City is now officially one win from the EPL title. Leicester beat Swansea 4-0, then Tottenham Hotspur could only manage a 1-1 draw with lowly West Brom. What that means is this. A seven point gap with three matches to go. One win and the title goes to Leicester, who before the season were rated 5000-1.
It also means a lot of jokes like this are being made today. They might be a week premature but people can't resist. It's all about a comment which former star player turned BBC commentator Gary Lineker tweeted in December, saying he'd host Match of the Day in his undies if Leicester wins the league. As you can imagine, there are MUCH ruder ones than this out there.
The basketball news is bad for Steph Curry and Golden State Warriors fans. The point guard has a knee sprain which will keep him out for two weeks, minimum. The finals don't start till June, so if the Warriors can get through the first couple of playoff rounds, they still should be in good shape. They currently lead the Houston Rockets 3-1 in the opening best-of-seven match-up of the playoffs.
And in this week's example of "down low, too slow!" this happened. Ha!