Ryan Pierse via Getty Images
The Sydney Swans club song famously starts with the line "Cheer, cheer, the red and the white". But this weekend fans might be singing "Aliir, Aliir, the red and the white" in honour of Aliir Aliir, a 21-year-old former Sudanese refugee who has been named in the team to play the Brisbane Lions on Sunday at the Gabba.
Aliir's family fled the civil war in Sudan and he grew up in refugee camps in Kenya. He came to Australia when he was nine. To this day, he has never set foot in his native South Sudan, a small landlocked nation which gained independence from Sudan in 2011.
Soccer was the game he played as a kid, kicking battered old soccer balls around the dusty streets of the camp. In Australia, he didn't try Aussie Rules football till he was 14. But he soon showed potential at Brisbane club the Aspley Hornets.
In 2010, Aliir was selected for the World XVIII team to compete at the under-16 national championships. That's when something remarkable happened. On the team bus, Aliir got talking to another Sudanese kid. The two worked out that they were cousins. One thing led to another and Aliir discovered that his sister lived in Perth. She had been trying to find him.
The family reunited from Brisbane to Perth. Aliir remained in Brisbane and soon found himself playing senior footy for the Hornets. His meteoric improvement continued. Overlooked in the 2012 AFL Draft, Aliir was snapped up by the Swans at pick 44 in the 2013 draft. And now, here he is. About to become the second Sudanese refugee -- after North Melbourne's Majak Daw -- to play AFL footy.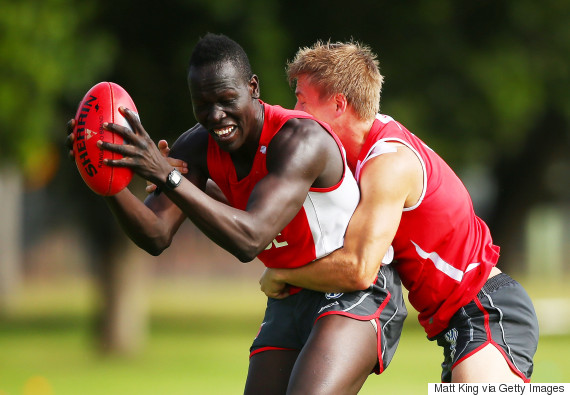 The Swans are Sherrin the love.
Aliir takes the place of seasoned Swans defender Ted Richards, who had a brilliant match last weekend as the Swans crushed the West Coast Eagles. But Richards is recovering from surgery to repair a fractured eye socket. That left coach John Longmire with a couple of options. He opted for Aliir.
And didn't his teammates love it.
"He's awesome, he's a really lovely poisitive guy. Everyone here is stoked for him," a Swans spokesperson told The Huffington Post Australia. "The guys jumped all over him when the team was named."
"He's a very good kick and a good athlete but the thing we've been most impressed with in the last five weeks has been his ability to play on some key position players and play them really well," Swans coach John Longmire said on Wednesday.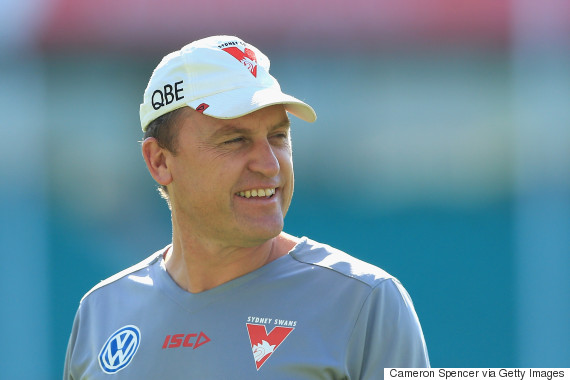 The coach thinks Aliir's form is very aliiring.
"He's been exposed to a couple of quality key position players in the next level down and he'll get exposure to a couple of good ones this week."
And we here at The Huffington Post hope you enjoy this exposure to a good news refugee story on a day when the news of asylum seekers has been deeply disturbing.