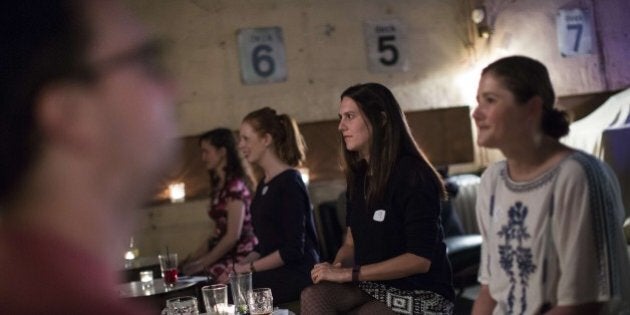 A new speed dating event in Melbourne hopes to help people find the perfect match -- for their working life, not their love life.
Flexible work and job sharing are the new buzz words in employment circles, and two Aussie entrepreneurs have joined forces to create a unique matchmaking night for professional art directors in the advertising industry to 'hook up' with someone to share a role.
Job-sharing startup founders Simone McLaughlin, CEO of Jobs Shared and Rachel Mence, CEO of ShareMyJob both operate online matching platforms to help people find others to share a full time role, and thought it was high time to get people in the real world talking.
McLaughlin is a former ad executive and, although she works across many industries with Jobs Shared, she identified the ad industry as desperately needing a kick-along to make it more job-share friendly.
"It seems to be a bit of a hot topic in advertising at the moment, they have realised there is a massive gender divide in the top creative roles and also flexibility is becoming a key problem in the industry," she told The Huffington Post Australia. "And we chose art direction specifically because the creative side is where they seem to lack the gender diversity the most."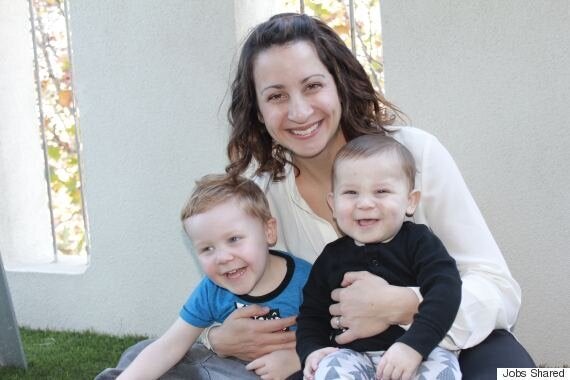 Simone McLaughlin, pictured with her two boys Euan and Oliver, started Jobs Shared because of her own difficulty in finding flexible role when she returned from maternity leave.
A recent study of 400 people in the advertising industry released by AdNews in conjunction with SheSays revealed it was still very much a boys club where women were discriminated against for leaving work to have children and not being able to find flexible roles when they wanted to return.
It found 38 percent of female creatives left agencies because they didn't feel valued or recognised and 43 percent did so they could find better work life balance. The survey also found 91 percent of respondents agreed strongly or slightly that creative agency staff are always male dominated within the creative or senior management teams and 60 percent of women intend to stay in their current agency, meaning there's general acceptance of the situation.
McLaughlin said she was motivated by her experience returning to work after children to create her small business.
"I worked in advertising and after I had my first son I found it really hard to find part time work," she said. "The agency I had worked at previously had a little bit of work for me and while I was working for them it was really hard even though they were really supportive of it.
"I thought how crazy it was that if only I could find someone who did what I did that we could share the role and it would be so much easier."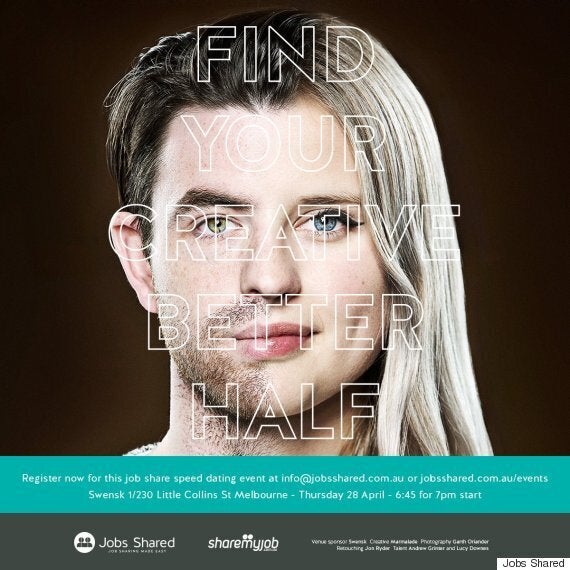 The artwork for the speed dating event was donated by advertising firm Marmalade.
Mum isn't the only word when it comes to job sharing
But even though she was inspired by her experience as a mum, McLaughlin stresses that job sharing shouldn't just be about women returning to work. In fact, there is a huge appetite for flexible work from men, students and soon-to-be retirees.
"There is all these other applications for job sharing, it's not just about a mum needing to go back to work," she said. "And it shouldn't even be about mums, it should be about parents.
"There is also an ageing population that are not just going to finish work and stop, so there needs to be tools in place for them so they can transition into retirement. And generally the younger generation coming through seems to want a lot more flexibility -- they will use it as a way of working one job in one industry and then they might be growing their own business on the side."
Indeed, research commissioned by Aussie job-sharing startup Gemini3 found that the number one driver for job share is lifestyle choices, followed by transition to retirement, entrepreneurial pursuit and then caring responsibilities. The report also revealed that men and women are equally interested in job share (76 percent vs 77 percent), with millennials (35 years and under) being the most attracted to job share at 86 percent.
Australia is leading the charge for flexible working roles globally, and are actively seeking out non-traditional roles, whether they be part time, job-sharing, working from home.
The Gemini3 white paper found Australians are ready to embrace the new era of flexible work with 75 percent of Australians are interested in job sharing.
How to find your perfect work match
For this event, McLaughlin and Mence expect around 20 art directors in the advertising industry to come along and hear a talk on job share and what it means as well as the actual 'dating' -- five minutes with prospective job sharers.
McLaughlin says the first step to finding a work soulmate is simple -- you have to have similar skills and actually like each other.
"One of the main things is complementary skills, not identical skills because one of the biggest selling points for job sharing is that the employer is getting two for one," she said. "So you want to be offering them two different skillsets that work together.
"And then it's really a personality thing -- you really need to get on with the person that you're going to share with because you don't want to be competing with them."
She says while job sharing is often most associated with pairing people of the same level and skills, it can also be a good fit for a mix of experienced and more junior staff. She spoke of a team where a more senior person mentored her job share partner and that person was eventually promoted to be at the same level so then they could advance and apply for promotions as a team.
"That was a lot of trust on behalf of the more senior person because she was obviously putting a lot more into that relationship by mentoring but it was mutually beneficial," she said.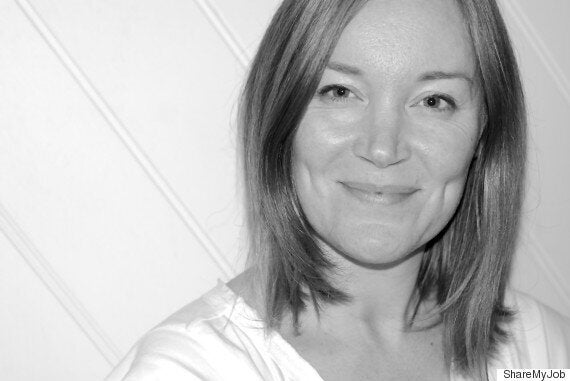 ShareMyJob CEO Rachel Mence has collaborated with her competitor for this speed dating event.
"Their manager said that he would hire a job share team in a heartbeat after managing them and it really changed a lot of perceptions in their organisation."
McLaughlin and Mence will not only facilitate introductions on the night, they will help prospective teams build their CVs, cover letters and business plans.
"I think there will be a lot of people who will really hit it off on the night but I think it will be more that they will catch up again post the evening with a bit more time to chat," she said.
"Job sharing is a small market. People aren't necessarily crying out for job share teams, but we want them to be so we are creating that market."
The speed dating event will be held at Swensk, 1/230 Little Collins St, Melbourne on April 28 from 6.45pm. More details and to register: info@jobsshared.com.au