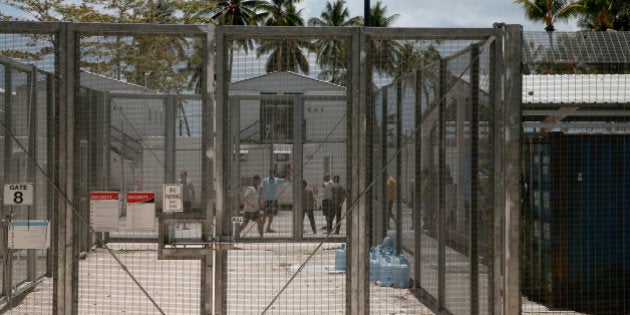 Lawyers say they will ask the Papua New Guinea Supreme Court to rule on sending asylum seekers held on Manus Island back to Australia, after the centre was declared unconstitutional in a surprise decision on Tuesday.
Ben Lomai, a lawyer who spearheaded a court challenge against the centre, told the Huffington Post Australia in light of the ruling he will seek the release the asylum seekers back to Australia and seek financial compensation for the men through the courts.
"There is a lot of jubilation," he said, referring to the response from the camp when news broke about Tuesday's decision.
"They are happy they get their freedom, but the question is what next?
"They should be allowed go anywhere in PNG."
The matter is set for pre trial on Monday.
He told the Huffington Post Australia compensation will be sought on six constitutional matters, including breach of liberty.
Lomai said he suspects the PNG government will declare the detention centre an open facility, like in Nauru, to avoid being found in contempt of court after Tuesday's ruling.
"The Governments of Papua New Guinea in particular and that of Australia must take immediate steps not tomorrow or next year or in six months' time to remove the unconstitutionally set up detention centre on Manus Island," he told the ABC.
The PNG supreme court on Tuesday ruled on a challenge to the constitutionality of the centre launched by PNG deputy PM Belden Namah.
Mr Lomai had a seperate challenge to the centre.
"The findings of the Supreme Court in PNG aren't binding on the Australian government," Mr Dutton told ABC radio.
"Our policy is not going to change. We are absolutely adamant that people won't be settling in this country."
Labor leader Bill Shorten was quizzed on the Manus situation on Wednesday, asked about the processing that the previous Labor government created. He said Dutton should be flying to PNG immediately.
"When we reopened Manus Island to allow for regional processing, it wasn't on the basis there would be neglectful, indefinite detention of people in these facilities," Shorten said.
"Peter Dutton needs to get on a plane, he doesn't need to brief Malcolm Turnbull, he needs to get on a plane to talk to the Government of Papua New Guinea. He needs to sort the issue out. They've had three years of not dealing with this issue. It's a disgrace."
Fairfax Media reported on Wednesday that Australia was negotiating resettlement deals with Malaysia, Indonesia and the Philippines; but Greens immigration spokesperson Sarah Hanson-Young said she doubted any country would be open to such a deal.
"I don't think any other country in the world is going to take refugees that Australia has treated so appallingly, that we have every legal obligation now to care for, that we have breached international law in how they have already been treated," she told media on Wednesday.
"While the rest of the world is struggling to deal with the large number of people fleeing from Iraq and Syria, most countries are going to be looking at Australia and thinking, there's 850 people on Manus Island. Surely you can do your fair share and help house and resettle these individuals."
She said the government should swiftly bring the Manus detainees to Australia for processing and settlement.
"We should be bringing these people to Australia, assessing their claims quickly, fairly, efficiently and if they are in need of protection, which most of them will be, we allow them to integrate into our communities... After the last three years of being in living hell on Manus Island, the least we can do is bring them here and help them rebuild their lives," Hanson-Young said.
Namah told the PNG based Post Courier Newspaper he was happy with the court's ruling.
"In fighting for what I believe in and the principles I stand for, I persevered for the last three years at great personal cost to myself," he told the paper.
"I am overwhelmed by this latest victory. God bless our beautiful country."