eBay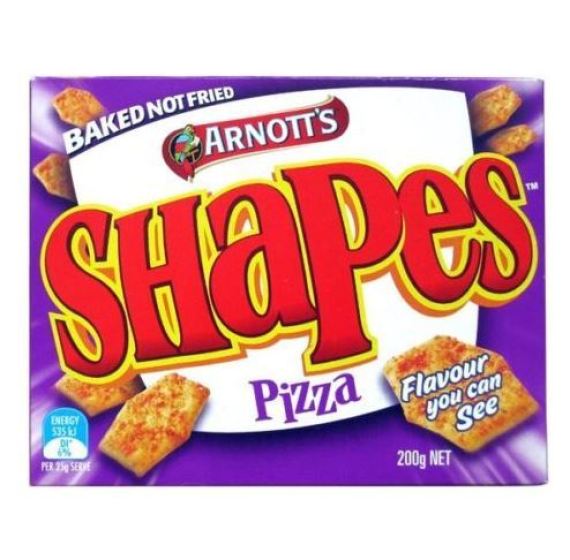 The original, and the best.
If you're like anyone with a working set of tastebuds many other biscuit-loving Australians, you might not be the biggest fan of the 'new and improved' versions of Arnott's Shapes.
For those who haven't yet heard, earlier this year the biscuit company changed the flavour of its iconic Shapes range in an attempt to make them healthier. Instead of the biscuits being covered in visible flavouring, as was once advertised in the popular slogan "flavour you can see", it is now mixed into the biscuit for what Arnott's describes as "bolder and stronger flavours."
However, for the most part, Shapes fans have been less than impressed with the overhauled recipe, and are apparently willing to fork out as much as $50 on eBay in order to get their hands on a single box of the original flavour.
Others have signed a change.org petition begging Arnott's to reconsider the change and to bring back the original Shapes as soon as possible. At the time of writing, the petition had more than 10,000 signatures.
Judging from the comments from supporters, emotions were running high. As Ebony Beckwith wrote: "this is an international travesty. they are like death in a packet. made me cry for hours. i'll never recover from the emotional turmoil this product has put me through. send help. what am i meant to do?? how can i go on living this way? so much unnecessary strain has been put on life. i'm going to burst into flames."
And this from Rees Bworth: "My life has no meaning any more. Shapes have been my anchor to this world for decades."
At least fans of the BBQ Original and Chicken Crimpy flavours can rest easy. An Arnott's spokesperson confirmed to The Huffington Australia the original version of these two flavours would still be available to purchase alongside their 'new and improved' forms.
Those who preferred pizza or cheddar, however, better stock up on their original recipes fast. While the introduction of the new Shapes is said to be a soft launch, with both biscuit ranges to be available on shelves for some time during the cross over period, the originals won't be around forever.
BBQ Shapes ruined. You are dead to me #Arnotts. Next you'll actually be making the 'Soggy Sao' for mass consumption.

— pees (@xpeesx) April 27, 2016
Big late on this, but can anybody tell me why #Shapes changed flavour!? Arnotts having their 'new Coke' moment... Don't change a winner!

— Callum Godde (@calgodde) April 27, 2016
#Arnotts Shapes: you're dead to me.

— Simon Davies (@SimonDaviesJnr) April 27, 2016
😤#arnottsshapes bring back the original recipe...my son is a problem eater who now has one less food available to him 😤

— Becca (@bexontwit) April 26, 2016
#Arnotts I have eaten BBQ Shapes for 40 years. I will never eat them again. New shapes taste like excrement.

— Jock 380 (@Jock380) April 25, 2016
@CampbellArnotts new #arnottsshapes shapes are absolutely disgusting. Most definitely will not be buying again. It's a sad day 😔

— Dean Andrzejaczek (@DeanAndrek) April 19, 2016
Arnotts Shapes obviously have different meanings of 'new and improved' and 'flavour'...so it seems. pic.twitter.com/UPFCqnxlIK

— Sammy Roenfeldt (@sammyroenfeldt) April 27, 2016
Visit HuffPost Australia's profile on Pinterest.