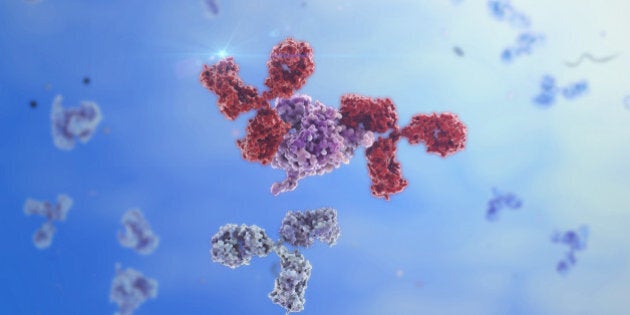 Australian scientists have unveiled a new development in immunotherapy that is set to pave the way for future cancer treatments.
Researchers at the QIMR Berghofer Medical Research Institute in Brisbane have found that an antibody -- or a large protein -- can slow the growth of common cancer cells.
"We are seeing the revolutionary effect of using antibodies to treat cancer patients -- particularly in tumours that we know the immune system is often active," lead scientist Professor Mark Smyth told The Huffington Post Australia.
"We have a new target that hasn't been explored yet."
The four-year study, published in the Cancer Discovery journal this month, involved a series of animal laboratory tests that tested and developed the antibody. The results showed that it slowed the spread of melanoma, lung, breast and prostate cancers by activating immune cells known as 'Natural Killer' cells.
Smyth said the role of the protein was to stop immune cells from becoming "over activated" and attacking the body's own healthy cells.
"Antibodies inhibit a tumour from spreading and we know that this is generally what kills patients."
The study findings may carve pathways for new cancer treatments that focus on immunotherapy, whereby a person's own immune system is used to treat the disease.
"Immunotherapy has become the fourth pillar of cancer treatment: we have surgery, radiotherapy, chemotherapy and now immunotherapy.
"We are at the beginning of this field and our knowledge of how these therapies work (and what regulates them) is only improving," Smyth said.
The researchers will now turn to human testing within the next five years before beginning to develop a human antibody.
"Our findings are still at the early stage. But it's an exciting time," he said.
"I'm hopeful that there will be a lot more benefits to a lot more people in the future."