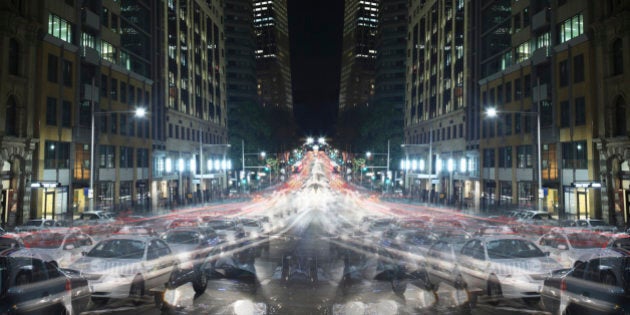 Prime Minister Malcolm Turnbull has unveiled an ambitious funding plan to build "30 minute cities," where residents can access all essential work, school and lifestyle services within a half-hour commute.
Turnbull released the Commonwealth's Smart Cities Plan in Melbourne on Friday, a strategy that will see the federal government fund state infrastructure projects on the condition that they meet a number of criteria including increased economic growth or tax revenue.
The plan outlines an infrastructure financing unit to work with the private sector on "innovative financing solutions," and an initial $50 million to "develop business cases and investment options" for major infrastructure projects. The Sydney Morning Herald reported that long-term bonds would be issued to lock in low interest rates and fund major projects.
At the heart of the document is a blueprint to transform Australian cities into "30 minute cities," where "no matter where you live, you can easily access the places you need to visit on a daily basis."
"It means is that you ensure that your cities are designed so that wherever people live, they can reach within a reasonable time, 30 minutes, somewhere where they can work, somewhere to study, somewhere to recreate," Turnbull said at the official unveiling of the policy.
"We've got to ensure that our cities are not allowed to develop in a manner that results, as we have had, particularly in our own city, my own city of Sydney, where you have areas where hundreds of thousands of people leave every day to go to work because the communities they live in have been allowed to build up in an absence of mind as essentially dormitory suburbs."
Cities Minister Angus Taylor said the Commonwealth was interested in outcomes and not handing over blank cheques.
"If we are to have the impact we want in cities policy – facilitating quality jobs, more housing and better connectivity – as well as a return to taxpayers, we need investments, not grants," he told the Sydney Morning Herald.
Queensland Premier Annastacia Palaszczuk has welcomed the announcement, but said more than $50 million was needed.
"I don't believe that's anywhere near enough. It looks like just a little bit of business case palling in the first instance," she told the Courier Mail.
"What we do need to see is more money on the table for projects such as Cross River Rail."
It also drew support from Sydney Lord Mayor Clover Moore, who called it a "breakthrough."
"I think the PM's announcement is really welcome. He's talking about a partnership between the Federal Government, state governments and city governments to be able to fund important projects in our cities. He has committed to our city's policy," she told the ABC.
"He wants us to work together, he wants to have a common vision, we wants to plan and then he is unlocking funding through low interest loans, over 30-year periods, that would enable ability to fund these urgently needed infrastructure programs in our cities."
The PM's announcement linked the idea of better transport links to housing affordability; as cities become easier and faster to navigate, residents may be able to live further from the centre of the city, increasing housing stock and aiding the ability to buy a home.
"By increasing the supply of housing we can address one of the greatest financial issues of our times for most families - housing affordability," he said.
While the plan is relatively light on detail as to the exact plan to turn some of Australia's most congested cities into free-flowing and easily accessible metropolitan areas, the document flags "a combination of demand management and investment in public transport, roads and active transport, including walking and cycling."
Labor's infrastructure and cities spokesperson Anthony Albanese had flagged support for a "30 minute city plan" as early as 2014.