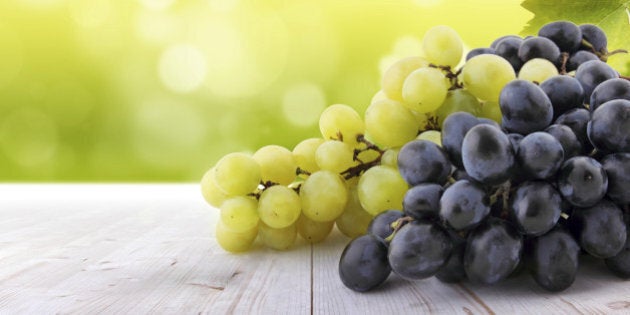 In the fire and flame of Australia's red centre, something unexpected is being forged.
It's here amid the sand and spinifex, that some of the country's premiere research into the humble grape is taking place.
The CSIRO and the Arid Zone Research Institute (AZRI) in Alice Springs have partnered to breed and test new table grape varieties in central Australia, with a view to creating grapes that will grow well in some of the country's harshest conditions.
Among the 15 different selections to be tested are grapes that ripen early or late and those that keep well in long term storage.
There's also the possibility of exporting the grapes to new markets, the NT Department of Primary Industries said.
"Bred by CSIRO Agriculture, these selections will be tested against the three commercial varieties - Menindee, Crimson and Magic Seedless - to identify new superior varieties adapted to Central Australian conditions," Primary Industries and Fisheries Minister Gary Higgins said.
The researchers hope the new grapes will limit low fruitfulness, berry collapse, and production costs in a challenging grape-growing climate.
"Over three decades, the Department of Primary Industry and Fisheries and CSIRO Agriculture have maintained a vine improvement program in Central Australia to provide viticultural industries with material suited to Australian conditions and industry needs," Higgins said.
"This trial of the new grapes is an integral stage in that research."
And to answer the question you're all thinking -- no, this won't lead to the creation of new "desert" wines, for those who like their merlot extra-dry. But it could help in creating grapes better suited to Australian tastes -- according to the experts, we like 'em big and crunchy.
"The Australian market likes large table grapes. The size at the supermarkets has grown over the years, they're usually about 20mm now up from 15mm," manager of the Central Australian Horticulture Development Project at AZRI, Stuart Smith, told The Huffington Post Australia.
He says resistance to heat and rain are other key characteristics they want to develop in the grapes.
"Here they have to put up with an environment that can be absolutely scorching hot in harvest. They have to be tolerant to heat. And we can get late storms in harvest time, so a bit of rain resistance at harvest time can be really valuable."
CSIRO research into grapes and vines is having an impact in other areas, too. As climate change narrows the optimal harvest time for grapes across Australia, the organisation has developed a vine rootstock that can slow harvest by seven to 10 days.
"Basically it's used in a very similar to how we use sunscreen on ourselves for protection from the sun," Eden Hall Wines viticulturist Daniel Falkenberg said.
"In red grapes especially, extreme temperatures can damage the berries but by applying products like Surround, it provides adequate protection to the exposed berries reducing the impact of crop loss.
"It's becoming more and more popular in the Barossa and Eden Valley region."