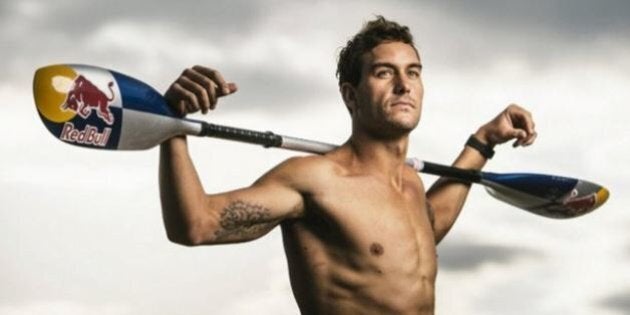 "You're out of your mind."
That's a typical response from Hawaiians when you tell them you're racing in the Molokai2Oahu, a gruelling 52km paddleboard slog between two Hawaiian islands.
Aussie Ironman Matt Poole won the race in 2014. He's currently having a break after the domestic Ironman season here in Australia before he ramps up training for this year's Molokai2Oahu in July.
The Huffington Post Australia caught up with him, and discovered that paddling quickly for five hours in huge rolling seas is only half the battle.
Ant: Hi Matt. We ask every sportsperson this for reasons which are unclear even to us. Anyway here goes. Who would win a fight between a Kangaroo and an emu?
Matt: Hmmm, two iconic Australian animals, I would probably back the kangaroo. They've got so much power in their back legs. I saw two kangaroos having a fight at a little town on the NSW south coast called Bendalong once. There's just so much power in those legs of theirs. I think the emu would be aggressive but its only real attack is the beak but. I think the legs would outdo the beak.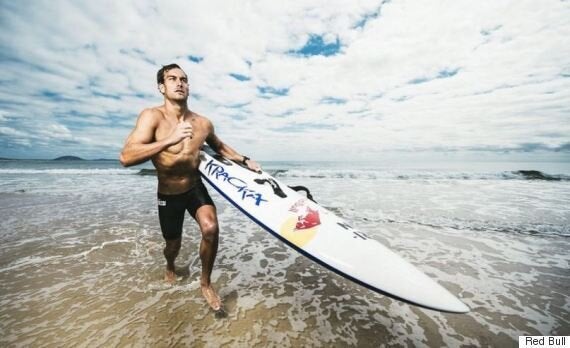 Ant: So it's pretty much year round. In your time off like you're enjoying now, can you let your hair down?
Matt: There's a time and a place for it. But you're not doing yourself any favours.
Ant: You're on a bit of time off now. Talk us through your annual calendar of Ironman and paddleboarding and the rest of it.
Matt: Well I race the world paddleboard championships [the Molokai2Oahu] in July, then I get ready for the Ironman summer here. We first start racing in September and in the Summer of Surf series on Fox Sports, then the Kellogg's Series which runs from November through to January. Then after that there's the state titles and national titles.
Ant: Aha! But I saw a tweet from you which said you're up for a big weekend this weekend which you won't remember. Please explain.
Matt: One of my best mates is having his birthday party this Saturday. He started this annual golf day which is not actual golf but more of a pub crawl. He comes and supports us at all our races, then guilts us into coming down to do something he's good at, and that's drinking! I've got about a two week block now where I can sit up and have a few drinks.
Ant: Well we hope you enjoy it because the Molokai2Oahu is just brutal, isn't it.
Matt: Oh yeah. You lose at least 4 kilos of sweat during the race. I'm in the prone paddle board division [see video below for what that's all about] so I'm either on my stomach paddling or on knee pads. After five hours your legs are gone along with your hammies, your quads, your neck.
Ant: What's it actually like out there on the open ocean?
Matt: It is one of the most raw places, a real ends of the earth experience. There's nothing out there. And to put that into perspective, you start on the start line with three or four hundred paddlers and every one of them has an escort boat. The energy and vibe at the start is incredible. But after an hour, an hour-and-a-half, you look around and there's not another boat in sight.
Ant: Is that because you're so far in front or does everyone take a different route?
Matt: Yeah everyone takes a different line. It depends on the tides, the currents and the way the wind's going. There's no set course, no Point A to Point B. You have to pick the best line. The depth changes so greatly because of the rocky shelves and channels under the sea. Sometimes you're sitting on giant swells but just going nowhere because of the undertow. Other times you're just flying. You don't want to be fighting the wind and swells out there.
Ant: So the crew on your escort boat is really important, sort of like a golfer's caddy.
Matt: I've spent a lot of the last 10 years getting a pretty good understanding and feel for the water, so I do a lot myself reading the swell and feeling the wind over my shoulder. My dad is on the boat with a Hawaiian driver and me and my dad make the calls together. About the only thing they do that I can't is watching to see what the weather forecast doing, to see if the wind is changing or stuff like that.
Ant: How long does this heaving watery hell last for?
Matt: The year I won I finished in about 4 hours and 42 minutes. But I had pretty good conditions. Last year the winner took about 5:30. It all depends on the conditions.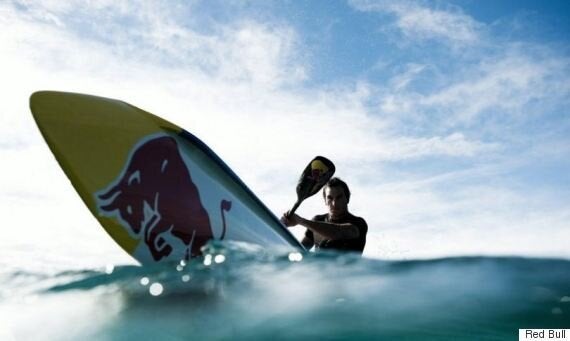 Ant: It's a pretty flimsy board between you and the creatures of the deep. Do you get shark dread out there?
Matt: There are lots of tiger sharks out there. Every year the boats radio in with a few sightings. But once you're in the race, sharks are the last thing on your mind. You're thinking about course management, the other competitors, staying hydrated, eating food…
Ant: Does being an Ironman and paddleboard champ pay the bills, Matt?
Matt: It's definitely tough. Any prizemoney we win is an added little bonus. We rely mainly on sponsors for sure. I'm fortunate enough to have Red Bull, Nutri-Grain, Reebok and Engine swimwear as amazing sponsors. They allow me to live out the dream.
Ant: We hope the dream keeps going for a while yet, Matt. Good luck in Hawaii and thanks for talking to the Huffington Post Australia.