CANBERRA -- It is Scott Morrison's "jobs and growth" budget, aimed squarely at supporting employers, putting Australians to work and supporting the country's trip back to a budget surplus. We know about a lot of the big-ticket items, thanks to the traditional pre-budget leaks; hospitals, the dental system, schools and national infrastructure projects all get healthy additions to their coffers. But, there is enough in the dense budget documents to satisfy business, entrepreneurs, and the infamous "mum and dad investors" negatively gearing homes for their one-year-olds, while still dripping out enough honey for Malcolm Turnbull's favourite buzzword, "innovation".
More than just an idea now? One of the centrepieces of this budget is a huge investment in lowering the company tax rate, initially for small businesses but with plans to extend cuts to all businesses within a decade.
Morrison has pledged this measure, costing $5.3 billion over the next four years, will mean "by 2020 more than half of all employees of companies in Australia will be in companies paying a lower tax rate of 27.5 per cent."
The initiative kicks off on July 1 this year for businesses which turn over less than $10 million, and grows from there. The instant write-off for business equipment purchases, a key feature of a past Joe Hockey budget, will be extended to businesses with turnovers of $10 million, up from the current $2 million threshold.
In his pitch the Treasurer was blatantly patriotic. Having just iced a Chinese plan to buy the iconic Kidman & Co agricultural land holdings, in his speech Tuesday night Morrison played up the value of small businesses as "overwhelmingly Australian owned and more likely to reinvest their earnings in future growth." Aussie, Aussie, Aussie…
In the Howard/Costello years, when we were all drowning in cash and free big screen TVs, the big obsession was "bracket creep" – the unfortunate side effect of prosperity, where you earn more and find yourself tipping over into high tax rate. It's not such a problem now but Tuesday night the Treasurer moved to ensure the votes of that most politically-valuable cohort, those who reside in the middle tax bracket.
From July 1 the threshold for the middle income bracket will increase from $80,000 to $87,000.
"This will stop around 500,000 taxpayers from facing the 37 per cent second top marginal tax rate in each and every year."
Reining In The Super Spree
$1.6 million in personal retirement savings is the new gold standard. This is the new cap on tax-free transfers which will be brought in on July 1, 2017. Morrison says $1.6 million would support a retirement "around four times the level of the single Age Pension". He'll also start taxing concessional contributions made by those on more than $250,000 per year, and cap total non-concessional contributions at $500,000. The sting in this for very wealthy retirees is that even those already retired will be hit with these new measures, although the Treasurer says this will affect less than 1 per cent of super fund members.
At the very other end of the scale, workers on less than $37,000 will be able to have tax they've paid on their super contributions refunded into their accounts, up to $500. Morrison says this will help build the retirement savings of "around 2 million low income women".
Cracking Down On Tax Avoidance
Morrison is also looking to rake in as much tax as he can without significantly altering the playing field, announcing plans to employ 1000 staff at the Australian Taxation Office to crackdown on multinational tax avoidance. Big companies will be hunted down for their fair share of tax, with the new operational taskforce and harsher penalties for tax avoiders expected to help bring in an extra $3.9 billion per year.
Undoing The Political Damage Of The 2014 Budget
Ask any young Aussie if they remember anything Joe Hockey did as treasurer, his bid to delay access to the dole for young people for six months after they become unemployed probably springs to mind. (The cigar smoking didn't make the idea any easier to sell).
Morrison has taken the carrot option over the stick on youth unemployment, pledging to introduce a new program to train young unemployed people then subsidise their wages to encourage employers to hire. The program wins the award for the worst acronym: Youth Jobs PaTH (sic) – Prepare, Trial, Hire. But the government plans to top up unemployment benefits of participants while they train in basic skills including presentation and IT literacy, then place them into unpaid internships (the work-for-the-dole element) then hopefully subsidise them into paid employment.
It is squarely aimed at the most entrenched unemployed young people – those with little exposure to working life. While interning at a supermarket stacking shelves doesn't sound that sexy – nor does generational welfare-dependence.
"It is worth trying new ways to get young people into real jobs," Morrison said. "The cost of not doing so resigns thousands of young Australians to a lifetime of welfare dependency. In addition to the financial cost, the social and human cost is too great for our country to ignore."
Defending Australia against external threats is also high on the agenda. We already know about the submarines plan, and all the new shiny toys in the defence white paper (new fighter jets, cyber weaponry, new gadgets for our armed forces) and now we've got another $363 million to fight ISIS. Operation Okra, Australia's operation to "disrupt and degrade" the terrorist organisation in Iraq and Syria, will get a big funding boost in 2016-17. Another $20 million goes to Operation Resolute, the "whole-of-government effort to protect Australia's borders and offshore maritime interests."
Closer to home, we see budget provisions for another recent government announcement, the massive Cyber Security Strategy. $195 million over four years will build new facilities and expand existing ones, establish cyber threat and emergency response centres, help Australian companies safe-guard against cyber attacks and boost the cyber crime fighting capabilities of the Federal Police and Crime Commission. There is also $2.7 million over four years -- $675,000 annually – to establish a new bureaucrat, the Cyber Ambassador.
New ABC boss Michelle Guthrie has been given one heck of a welcome present from the government, with funding for extensions to news and current affairs coverage (which were set to run out this year) locked in for years to come. The Australian Broadcasting Corporation has been thrown a lifeline, with Gillard government funding boosts for news services cemented in for the next three years. A total of $3.1 billion will be directed to the national broadcaster.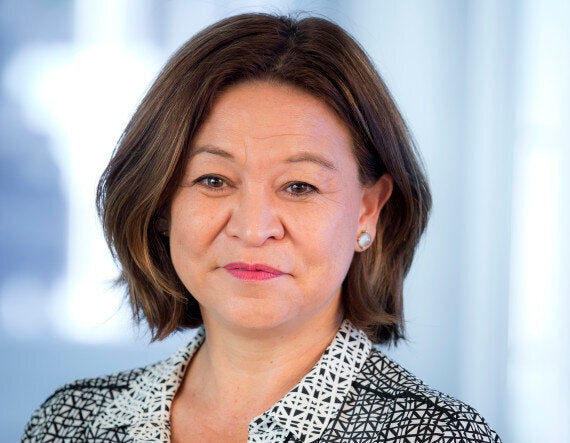 Aunty's new boss Michelle Gutherie has been given a $3.1 billion welcome present.
Domestic violence has been given another $100 million over three years. Big money, right? But when you compare it to the Victorian government, which just gave a whopping $570 million to the problem, the federal figure pales in comparison. The budget's new money is in addition to $101 million given in the 2015-16 mid-year economic and fiscal outlook, for the Women's Safety Package.
On innovation, we're also shelling out $2.4 million to establish "landing pads" in "innovation hot spots" Singapore and Berlin, supporting emerging Australian companies establish footholds in overseas tech strongholds. There is also an injection of $88.6 million over four years to expand the New Enterprise Incentive Scheme, to support young Aussie entrepreneurs. The ideas boom, there's never been a more exciting time to be a young Australian, etc. etc.
No one likes a smoker – except the taxation department. From September 2017 the tobacco excise will go up every year for four years by 12.5 per cent. Of course they don't want this to work too well.
$14.6 million for consultation work around the push to recognise Aboriginal and Torres Strait Islander people in the constitution;
Another6 million for the continuation of the police taskforce investigation into matters arising from the Royal Commission into trade unions;
$5 million for "countering violent extremism initiatives";
An extension of the "brewery refund scheme" for distillers who make drinks like non-traditional cider, but NOT for producers of alcopops;
Steps toward an inland rail link connecting Melbourne and Brisbane;
And1.5 million for an anti-doping program before the 2018 Gold Coast Commonwealth Games.