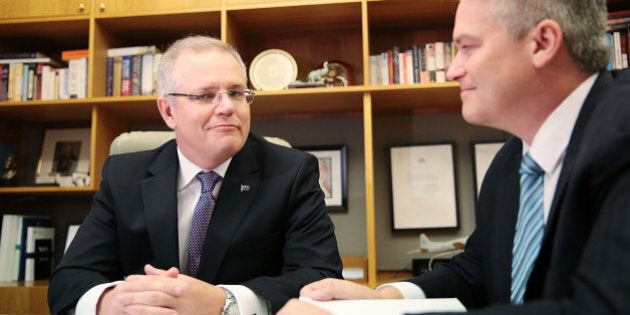 CANBERRA -- It's not a typical budget.
Of that, we're now certain; but while it may seem a safe and steady budget, treasurer Scott Morrison is actually taking a big punt by largely not touching tax, and he'll be hoping his confidence in the Australian economy (and in himself) pays off.
Morrison has repeatedly said that the 2016-17 budget is not an election budget. But it is, a little bit, an election budget. There's less big-spending, lavish pork barrel projects than you'd expect with an election just two months away, not much in the way of targeting key marginal seats. It's a steady budget, not a high-wire act.
There's not a great deal to get very excited about. But that's the point; there is also no hugely controversial cuts, no slashing of beloved agencies or programs, no cruel blows to working families or children or young people or pensioners.
It's a budget that seems very intent on not offending anyone.
Morrison has obviously worked hard on crafting a budget that would not ruffle feathers, that would give as little attack ad fodder to the Labor opposition as possible.
But in forgoing wholesale tax reform or cuts to negative gearing or a shake-up of expenditure, he has staked his claim on the Australian economy responding to his key programs with vigour; he is now hoping beyond hope that the youth employment initiative PaTH, the cuts to small business tax and the extension of spending that they can claim back, and the changes to superannuation will set the Australian economy on a path toward thriving.
He's hoping that boosting job prospects for young people, encouraging small businesses to hire and take risks and invest, will mean the economy simply grows to a point where tax hikes aren't necessary.
The trouble is, the Reserve Bank of Australia doesn't hold the same optimism. During the federal budget lockup, word filtered through that the RBA had lowered the official cash rate to 1.75 percent, a record low. Australia's central bank seems to think that the country isn't moving along fast enough, that spending is too sluggish, that the economy needs a double-shot espresso in the form of an interest rate cut.
That may not bode well for Morrison, who has tied his political fortunes -- nay, the political fortunes of his entire party -- to the hope that the Australian economy will thrive under the conditions he hopes to create. It's a bold risk to take, but one that will likely not unfold properly until long after the July election.
He has pinned his hopes to an economic uptick that will take months and years to play out, and in doing so, tried to make himself and his government a small target for criticism. There is little in the way of bombshells that could blow up in the government's face, not many overt threads to unpick and turn into critical soundbites.
That will shape how the government spreads its election message. Malcolm Turnbull is not trying to be the big spending, generous leader; he's aiming to paint himself as the prudent, responsible leader.
He won't be out spruiking the big money spends; he'll be talking up how he can be trusted to keep the economy strong, to make the decisions, to keep housing prices healthy and keep important projects running and still have enough money to keep the lights on.
It's not the most exciting budget ever. But that's just the way they wanted it.