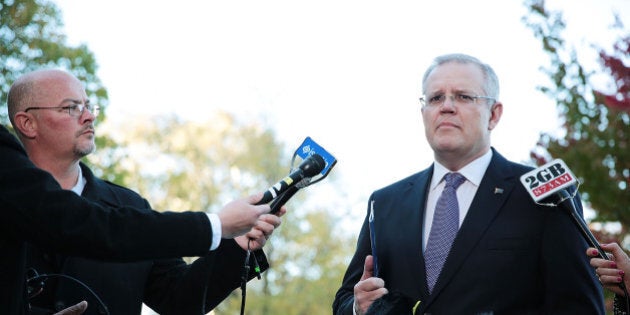 CANBERRA -- Scott Morrison is calling it "real work for the dole" -- a massive framework to get young people off the couch and into jobs at the centre of the treasurer's first budget.
The youth jobs project -- titled Prepare, Trial, Hire, with the strained acronym PaTH – hopes to facilitate 120,000 internships over four years, giving incentives to employers who take on young people with the hope that internships will lead to proper paid jobs.
The treasurer said that in 2012, 12 percent of Australian children under 15 lived in a jobless home, with the PaTH program targeted at young people from families with generational unemployment.
The internships are paid, in a way; in addition to existing welfare payments, young jobseekers who work up to 25 hours a week can get $200 extra in their pockets.
From April 2017, unemployed young people can participate in "intensive pre-employment skills training," which will include teamwork activities, presentation, technology literacy and job hunting skills.
A treasury spokesperson told The Huffington Post Australia that enrolments in the program would be sourced through employment and welfare services, and confirmed that participation would be voluntary.
Once the job skills program is finished, young people will be paired with employers -- examples in budget documents include supermarkets and newsagents -- to "gain valuable work experience within a real business". Job seekers and businesses will work together to design the work placement, which can run from four weeks to three months and include 15 to 25 hours a week of work.
Businesses will be given an upfront $1000 incentive to take on such "interns", while up to $10,000 in wage subsidies will be offered if the job seeker is taken on as a proper employee; a sort of "direct action" for employers.
The program will cost more than $750 million over four years, but Morrison said the costs were fully funded through redirecting funds from other employment programs.
"This is real work for the dole," the treasurer said.
"It is worth trying new ways to get young people into real jobs."
Elsewhere in the youth job market, another $88.6 million has been directed to the New Enterprise Incentive Scheme, to promote entrepreneurship and self-employment.
The funding, to be delivered over four years, will include workshops about self-employment, education around government assistance available to such entrepreneurs, and targeting areas of high youth unemployment with mentoring opportunities and services to support such ideas.
Up to 8600 young people will be able to access the program each year.
It's not quite Tony Abbott's Green Army, and it helps walk back some of the political damage done in past budget measures where young people were told to wait six months on the unemployment line before getting any welfare help.
It's a meaty plan to get young people trained up, job-ready and back into the workforce -- and paying tax.