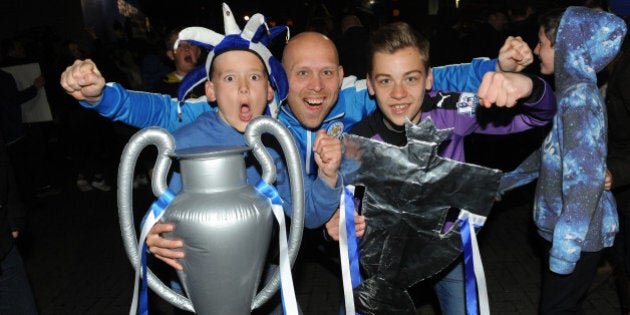 As you know by now, Leicester won the Premier League overnight. Let's recap why this really is such a great sporting story. But first, here's the moment the players found out they'd won.
1.Leicester were lucky just to be in the Premier League this season
Last season they were almost relegated. The bottom three clubs in English football go to down to The Championship, which is what they call the old second division. Leicester somehow strung together seven wins in nine matches to earn another crack at survival this year.
2. And this season was all about the fight for survival, or so everybody thought
Leicester were tipped by professional pundits and mugs alike to finish in the bottom three this season. Many tipped them to run dead last. And why not? Their squad was worth less than a quarter of each of the so-called "Big Four" clubs -- Manchester United, Manchester City, Chelsea and Arsenal. These big guns have won 22 of the 23 titles since the old Division One rebranded as the Premier League in 1992/93. Teams whose preferred starting line-up has a paltry value of £22 million like Leicester can't and don't compete with teams like Manchester City, whose preferred starting line-up cost £281 million. But Leicester did.
3. Leicester were 5,000-1. Repeat. They were 5,000-1
Here's some stuff that was WAY MORE LIKELY TO HAPPEN than Leicester winning the Premier League, according to the bookies. Kim Kardashian was rated just 1,000-1 to become president of the USA. That's right, President Kardashian was FIVE TIMES MORE LIKELY to happen that Leicester winning the Premier League title. The Loch Ness Monster was more likely to be found alive. So was Elvis. Last year's Melbourne Cup winner was the 100-1 outsider Price of Penzance. It was 50 TIMES MORE LIKELY to win that race than Leicester was to win the Premier League.
If only we were all as prescient as Tom Hanks, huh?
3. To make this year's success even less likely, their coach had been shown the door
Out went popular coach Nigel Pearson, who had engineered the Foxes' survival act last season. In came Italian manager Claudio Ranieri, who was widely seen as a journeyman. That's sport speak for a man well past his prime.
4. Want to know how Ranieri discovered his team had won the league overnight?
Leicester won the league because Tottenham Hotspur drew 2-2 with Chelsea, conceding two second half goals after seeming well in control at halftime. That meant Leicester were an unassailable seven points clear of Spurs on the EPL ladder with two matches to play (wins are worth three points). Ranieri, 64, had made a quick flying visit to see his 96-year-old mum in Italy. A customs official reportedly relayed him the good news on his return to England. But we're getting ahead of ourselves.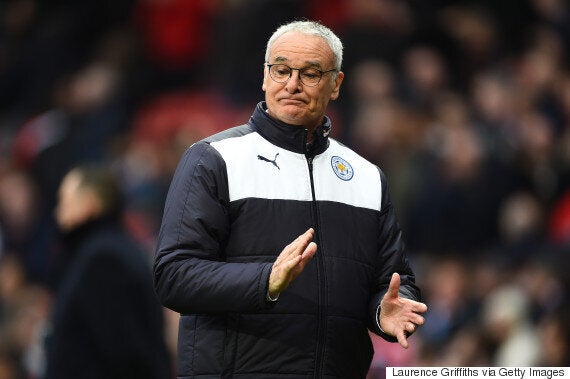 You'd applaud yourself too if you were Claudio Ranieri.
5. Leicester started well. But nobody took them seriously
In their first six matches, Leicester won three and drew three. Then they lost 5-2 to Arsenal. Everyone kind of wrote them off at that point. The BBC said they'd "ridden their luck" until that point and that Leicester's leaky defence would likely see them "slide down the table". Never happened. They led almost all season.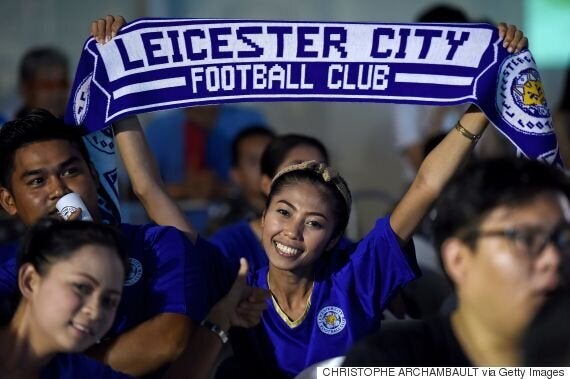 Suddenly they've got fans all around the world. This fan and her friends are in Bangkok.
Pizza is a big reason why Leicester won this season. Yes, that defence was a bit of an issue early. Claudio Ranieri promised the squad he'd buy them all pizza if they kept a clean sheet (conceded no goals) in a match back in September. Leicester won that particular match 3-2. "I think they're waiting for me to offer a hot dog too," Raineri quipped after the match. But the manager would eventually have his pizza night. And another Premier League squads are renowned for being full of huge talent and huge egos who don't always socialise much off the pitch. Leicester players actually enjoyed being together.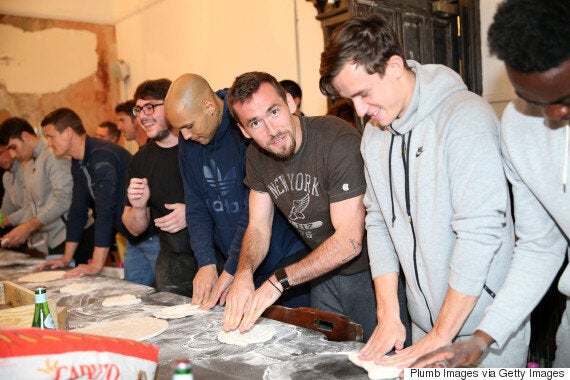 I'll have a season with the lot, hold the relegation.
7. Even as they kept on winning, no one believed
"All season I thought they'd keep losing the next one, keep losing the next one," Chelsea captain John Terry said overnight after that 2-2 draw with Tottenham. But they didn't. Leicester have lost just three of their 36 games with two to play.
8. And it's not like Leicester had any established superstars
Star Leicester striker Jamie Vardy is 29. When he was 20 and playing for Stocksbridge Park Steels in the eighth tier of English football, he was arrested for assault, had to wear an ankle tag and was not allowed to be out outdoors after 6pm. He was earning just £30 a week at the time. Vardy joined Leicester in 2012 for a record fee for a non-league player of £1m. But even this year, he was on nobody's radar as a man likely to score 22 goals (so far) this season. Vardy has been brilliant for both Leicester and England. Watch this sleight-of-foot.
9. Statistically this doesn't make the slightest amount of sense either.
Want to win football matches consistently? Get the ball more than the opposition. Control the possession. There are some teams who try to win against superior opposition by trying to sneak a goal on the counter-attack. This can work as a one-off strategy in a big match. But for a whole season? Never! Unless you're Leicester. The Foxes have the SECOND LOWEST BALL POSSESSION in the league at just 43.8 percent. This makes no sense. No sense at all. But it does speak of a team which is committed, disciplined and which takes its chances. There's a lesson for all of us here.
10. Leicester has never won a thing of consequence before
Well, they've thrice won a thing called the Football League Cup, a competition no one really cares about which is like the poor cousin of the FA Cup. They've also won the second tier competition seven times. But the team from England's 13th most populous city has never come close to winning the Premier League. Many people are saying they'll finish last next year. The weird thing is they could be right. And that's just another reason this is such a great story.