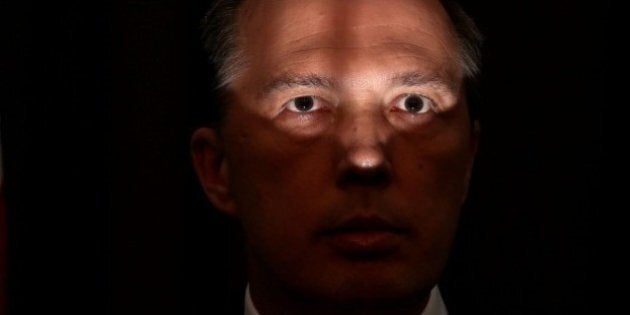 The office of under-fire immigration minister Peter Dutton is reportedly unhappy with an off-the-cuff, pre-press conference photograph that makes him look, well, creepy.
Dutton was photographed by Sydney Morning Herald snapper Alex Ellinghausen during a press conference where he condemned asylum seeker advocates for "causing serious harm" after the burning death of a refugee and the attempted suicide of another at an Australian run immigration facility on Nauru.
"I tweeted it with the caption 'Eek' meaning that if I were a press secretary to Mr Dutton I wouldn't be thrilled to see the picture. Mr Dutton's offsider took considerable umbrage with it and most strongly protested its presence on the socials.
"After one of those conversations where both parties say the same thing over and over again I agreed I would take it off Twitter so long as I could say they asked me to do so."
Complaints from the Minister's office aside, Twitter has been having fun with the photograph.
The photo was taken at a Canberra press conference where Dutton blamed asylum seeker advocates for suicide attempts on Nauru and Manus.
"I repeat the call to advocates today that their intentions may be honourable and they may be noble in their own minds but they are causing serious harm. We won't tolerate that situation," Dutton said in a press conference.
"...People offering false hope to those people in a very desperate situation, might make the advocates feel well about themselves but it is putting people in a very difficult situation on Nauru and those acts frankly should be condemned."
When pressed during the press conference, Dutton gave no examples of refugee supporters advocating acts of self-harm.