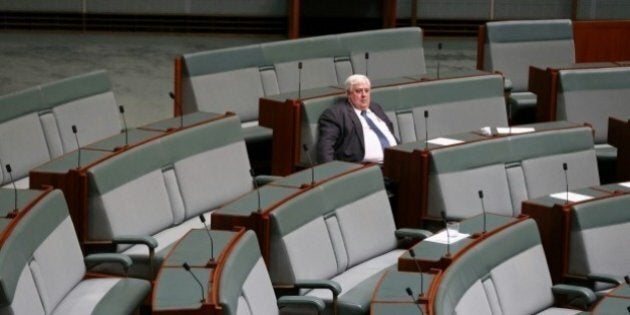 Controversial business magnate and federal MP Clive Palmer will not recontest his House of Representatives at the coming election, but left the door ajar for a possible tilt at the Senate,
Palmer took the opportunity to officially announce his plans in the House on Wednesday morning, also taking aim at other politicians and the media in what may be his final speech to the chamber.
"Unfortunately politics relies on attacks on individuals and not on sound policy discussion. Rather than endlessly attack individuals in the parliament, debate in this chamber should focus on the agenda for the nation,' he said.
"I have been personally continually attacked over the last three years by a centrally controlled media, which is by its very support for the two party system, a danger for democracy in this country. All the so-called scandals and media questions have amounted in hindsight to nothing, the same is true about the current lies and criticisms."
He said Palmer United Party would contest Senate seats in all Australian states at the July election.
Later in the day, at a press conference, Palmer said his time in the House was finished but did not rule out a campaign to gain a seat in the Senate. When asked about how PUP's Queensland Senate team would look, Palmer played coy.
"We will announce our Senate team in Queensland later on. We can't give you all the news now or you wouldn't come to that press conference," he said.
Palmer, who only won Fairfax by 53 votes at the 2013 election, was also asked about former PUP members Jacqui Lambie and Glenn Lazarus, who left the party after being elected to the Senate under its banner after well-documented clashes with palmer.
"While I am here I have to apologise to the people of Tasmania for Jacqui Lambie's behaviour when she was a Parliament," he said.
"[Lazarus] crumbled and couldn't take the pressure. He was chairman of the Queensland inquiry which got rid of Campbell Newman in Queensland, and if you went to any of those inquiries you would have seen all the senators from the LNP screaming and shouting and abusing him. I guess, when you play football a lot you like to see how your game is going, so he is used to good public city. In my case I am used to bad publicity so it doesn't worry me."
While he had the attention of the Canberra press gallery, Palmer also unveiled Western Australia PUP Senate candidate Kevin Morgan, and announced a policy that would seek to remove entitlements enjoyed by former parliamentarians, such as free airfares, pensions and other travel perks.
"So we will be running very strongly on the policy that no politician or Member of Parliament should receive any superannuation or perks. They even get five free flights, down to Canberra for the next six months. Can you imagine that? Why would you want to come back to Canberra free? I suppose it is an incentive for tourism. Anyway, that will be one of our major policies," he said.
Rumours that Palmer wanted to move from the lower house to the Senate have swirled for many months, with Fairfax Media reporting in August 2015 that the businessman was interested in a switch and had even canvassed support for preference deals among other independent senators.
Palmer has been under enormous pressure to declare his political future, after his Queensland Nickel refinery sacked hundreds of workers and entered administration . Opinion polls showed his support in his Queensland seat of Fairfax at around two percent, while his voting and attendance record in the parliament has also come under scrutiny, arriving for the fewest number of sitting days of any MP.