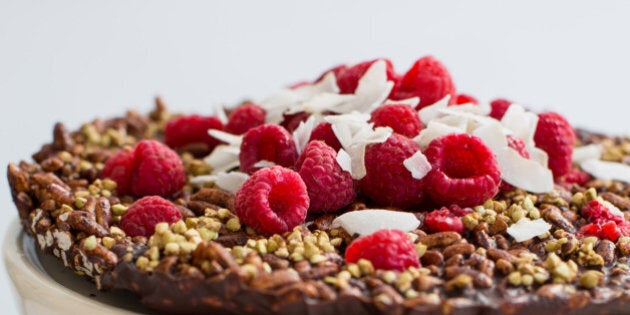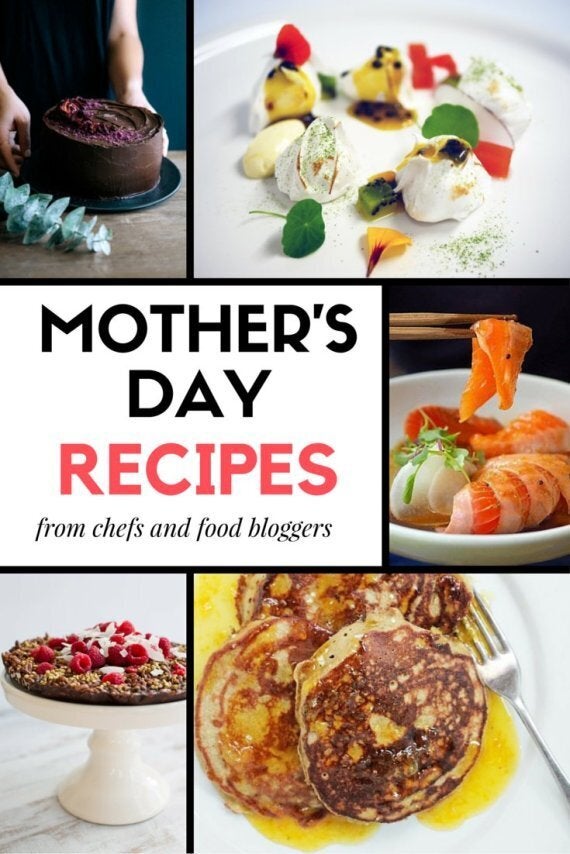 Mums are the best. For starters, they spent hours bringing us into the world, and from that point onwards, our mums have loved and cared for us during the good times, and the really, really bad.
Mother's Day is a time when you can spoil your mum and say 'thanks', and what a better way to show your love than with food -- something we all love and which brings us together.
These Mother's Day recipes come from talented food bloggers and top chefs. Both sweet and savoury, these recipes are either inspired by mum, are recipes mum used to make, or recipes these chefs and cooks just like to make for mum.
Some of these recipes are rich and decadent, while others are on the healthier side -- a few recipes even cater to specific dietary requirements such as gluten-free, so every mum can enjoy their special day.
"This chocolate beet cake is a combination of two different cakes my mum always made," Ashley Alexander from Gather and Feast told The Huffington Post Australia.
"I am really happy with how it turned out. Especially the frosting with its star ingredient, avocado. Yes, avocado!"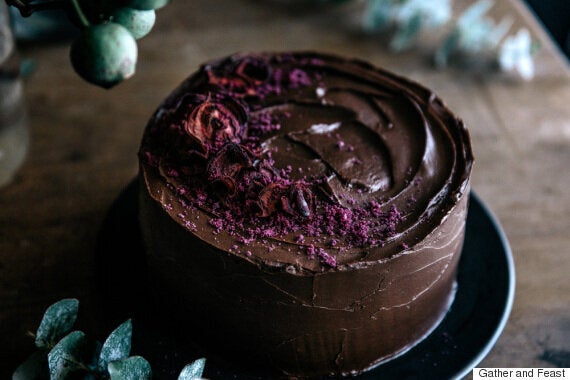 2. Coconut Pavlova, Passion Fruit Jam and Whipped Crème Fraiche
By Jarrod Di Blasi, Head Chef at Ezard in Melbourne
"Who doesn't love pavlova? The textures of crunch, with a little sweetness from the lashings of cream combined with tropical fruit -- it's the perfect dessert to spoil Mum this Mother's Day," Di Blasi told HuffPost Australia.
"Pavlova always reminds me of fond memories with my mum and that's why I included it on the special Ezard Mother's Day menu this year."
4 egg whites
240g caster sugar
2 ½ tsp cornflour
1 tsp white vinegar
Finely grated rind of 1 lime
50g coconut flakes
500g crème fraiche
25g pure icing sugar, sieved
260g passionfruit pulp from 12-15 passionfruit
140g caster sugar
Juice of 1 lime
Scraped seeds of 1 vanilla bean
1 punnet nasturtium flowers
1 punnet nasturtium leaves
10g freeze dried kaffir lime powder
30g freeze dried raspberries
Pre-heat oven to 110°C. Lightly grease a baking tray and line with baking paper. Whisk egg whites and a pinch of salt in an electric mixer until soft peaks form (3-4 minutes), then gradually add sugar and whisk until stiff and glossy. Fold in cornflour, vinegar and rind, then the coconut flakes. Spoon onto baking tray and spread evenly to roughly 4cm in height. Bake until crisp on the outside, but not coloured (1½-2 hours), turn off oven and cool completely in oven (2-3 hours).
Process passion fruit in a food processor to crack the seeds, strain into a saucepan and return a third of the seeds to the juice. Add sugar and vanilla seeds, stirring over medium heat to dissolve sugar, bring to the boil and cook till temperature reaches 102°C. Remove from the heat, stir in lime juice, then refrigerate until cooled and set.
Whisk crème fraiche and icing sugar in a bowl until soft peaks form, fold in a third of passionfruit jam. Refrigerate until it sets to quenelle consistency.
Roughly cut five bite size pieces of pavlova and lay sporadically around the plate, then spoon two quenelles of the whipped crème fraiche on either side of the pavlova. Top with a good drizzle of passion fruit jam and garnish with the nasturtium flowers and leaves. To finish, graze the dish with the freeze dried kaffir lime powder and raspberries.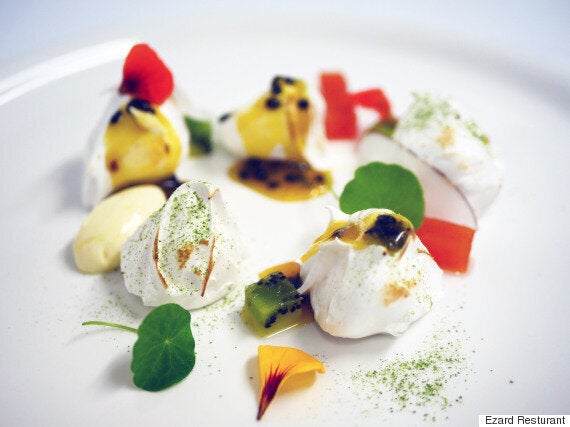 "This recipe is such a lovely Mother's Day idea because it's full of the seductive flavours of orange and vanilla -- it's almost like indulging in dessert for breakfast, " Teresa Cutter told HuffPost Australia. "They're also gluten free, making it a great breakfast for mums with sensitive stomachs.
"It's special to me because oranges weren't always in season when I was growing up, so it was always a real treat when my mum would make orange marmalade, jams and preserves that would fill our house with a deliciously sweet citrus aroma. Hope you love them as much as I do!"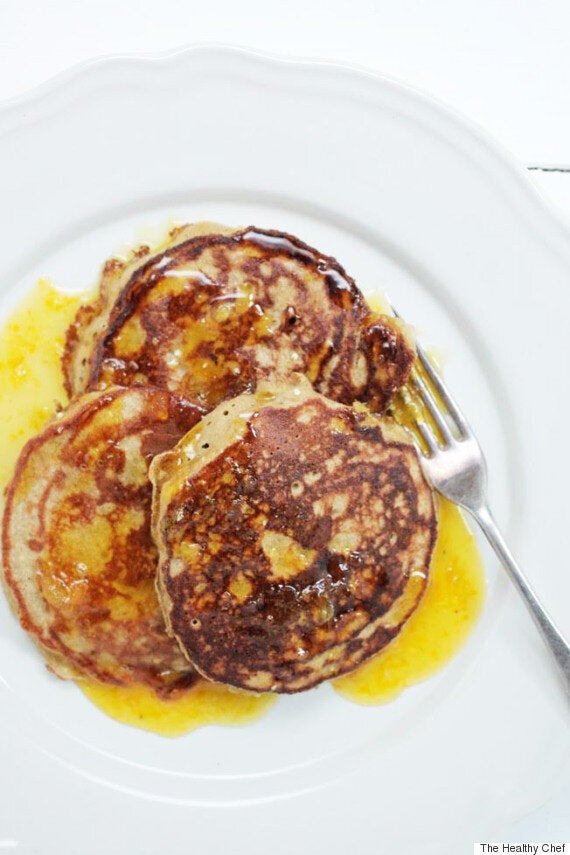 4. Raw Chocolate Crackle Cake
"Mums love to be spoilt with chocolate on Mother's Day. They also like to feel fabulous. This cake does both," Sally O'Neill from The Fit Foodie told HuffPost Australia.
"What's better than a delicious guilt-free indulgence to celebrate the most wonderful woman in your life? Bonus: I'm sure she'll share a slice with you, too."
1 cup cacao butter
1 cup coconut oil
1½ cups cacao powder
1 teaspoon vanilla bean powder or natural vanilla essence
½ cup rice malt syrup or honey
Pinch Himalayan sea salt
¼ cup dried sour cherries or dates, chopped
½ cup puffed brown rice or quinoa
½ cup buckwheat
½ cup fresh raspberries
Additional ½ cup fresh raspberries
3 tablespoons extra buckwheat
Melt together the cacao butter and coconut oil. Add the cacao powder and whisk or stir until completely smooth. Add the salt and vanilla, then stir in the sweeter of choice, adjusting to taste if you prefer it sweeter.
Stir in the puffed grains, dried fruit and buckwheat until well coated. Add the raspberries in last, folding through lightly to avoid crushing them.
Pour mixture into a lined brownie pan/quiche dish/silicone patty cases. Garnish with toppings and place in the fridge for an hour or until set.
Serve straight from the fridge.
Tip: This cake will melt at room temperature -- store in the fridge or freezer.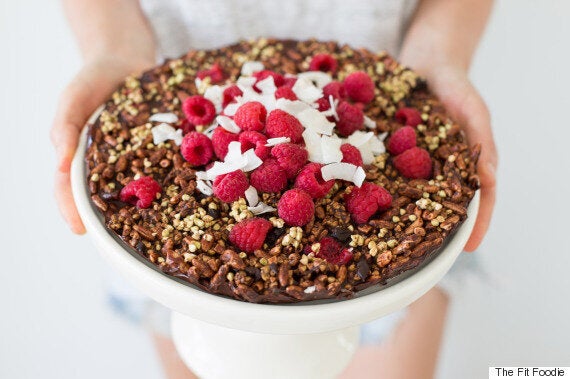 "There is nothing like the smell of freshly baked bread. I would consider it my favourite aroma," Cox said. "My mum's home-made bread wafting through the house is still enough to send my taste buds into a ridiculous frenzy.
"This bread is quite easy to bake and holds its texture well for a gluten-free bread thanks to the inclusion of psyllium husks."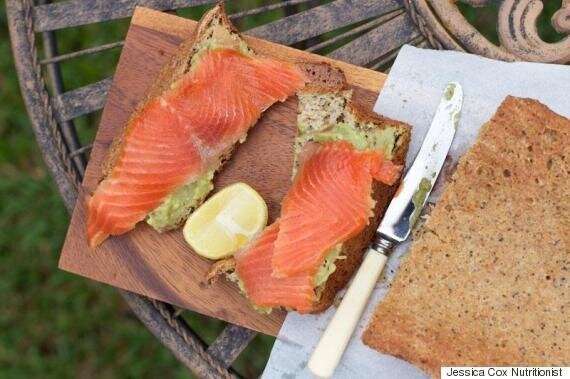 6. Petuna Ocean Trout Sashimi, Wasabi and Black Pepper Dressing
"This is my favourite Mother's Day dish because it is easy and simple to compose, without compromising flavour. After all, the less time spent in the kitchen, the more time you get to spend with mum on her special day!" Wong told HuffPost Australia.
"Pair this with a nice Riesling or Pinot Gris to really spoil your mum this Mother's Day."
25g sugar
50ml rice vinegar
50ml premium soy sauce
10ml extra virgin olive oil
Pinch black pepper
2 teaspoons wasabi
250g Petuna ocean trout loin, thinly sliced (ask your fishmonger to do this if you're not confident)
50g daikon radish, thinly sliced into rounds
Pinch salt
Pinch sugar
1 tablespoon rice vinegar
¼ punnet micro radish tops (most baby herbs work well with this dish)
Caramelise sugar in a small pot with one tablespoon of water to get it started. Once a light caramel colour is achieved remove from heat. Be careful not to burn the sugar, as it will make the dressing bitter.
Whilst still hot, add the vinegar. This will stop the caramelisation process. It will also help dissolve the sticky caramel.
Carefully pour your mixture to a mixing bowl and add soy, black pepper and wasabi. Mix very well. The wasabi will emulsify in the dressing.
Set aside. This will hold for three days in the fridge. You can always add more wasabi if you like it hot.
In a small bowl, place daikon, salt and sugar. Mix well and allow to sit for 10 minutes. This is a light pickle. To stop the pickling process add rice vinegar and mix well.
Place trout and daikon pickle on the plate.
Cover generously with dressing and top with micro herbs.