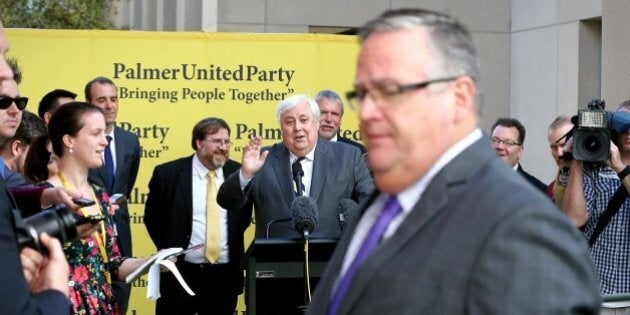 CANBERRA -- Controversial businessman and federal MP Clive Palmer got in a shouting argument with fellow Queensland politician Ewen Jones, as Palmer held a press conference about his political party's Senate candidates.
Palmer, who on Wednesday confirmed he would not be seeking re-election in his Queensland seat of Fairfax, unveiled some more candidates who will stand for his Palmer United Party in upcoming Senate elections. As Palmer took questions, Herbert MP Ewen Jones angrily interrupted.
Jones' electorate, in north Queensland, includes Palmer's Queensland Nickel refinery at Yabulu, which sacked hundreds of workers and entered administration after well-documented financial woes. Jones has been going after Palmer for some time, attacking the Fairfax MP over his business practises.
"When are you giving back the money that's gone to Palmer United from Queensland Nickel? What about the purchases you have made?" Jones said from the back of the press conference, surprising reporters who had been focused on Palmer.
"None of that is true... You are just desperate to lose your seat... I spoke to you in October and you told me to get stuffed, the government wouldn't put any money in," Palmer replied.
The two men continued their shouting match over jobs and employment.
"I am looking after Townsville," Jones shot back.
"You are looking after yourself, nobody else. You don't look after anybody else and you will soon be un employed," Palmer retorted.
"Goodbye, Ewen. Would you like a tissue?" one of the PUP candidates joked.
Palmer took aim at Jones again after the press conference.