In September 2011, hematologist Ian Davis was diagnosed with Motor Neurone Disease, a progressive condition which ultimately leads to the wasting away of muscles and, eventually, death.
From diagnosis, the average lifespan is 27 months.
In 2013, at 34 years of age, Davis was facing the realisation his life-saving work at the Peter MacCallum Cancer Centre was coming to an end.
"It was around that time MND was starting to have a significant impact on my mobility," Davis told The Huffington Post Australia. "Though I was still working at the time, I knew I would soon either have to change duties or give up work altogether.
"I had spent all these years at uni studying, all these years working at my career, and it just made me realise a lot of people's identity comes from what they do.
"When the prospect of that is being taken away from you, it's hard to know what to feel about who you are and what mark you are going to leave. I always thought I would make some kind of impact on the world, and at that point I guess I started thinking, 'what am I going to do?'
While many of us may have crawled into a hole of self-pity at this stage (and Davis does refer to this time as his "black dog days"), his rapidly decreasing physicality also spurred him into action.
"MND is a very disempowering disease. It takes away your dignity, your self belief, and in some parts, who you are as a person," Davis said.
"Back then, when I was starting to fight the disease, I thought it might be good to do something physical while I still could, which is how the ride came about. I was pretty down about my diagnosis and thought, not only might it help other people, but it might help me."
The 'ride' was a tandem bike ride from Brisbane to Sydney, taking 16 days and covering the distance of a million metres. Though Davis was unable to ride a bicycle by himself, he sought the assistance of Scott Sullivan, a Brisbane banker who also had MND.
"At that stage, my arms and hands were pretty good, though my legs were pretty knackered. Even though I knew I couldn't do it by myself -- pedalling with your arms is pretty tiring -- I thought Scott and I might be able to do it together.
"Me with my arms, and him with his legs, I thought maybe together we could be a whole man again."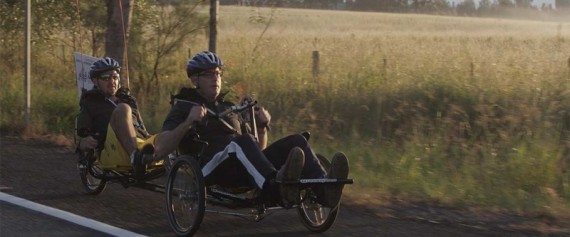 Scott and Ian on their custom-made bike.
So Davis sent a text to Sullivan asking him what he thought of the idea.
"I was half expecting him to say no, but I got a reply within ten to 15 minutes saying 'let's do it'. And it just grew from there," Davis said.
Not only did Davis and Sullivan successfully complete the ride in May 2013 -- raising funds and awareness for MND in the process -- their journey was captured in the feature film 'Legacy: A Ride to Conquer MND'.
The documentary, directed by Tony Prescott, follows Sullivan and Davis as they make their way down the east coast, each reflecting on the mark or 'legacy' they will both leave behind.
"Originally I was thinking of the film more as a personal diary," Davis told HuffPost Australia. "So I approached Tony asking if he could maybe just bring a camera along. Nothing fancy. No fancy editing or anything.
"But Tony saw the story as something bigger than that. He pitched to me the idea of making it into a feature.
"I just said, 'you're the creative one. If you think there is a bigger story there, let's do it'."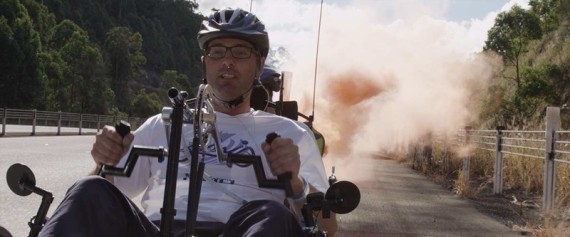 Ian Davis on the road.
Now, the finished product is ready to be released to the public, and will be screening around the country as part of a TUGG tour starting on the east coast and then expanding nationally.
"The experience was just amazing. Scott and I had only met once before, and then the next thing we knew we were spending six to eight hours on a bike together every day," Davis said.
"The bike was very low and very heavy, not to mention having two grown men on it. At the best of times, we were only averaging 15 km an hour, and going up hills, we were incredibly slow.
"It was very challenging but at the same time, we could sit in the chair, and talk about life. Scott could talk about his family.
"At some points doing it, particularly on the days when it wasn't raining and there weren't massive semi trailers coming past us, there were times early in the morning when the sun was out, the day was beautiful, we were both doing something physical and we both just forgot we were sick."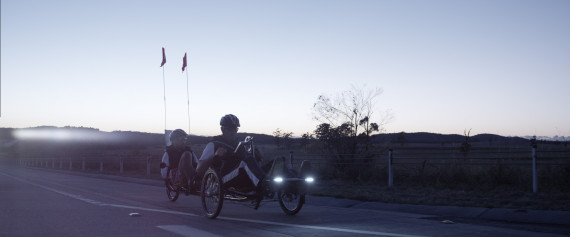 Scott and Ian riding at dawn.
Scott Sullivan died 11 months after the ride took place, and Davis is acutely aware he, too, won't be around for his wife and their young son forever.
He says he is immensely glad 'Legacy' is just one part of the real-life legacy both he and Scott will leave behind.
"Now I have a baby son of my own, who is just 20 months old, I can see now in 5 years, 10 years, 20 years time, he will have something that's about his dad and a way to get to know me a bit better," Davis said.
"Hopefully he will be able to get a better idea of who I was, what I did and what I believed in.
"You know, as a Dad, there are all these lessons you want to teach your children. 'You can do anything if you put your mind to it,' and those sorts of things.
"In the movie, all those sorts of values are definitely there. And I am really happy for Scott's family, that his daughter and son can see him like that. It's a really good thing that this film exists."
The 'Legacy' TUGG tour kicks off on 5 May, 2015. To find a screening near you, head here. To host your own screening, head here.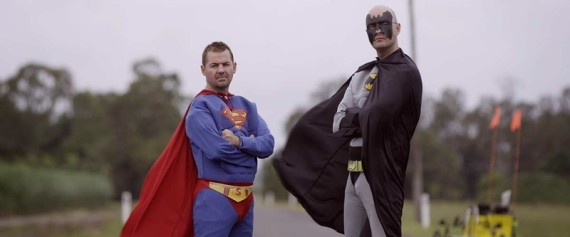 Visit HuffPost Australia's profile on Pinterest.