Video by Emily Verdouw
Twenty-six years ago, Eugene Tan would wag class. But instead of rebelling at the far end of the oval, or down the street, the boy from Perth would hide in the high school's darkroom with a borrowed Pentax Asahi 50mm film camera and moments captured from lunchtime.
It would be fair to say it paid off for the award-winning surf photographer.
"Photography was kind of dorky back then, before new media, but I just thought it was the best; I had the lab to myself. It was a beautiful darkroom, in the admin building hidden underneath a staircase," Tan told The Huffington Post Australia in between taking shots at South Bondi.
It's 6:30am. The wind is still, but the beach is pumping. Or maybe it just feels that way because every third person to walk past stops to chat to Tan, known affectionately as 'Uge' and professionally as 'Aquabumps'.
Jogging past, a man slows, and stops to say good morning; "What's up Uge?"
Tan smiles. "You know, morning rituals."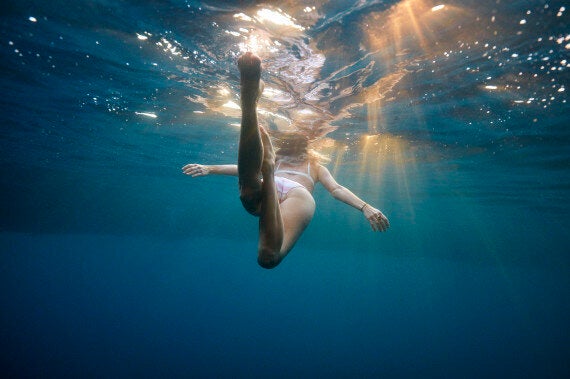 Tan's love of photography started in his high school darkroom with a borrowed Pentax Asahi 50mm film camera.
The 41-year-old has spent almost every morning of the last 17 years walking the one kilometre stretch of sand called Bondi Beach and playing in its surf -- capturing moments to sell in his gallery, post to his 97,000 Instagram followers and send to his 48,000 newsletter subscribers.
That's how it all began. And in a way, it serves a similar purpose to the darkroom; a brief escape from the daily grind for subscribers dreaming of wagging work. A collection of photos from where they'd rather be arrives in their inbox by midday, every day.
We wander closer to the water on the south side of the beach. Two lawyers stop in their tracks to chat about a shot Tan took last week. They read the newsletter every day, which isn't surprising because lawyers make up 11 percent of the Aquabumps subscriber base. You can guess why.
A few more steps, then we run into a woman with a belly bulging between her bikinis. "How's the bump, Michelle?" asks Tan. A couple of steps further -- close to the water now -- we meet Kay, who is in her 60s and walks the stretch of Bondi every single morning. She has for more than a decade, which is as long as she's known Tan.
Her one-piece looks like a rainbow paddle pop, and fits like a glove. Look a little closer and you see the water, then the sky. It's a photo Tan's taken "years ago now" which became part of a bather range. It was the photographer's first ever collaboration with a company; Australia's beloved Speedos.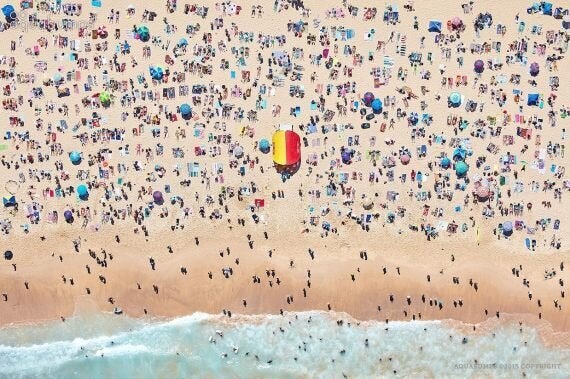 Tan initially just sent out emails of his photographs to subscribers, which eventually led to the opening of the Aquabumps gallery.
Then there was the collaboration with Havaianas, then the clothing label Bassike (the t-shirts sold out in two weeks). And last summer it was Bailey Nelson, the eyewear company. The collaborations get the Aquabumps name out there but the business is broken down into two main revenue streams; the first (and main income) comes from artwork sold in the gallery; the second through a commercialised website and partnerships delivering branded content. Often it's 'behind the scenes' style videos, which run on the Aquabumps channels first, then the partners'.
Tan usually has five "category exclusive" partners at a time. At the moment the big five are Corona, Audi Australia, Air New Zealand, Samsung and Canon. Telstra, Peroni and Landrover have all had Aquabumps videos (the Peroni footage took Tan to Italy), but the photographer doesn't like to change partnerships often.
This year alone Tan has travelled to Rio and Buenos Aires. He'll be in New Zealand soon, then Indonesia and a trip to California is on the cards. The trips work pretty simply; an airline will come on board, then often the local tourism board. The travel costs are covered in return for beautiful photos or footage, and Tan has new content for the gallery. Tan hires his own helicopter on home soil all year round. "You just charter it, like a taxi, but with a pilot on board." It's about $40,000 a year.
"A lot of people say to us, 'Oh wow, haven't you guys gone great guns in the last couple of years'. But it began 17 years ago, so really, it's been very slow," Tan says.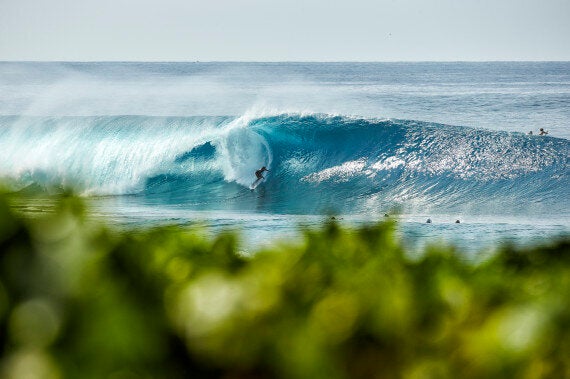 "Everyone thinks I don't do anything, but I love that persona. It's so not true though."
Aquabumps -- the name, you can probably guess, stands for water and waves -- began in 1999 as a surf report from 'Uge' to his mates back in Perth. Working as a creative director for software company Eclipse, Tan was privy to the software allowing bulk emails to be sent, and then eventually sent them with pictures embedded.
After asking to borrow the software, Tan would go down to the beach every morning, take photos, code them into a bulk email and send it off with the day's surf conditions to 20 mates before heading to work.
"This was back in the day where you probably got about five to 10 emails a day, so you always read them. It was one of the first newsletters with daily photos. I couldn't find anyone in the world doing it anywhere," Tan says.
He did this for six years before he quit the corporate world.
"I was a meetings guy. I didn't like my job, and then a mate rang me and said, 'hey, I've got a retail space in Bondi. It's $400 a week. Do you want it?'"
Aquabumps photos were selling online at this point but Tan didn't know whether sitting in a gallery seven days a week was for him. Planning to use the space as an office if it failed, he "gave it a go".
"I opened the doors and the first weekend was a cracker," Tan recalls.
The photographer laughs when I ask how much he made. "I hate saying it because one journo wrote it once and then about 10 more people started doing what I'm doing. But it was a lot."
Through the gallery, Tan has found a home, a commercial director and a wife. The latter two are Debbie Tan, the mother of his two children. He jokes she offered half the price for a photo and ended up with half the business. But she paid full price for the print, eventually.
Back then customers paid half up front and half when they picked up the print, but Debbie took two months to collect hers. At the time she was working at Harper's Bazaar in the city, and always busy. So Tan called regularly, hassling her to pick it up.
"Then one day she came in, she was dressed all beautifully from Harper's and she hung around for about two hours talking to me," Tan said. "Then I started seeing her out a bit. It happened organically."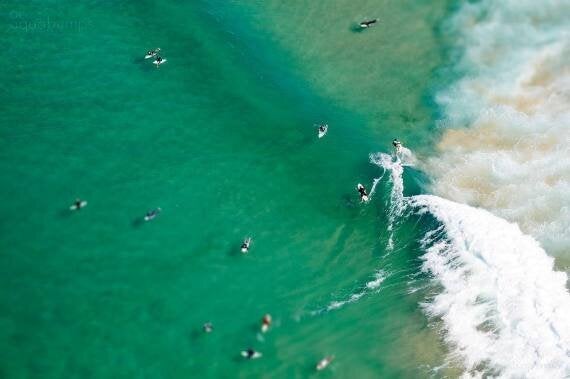 "A lot of people say to us, 'Oh wow, haven't you guys gone great guns in the last couple of years'. But it began 17 years ago, so really, it's been very slow."
And in a typical Bondi fairytale, "organically" was at a party, where Tan's mates started showing a bit of interest "so I had to pick up my game," he jokes.
After three years they were engaged, and four days before their wedding in Bali Debbie found out she was pregnant.
"We announced it with fireworks at the wedding," Tan says, with a smile.
We're now sitting at Gusto -- a small, almost 'hole in the wall' cafe -- accidentally exclusive to locals. Behind Tan sit his two little boys, backs to us, as they perch on stools in "their spot" near the baristas, sipping on babyccinos and demolishing a ham and cheese croissant.
The eldest, Jet, is five and can surf if the waves are small, although "he stands up a bit weird," Tan says. Spike hates the beach at the moment, but he's only two. He swivels around on his stool and smiles.
Soon we're at the gallery, a couple of streets over from the cafe, and a couple of hundred metres from the beach. Tan rides his bike everywhere. The gallery is eight years old, and worlds apart from the first which the photographer endearingly calls a "ghetto".
The walls are covered in prints from the world's best beaches, with Bondi dominating. The photographer has been to about 25 different countries, but he'll only jump on the plane when there's a decent beach at the other end.
Behind one side of the print covered walls is the studio, where all the photos are printed and signed by Tan. He now has nine employees, with two printing all day, every day. In his corporate job he was a manager of 16 people and "now it's happening all over again".
It's only 8:30am, but Tan will spend most of his day in here. It's 10 percent photography, 90 percent admin and "small business stuff".
"Everyone thinks I don't do anything, but I love that persona," Tan says, laughing. "It's so not true though."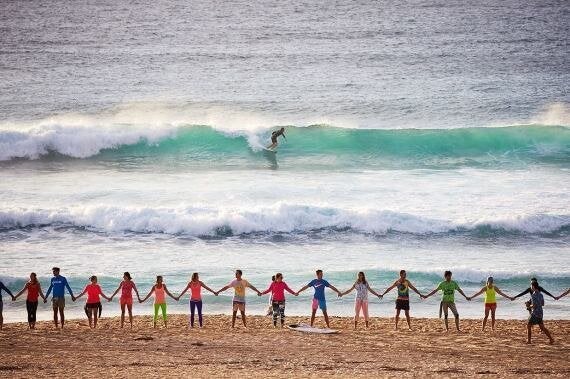 Tan has been capturing moments at Bondi Beach for the last 17 years.
Shipments are ready for Paris, London and Santa Monica. A gallery overseas is in sight for Tan, with London on the cards.
As we walk out of the gallery, Tan follows. He's taking a photo of the store for a new Instagram account he's opened.
"We only have 99 followers at the moment," Tan says with a grin. Almost impressed with himself.
In between taking shots at the beach, hours before, he said no one who works behind the camera likes to be in front of it. Although he's used to it now. But if it all went away, it doesn't look like he'd mind.
All he needs is his morning ritual.