Global sales for false eyelashes have soared in the past few years. Even the $16 pair of lashes Kimmy K wore on her wedding day (her third wedding, the one to Kanye) sold out, despite the exorbitant price tag.
This is down to a burgeoning beauty market in general thanks to the rapid growth in beauty bloggers and vloggers -- never before has there been such a focus on makeup.
Though applying false lashes on the daily is far from realistic. Sure, lash extensions are another option, but a pricey one at that.
So, you're left with what your mumma gave you. But can you give your lashes a growth boost with the swipe of a serum? Designed to be 'drawn on' the base of the lashes (kinda like a clear liquid liner) the promise of a lash serum is longer, lusher lashes in a few weeks with daily use.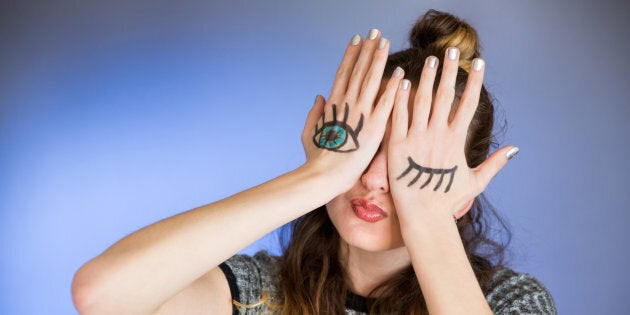 "Other than Latisse (which contains the active ingredient bimatoprost), I have seen no published research indicating any eyelash growth serums sold by cosmetic companies work as claimed," Paula Begoun, who is known as 'The Cosmetics Cop' (her books Don't Go to the Cosmetics Counter Without Me have sold millions of copies in which she and her team explore the ingredients and efficacy of beauty products) told The Huffingon Post Australia.
Begoun warns consumers to be savvy when it comes to too-good-to-be-true marketing claims.
"If they do work then they would contain a similar ingredient to bimatoprost. Of course this doesn't stop the cosmetic industry from saying they have found unique ingredients that work, and of course each company has their own 'miracle ingredient' to convince a consumer to give it a try, but the research is so lacking as to make it almost comical. Though given the price tag on these so-called eyelash growth serums, it isn't a laughing matter."
"Even the discovery of the ingredient bimatoprost was just a happy accident -- it was a side effect of a glaucoma medication. Eyelash growth is rather unique when compared with other hair on your body. Eyelashes obviously don't grow very long -- they have a far shorter hair growth cycle than hair on your head or body and they don't seem to be related to hormone cycles, and they usually don't become grey until much later in life," Begoun said.
The take home? Instead of reading the marketing claims on the front of the packaging, check the ingredient label on the back. If it contains bimatoprost then that's your best bet.
Or, try a fiber lash mascara which adds tiny fibers to the end of your lashes to make them appear longer.