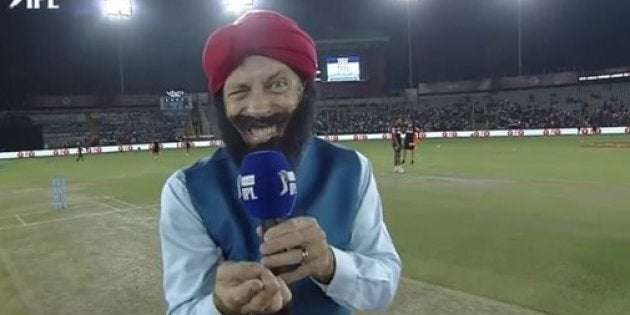 Former Kiwi fast bowler turned cricket commentator Danny Morrison has always been just three letters of the alphabet away from being Danny Moron.
Morrison commentates in the the world's premier Twenty20 cricket competition, the IPL, and he's built a reputation as quite the comic. Just ask him. Cricket fans are not so sure. Some like him, others don't. Here's a link to a video of his commentary "highlights".
Overnight, Morrison crossed what many in the western world would consider an uncrossable line. He did blackface. Repeat, he did blackface. He actually smeared dark goo on his face, donned a turban and a fake beard and took the field to report the toin coss alongside Indian Test captain Virat Kohli.
If you're one of those people who see no problem with blackface, don't let this white-faced reporter preach at you. You might take your cue from Ketan Joshi, who wrote an excellent blog for Huffington Post Australia in February entitled "The Colour Of My Skin Is Not A Costume".
Here's a little excerpt from that blog:
"This is a signal that the wavelength of light that my outer layer absorbs is a major part of what I am to you. To the point that you feel I'm unrecognisable without being designated as A Brown Man. That is how you see me: a brown man.

So, you know. Consider that it hurts, not because of some evil push for political correctness, but because it actually hurts -- because we're not lying, or faking it."
But you might also heed the tone of the Indian media, which has mostly a) ignored the incident or b) made of light of it. Here's what one Indian website had to say:
"Danny Morrison might easily be one of the quirkiest presenter and commentator in the world of cricket. His sense of humour and eccentricity makes him a very lovable man in the IPL. But the former Kiwi player took his on-field antics to a whole new level when he came up dresses as a sardar in the pre-match session on the field."
A sardar is a colloquial term for a male Sikh. Morrison was in Mohali, a mostly Sikh city in India's north. Far from considering Morrison's outfit an offensive slur, many locals appear to have taken it as a compliment -- much as a musician dressing in a cork hat would delight an Australian concert audience.
"Cricket can open bridges really and I think Danny tries to do it sometimes. Look at the crowds there. They're having a good time. From my point of view, I can see nothing culturally offensive from Danny Morrison," Bhikhu Bhana, president of the NZ Indian Central Association, told Kiwi website Stuff.co.nz.
Nonetheless, to many western eyes it was all a bit wrong. To Australians it was a throwback to "Mahatma Cote", the character invented by former Australian Test cricket Greg Ritchie who was responsible for some of the least politically correct "humour" ever seen on television.
Danny Morrison's didn't stoop to Greg Ritchie levels. But there's a pretty strong case to say this wasn't his best moment either.