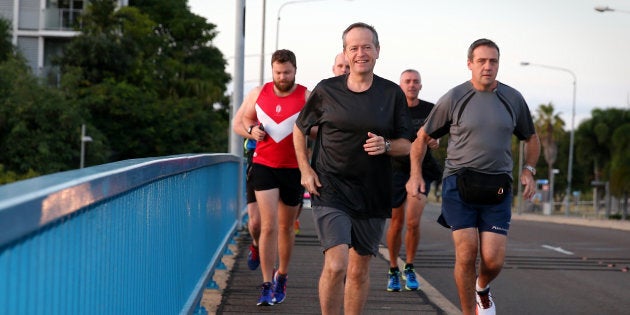 Welcome to Campaign Watch, HuffPost Australia's wrap-up of all the election silliness, social media snafus and stuff-ups. We're at day two of a 54-day campaign.
Labor leader Bill Shorten is running for office, and according to The Australian, it is paying off; the opposition leader has lost up to 15 kilograms in recent months, after a strict regime of healthy eating and exercise. He was up early to hit the pavement in Townsville, on the second morning of the campaign, bringing along journalists to watch him jog along The Strand.
Of course, election-time photo opportunities sometimes collide, and it seems there wasn't enough room in this town for both Shorten and Liberal MP Darren Chester, as their respective run routes intertwined for this excellent snap.
Lets' keep on the travel theme. Yesterday, we brought you news of the Big Bill Bus, the vehicle (bearing a massive rendering of Shorten's head) that will ferry journos around the campaign trail with the Labor leader. Today, we got a better look at who's in charge; that is, NSW Senator Sam Dastyari, who hopped behind the wheel for a stint. The inside word from the campaign trail was that he doesn't hold a heavy vehicle licence -- shhh, don't tell anyone.
And one last one on transport; here's New England candidate Tony Windsor high-fiving a dog on a ute, remixed into a Thug Life video by the ABC. Yes, you read that right.
The first mean artwork of the campaign has emerged on day two of #AusVotes, with this signage popping up in Malcolm Turnbull's electorate of Wentworth. Who's responsible for this one?
Independent Victorian Senator John Madigan will be under pressure to retain his seat after recent changes to Senate voting rules, so he's doing all he can to drum up publicity and cash for his campaign. His first stunt is... well... let's let him explain in his own words, from a press release we got.
"Independent Senator Madigan will be kicking off his campaign [on Monday] forging a Ned Kelly suit of armour to raise funds. The armour will be auctioned on eBay, with proceeds going toward Senator Madigan's campaign fund. Senator Madigan will be at the family forge he has worked at since he was a boy."
Yes, a senator is forging an entire suit of Ned Kelly armour; he's got the helmet done already, as you can see for yourself below. We'll bring you updates as they come.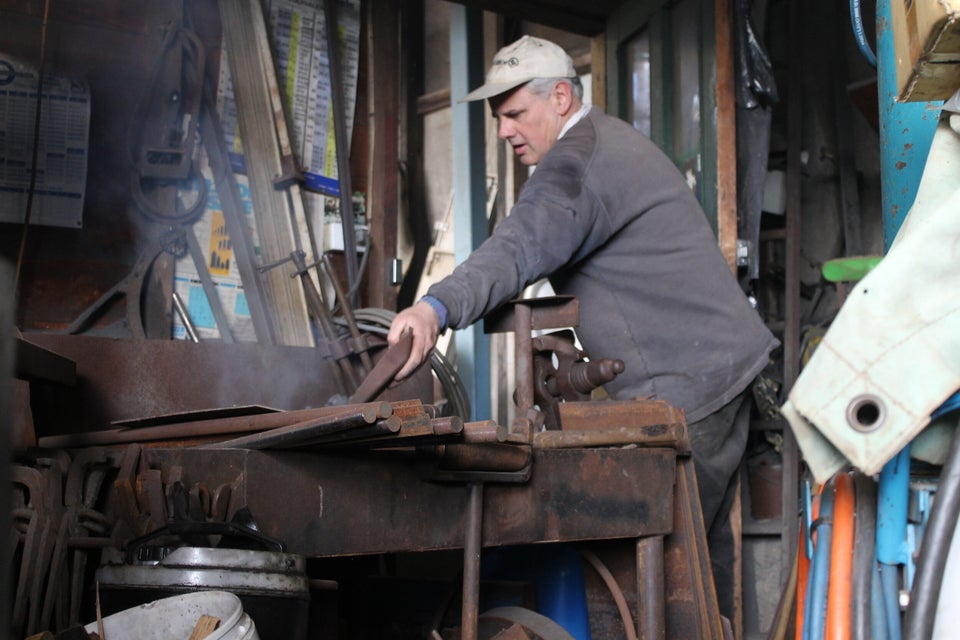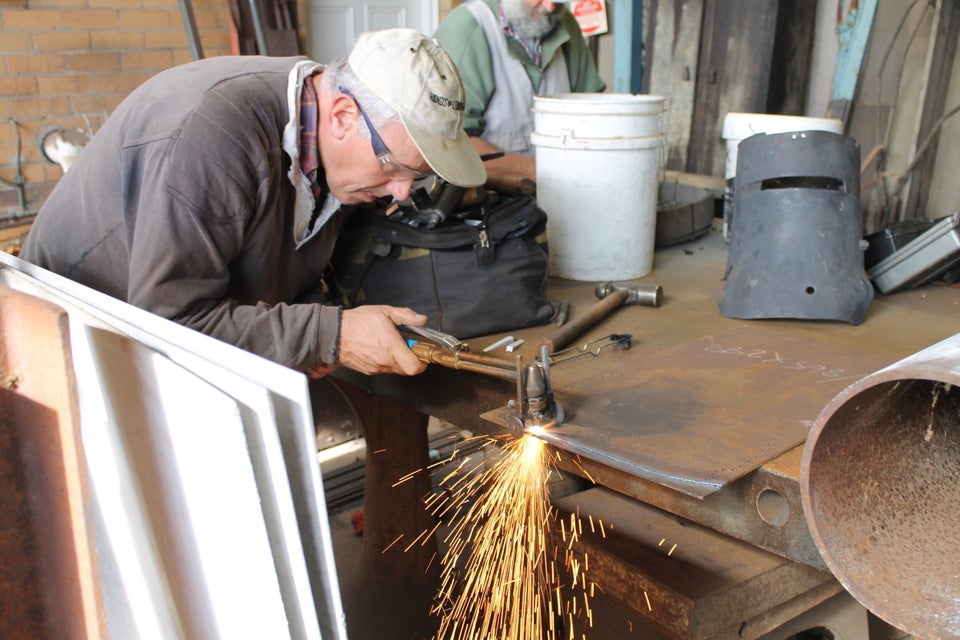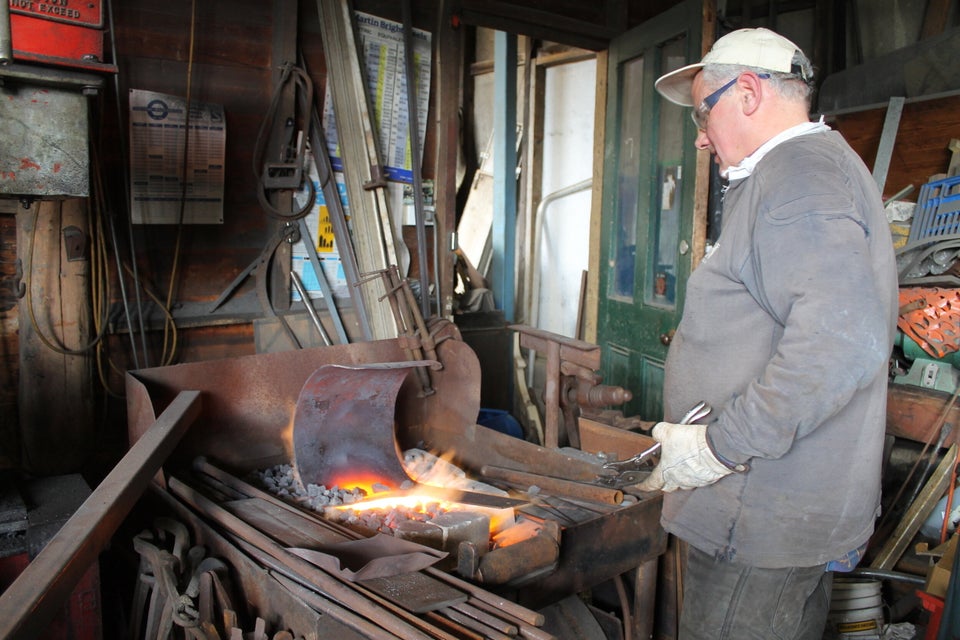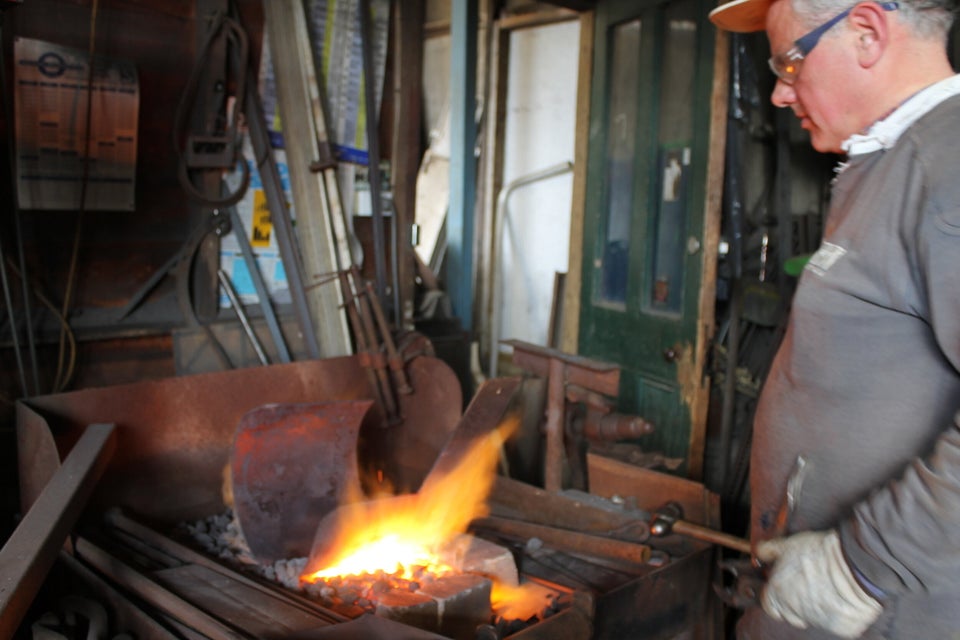 Turnbull has some new banners, but as we reported earlier, it is curious that they don't mention the word 'Liberal.' They also remind us of something we've seen before...
And, in a finishing touch on the big story of the day -- namely, the preference deals the Greens may or may not have made, or may or may not make at some point in the future, with the Liberal and/or Labor parties -- this from the consistently entertaining office of Senator David Leyonhjelm.