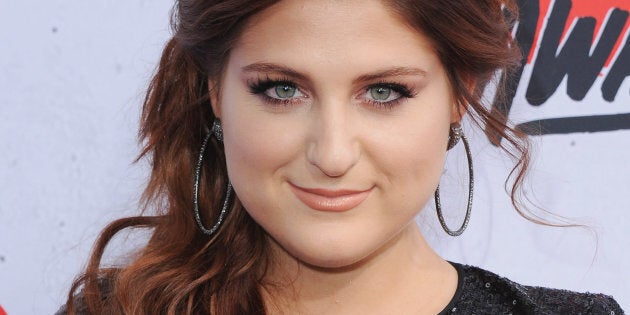 Meghan Trainor is all about that bass, no Photoshop.
You would think that an artist whose debut single directly challenged body-image norms would be spared from the music industry's skewed perceptions of beauty. But when Trainor's new music video for "Me Too" appeared online Monday, she immediately pulled it down, claiming that her waist was digitally altered without her knowledge to appear smaller.
"They Photoshopped the crap outta me," Trainor told her followers on Snapchat. "My waist is not that teeny, I had a bomb waist that night, I don't know why they didn't like my waist. I didn't approve that video and it went out to the world. So I'm embarrassed."
Trainor apologized to her fans for the incident on Snapchat and also added that she plans to take the video public soon. A new version of the music video could be released as early as Tuesday, according to USA Today.
"I told them to fix it ASAP Rocky because I will be going to Times Square to play it for my fans," she said. "I hope they fix it for me and I'm sorry about this."
The Best New Artist Grammy winner also noted the irony of her image being Photoshopped. "Why would they ever be like, 'Let's break her ribs!' It's insulting, it's rude," she told USA Today. "Especially because I'm the only artist who talks about it."
She later addressed the controversy on "Watch What Happens Live" on Monday night, flaunting her natural waistline with pride for host Andy Cohen and all those watching at home.