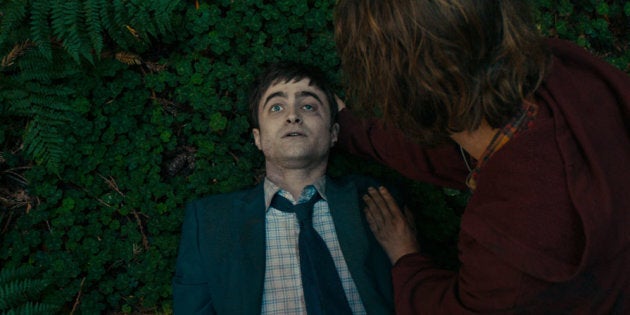 'Change your view, change your world' is the theme of this year's Sydney Film Festival, and audiences best be prepared to tackle some big thematic issues as well as to think outside the cinematic box.
The program, unveiled on Wednesday morning at Customs House in Circular Quay, encompasses 244 films from 60 countries (25 of which are world premieres) all to screen at a selection of Sydney venues throughout June.
The slate, if anything, can be described as diverse. As outlined by SFF director Nashen Moodley, key topics include the plight of refugees, the state of the environment, the international impact of extremist religion and the relationships individuals have with their governments and their sexuality.
Then there are films like 'Swiss Army Man'. An "off-the-wall absurdist existential comedy" from Daniel Scheinert and Daniel Kwan; 'Swiss Army Man' stars Paul Dano as a stranded castaway who rediscovers his will to survive after coming across a farting and occasionally conversational corpse (Daniel Radcliffe) with a sporadic erection which apparently works quite well as a compass.
So yes. As we said. Diverse.
The festival kicks off on 8 June, 2016, opening with the Aussie outback noir 'Goldstone' from acclaimed Indigenous writer-director Ivan Sen.
Starring Aaron Pedersen, Jacki Weaver, David Wenham and David Gulipilil (who will also appear in Damian Walshe-Howling's short film 'MESSiAH'), 'Goldstone' sees Pedersen reprise his role as Indigenous detective Jay Swan, first introduced to audiences in 2013's 'Mystery Road'.
The film joins 11 other features in competition for the Sydney Film Prize (and a cool $63,000) awarded by the Festival for "courageous, audacious and cutting-edge filmmaking".
The other titles screening in competition are new works from acclaimed directors: Boo Junfeng ('Apprentice'), Kleber Mendonça Filho ('Aquarius'), Kelly Reichardt ('Certain Women'), Brady Corbet ('The Childhood of a Leader'), Oliver Hermanus ('The Endless River'), Xavier Dolan ('It's Only the End of the World'), Martin Zandvliet ('Land of Mine'), Ivo M. Ferreira ('Letters From War'), Peter Middleton and James Spinney ('Notes on Blindness'), Anurag Kashyap ('Psycho Raman'), and Paddy Breathnach ('Viva').
Music lovers will be pleased to know the popular Sounds on Screen is back, and will continue to celebrate the stories of musicians and music through a selection of six films, including a turn from Tom Hiddleston as America's first country music superstar Hank Williams in 'I Saw the Light'.
This year's retrospective program will kick off with Essential Scorcese: Selected by David Stratton, which promises to deliver 10 of Scorcese's best works on the big screen, including 'Taxi Driver', 'Raging Bull', 'Goodfellas' and 'The Age of Innocence'.
Six Restorations will also give viewers the opportunity to see cinema classics "the way they were intended", including two Aussie films; the multi award winning 'Bliss' (1985) and 1998 thriller 'The Boys' based on nurse Anita Cobby's murder.
The Festival will also screen nine projects direct from the Cannes Film Festival, including Steven Spielberg's 'The BFG' and two films from the Cannes Official Selection; Singaporean Boo Junfeng's 'Apprentice' and American filmmaker Matt Ross's 'Captain Fantastic' starring Viggo Mortensen and Australian actor Nicholas Hamilton.
Those wanting to get a taste for modern Aussie cinema will have ample opportunity, with the world premieres of five Australian feature films and eight docos, not to mention dozens of other screenings taking place throughout a number of categories.
Some to look out for include Abe Forsythe's black comedy 'Down Under', set during the aftermath of the Cronulla riots, Craig Boreham's powerful queer drama 'Teenage Kicks', Sascha Ettinger Epstein's doco 'Destination Arnold', about two female Indigenous amateur bodybuilders, and the impressive debut feature 'Beast' from The Huffington Post Australia's very own Sam McKeith and his brother Tom.
The Sydney Film Festival will run from 8 - 19 June, 2016.