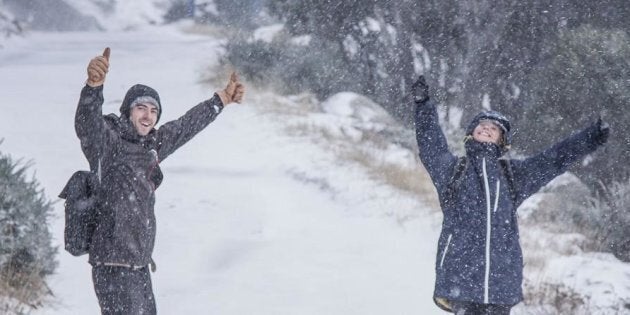 It snowed in Australia. Woohoo! After a really warm autumn, it actually snowed on the mainland after Tassie copped a dusting last week.
But the real snow job this Wednesday is the excitement pouring out of the public relations machine of Australian ski resorts.
Seriously, you'd think we just had the blizzard of the century out there. What actually happened is that the weather finally turned a little cooler after three straight days of torrential autumn rain in the Australian Alps, and a few flakes fell.
About 2 or 3 cm in all. That's about it.
But BE EXCITED! That's the message, people. Thredbo's media team was so excited, the guys and girls camped out overnight near the top station of the Kosciuszko Express chairlift. Dawn delivered the goodies.
Over at Thredbo's main NSW rival Perisher, the media team also dutifully observed the ski industry commandment that says "Thou shalt stand there throwing handfuls of snow in the air with great glee and mirth".
Victorian ski resorts got a bit of snow too. This video was shot at Falls Creek. For those wondering why a dog is allowed in the Alpine National Park, here is the resort's dog policy.
Resorts didn't miss the chance to link the overnight snowfalls to various deals for the upcoming ski season, which kicks off in both NSW and Victoria on June 11, the Saturday of the Queen's birthday long weekend.
Wednesday's meagre snow cover snow will likely melt within 24 hours. But for ski resorts, it's still valuable as it prompts people to think about winter -- and hopefully, book a ski holiday.
The Australian Alps usually receive several snowfalls over the autumn months, but this autumn has been much warmer than historical averages across the whole of south-eastern Australia, due partly to El Niño, but also due to the gradual worldwide warming of the climate.
The last three snow seasons in Australia have been pretty good, with peak depths well over a metre at the higher resorts. Whether season 2016 will be any good is a matter of pure speculation. But Tuesday night's snowfalls won't hurt optimism levels.