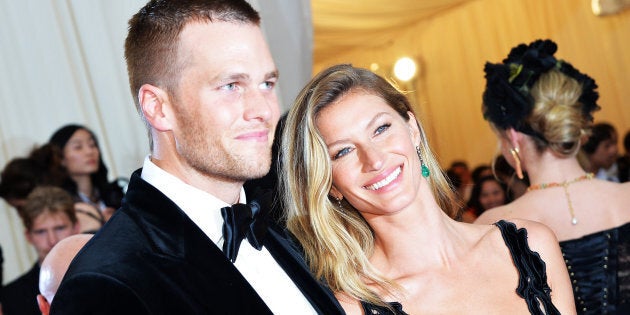 As if sleeping on a diamond-filled mattress weren't enough, Tom Brady now has an ultra-expensive cookbook under his belt, too.
The TB12 Nutrition Manual, a new recipe collection from the football star, is sold out online despite the fact that it costs a whopping $200, the Associated Press reports. The book is "another step toward achieving your peak performance," Brady told fans on his Facebook page.
It's well known that nobody eats quite like Tom Brady. Earlier this year, his personal chef explained the ridiculously strict diet of his celebrity client, which includes 80 percent vegetables and no sugar, fungus, or iodized salt.
Realists were quick to note that this diet is fairly unattainable for the average person, unless they, too, have access to a personal chef. But hey, its general guidelines may be a good place to start. Plus, the recipes in Brady's new manual -- Avocado Ice Cream and Sweet Potato Gnocci, for example -- seem like they have healthy doses of flavor and fun.
The TB12 Nutrition Manual is has a natural wood cover and "thick, 100-pound paper" inside (LOL). Though currently sold out, it will be available for order again in June.
In the meantime, we'll do some avocado art on our own... for free.