Following the official opening of Australian fashion week with the Matičevski runway show on Sunday, day two proved to be full of fabulous fashion (of course), and more air kissing and celeb spotting.
Though the crowds came to see Bella Hadid walk for Misha Collection, they had to wait until 3pm for the official show to start. In the meantime the likes of Ginger and Smart and Georgia Alice exhibited their wares (among others).
Check out our MBFWA coverage in chronological order of the shows, so you feel like you're right there with us (minus the sore feet).
The sister design duo founded the label back in 2002 and have solidly cemented their brand as a big Australian fashion player in the (almost) 15 years since.
Their resort 17 collection, titled 'Voyager', saw a well balanced mix of neutrals and bright colour, ultimately offering something for everyone in their diverse client base. Also, it looks like the 'sports luxe' trend is set to continue.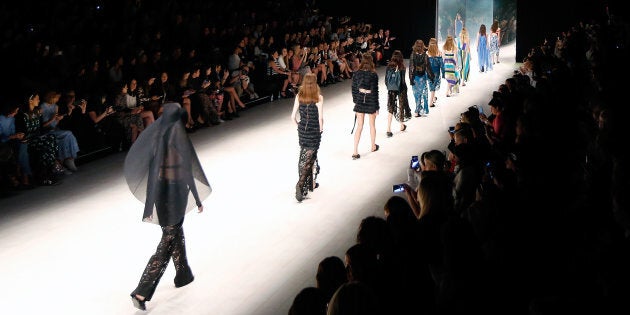 "Silhouettes are wrapped, folded and asymmetrically layered to create a sense of movement and altered perspective. A relaxed sport element is hinted at through hooded jackets, racing stripes and metallic elastics. A new line of swimwear in earthy shades of jade, rust, coco and French navy underpin the graphic silhouettes," the designers said of the collection.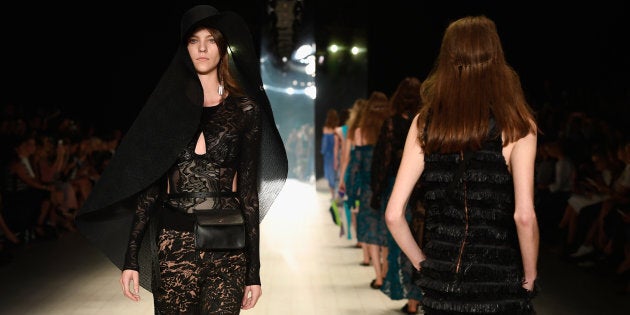 HuffPost Australia's picks are the huge oversized sunhat (perfect for warding off pigmentation, if not a little impractical), designed by milliner Jonathan Howard, and the comfy-yet-cool slides in a mix of neutral leathers and raffia. Oh, and the boxy leather overnight bags.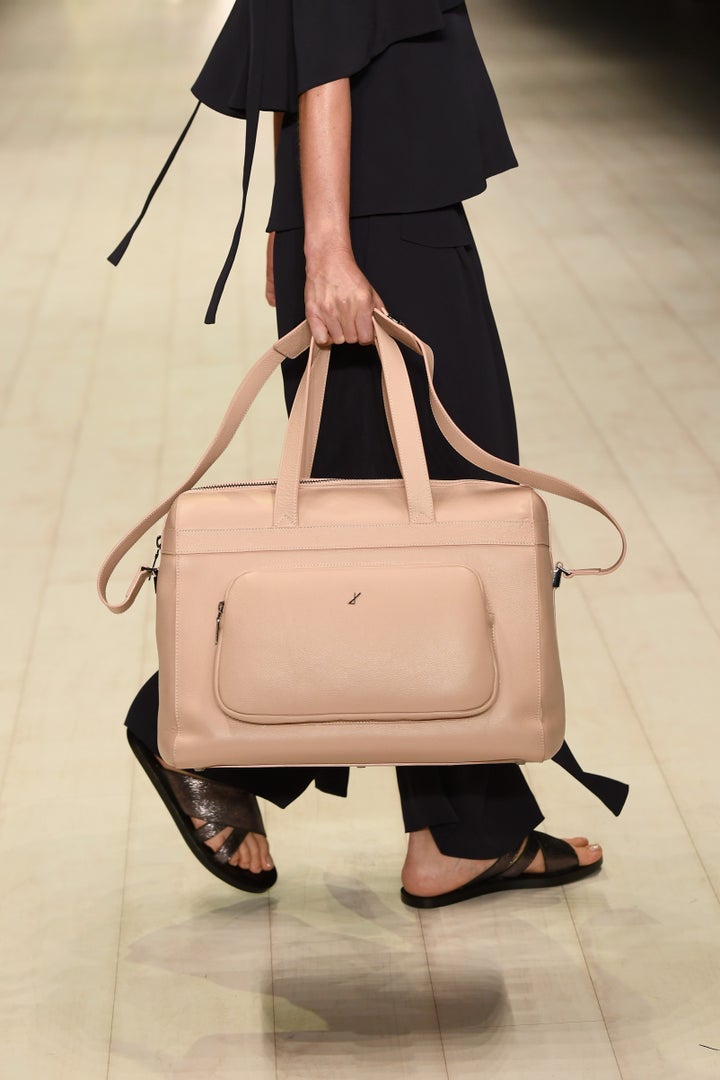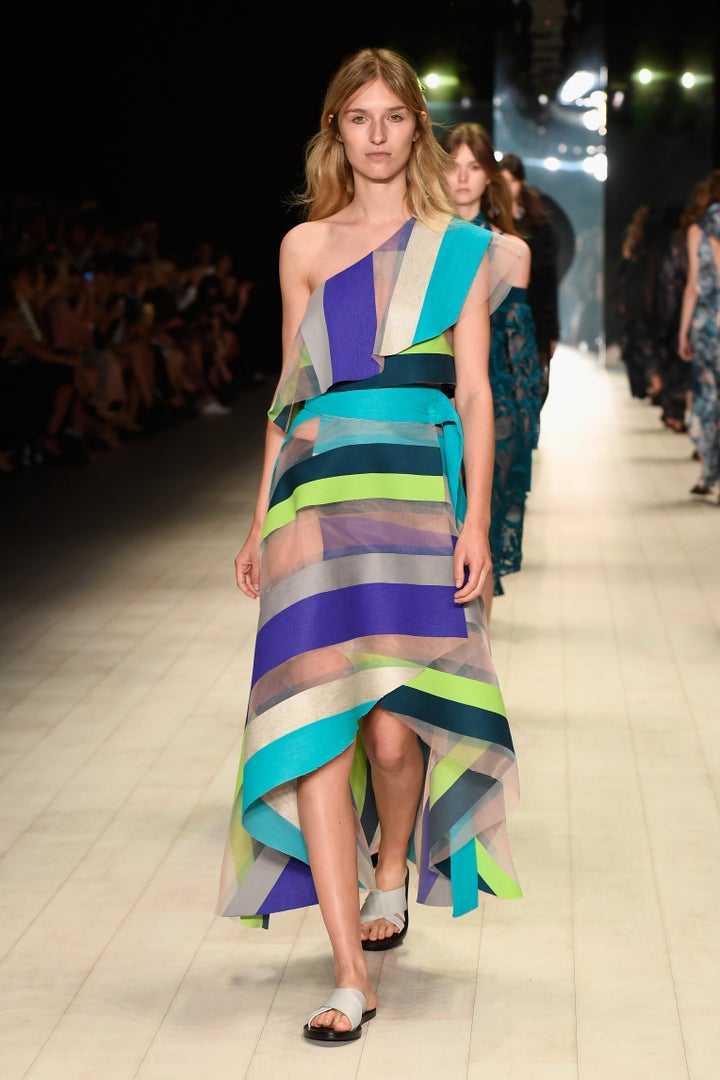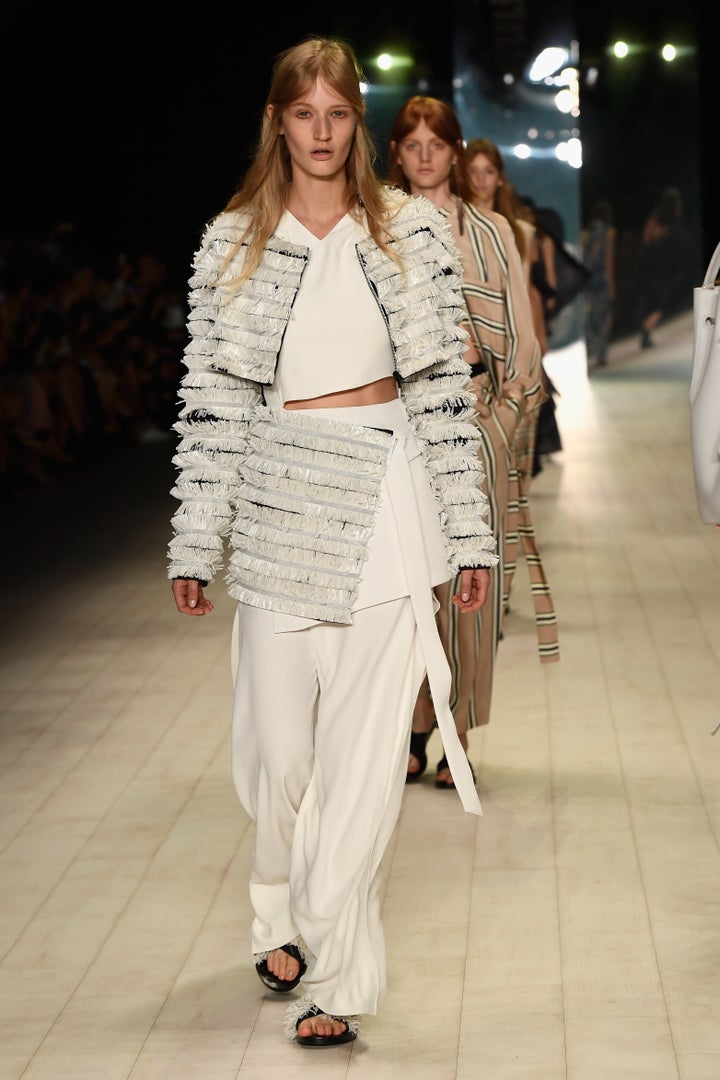 It was relative newcomer Georgia Alice's first Australian fashion week show after successful showings in Paris.
Started four years ago by founder and designer Georgia Currie (and worn previously by Aussie fashion icon Margaret Zang), the collection was predominantly black and white. Simple silhouettes with voluminous sleeves and cropped and off the shoulder tops (echoes of summer's big trend last season), the range is cleverly commercial while still being cool. Peculiarly, footwear was roman-style rubber sandals with velcro straps.
Sadly a production decision was made to not have all models walk for a finale. A shame as it's always beneficial to see the collection as a whole.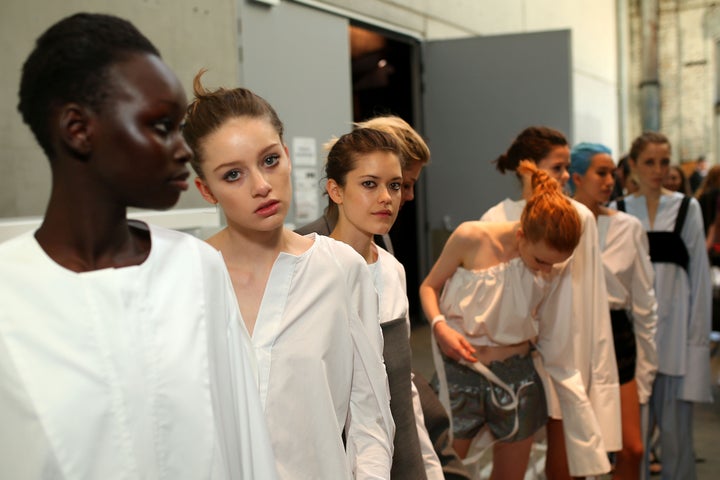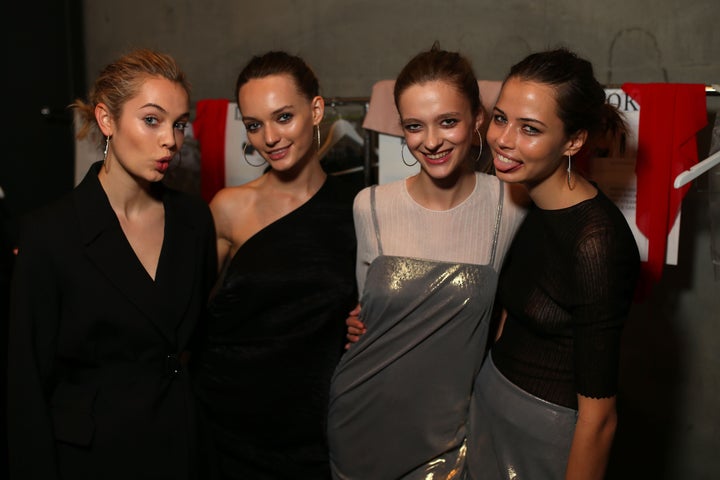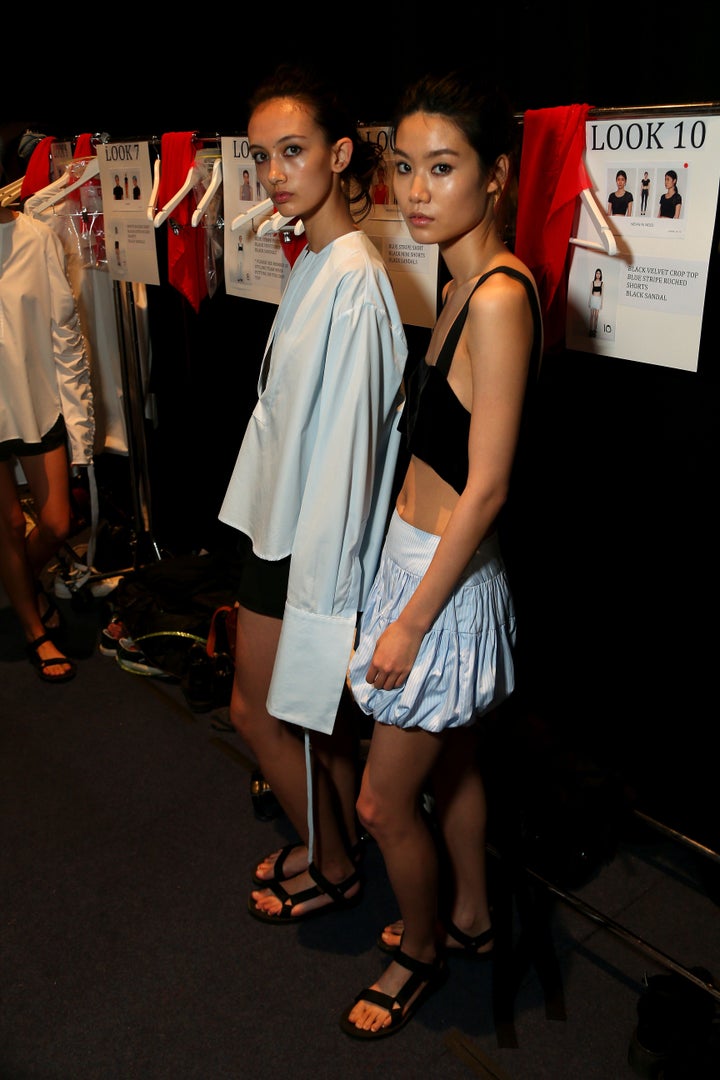 Prominent Australian stylist turned fashion designer Marina Afonina showed her second collection under her label Albus Lumen. Titled 'Resort 16', the new range channels European summer, 'drawing strength from detailed minimalism'.
Black and red-rust suede, beige linen and classic navy featured heavily, along with Afonina's becoming-signature fringed scarves. More leather roman-style sandals and slides at this show, so we're crossing fingers that flat shoes are as big next summer as they are right now in winter.
Misha Collection was without a doubt the most anticipated of the shows with founder Michelle Aznavorian bringing American model Bella Hadid out to Australia to walk for the brand. Sister to Gigi and girlfriend to hip hop musician The Weeknd, Hadid began modelling back in 2014 when she debuted at New York fashion week. In the two short years she covered the likes of Vogue, Glamour, Harper's Bazaar, Elle, GQ and W magazines. Not bad for 24 months work.
Launched only three years ago in a family garage, Misha Collection has enjoyed huge international success (worn by Kylie Jenner, Ariana Grande, Jennifer Lopez and The Kardashians) which is presumably down to it's affordable pricing (you're looking at an average of $380 for a dress which is a quarter or third of the price of many other Aussie designers).
The collection, a more luxe version of the label called 'Misha Gold - The New Edition', comprised of black lace, nude corsetry and form fitting feminine silhouettes.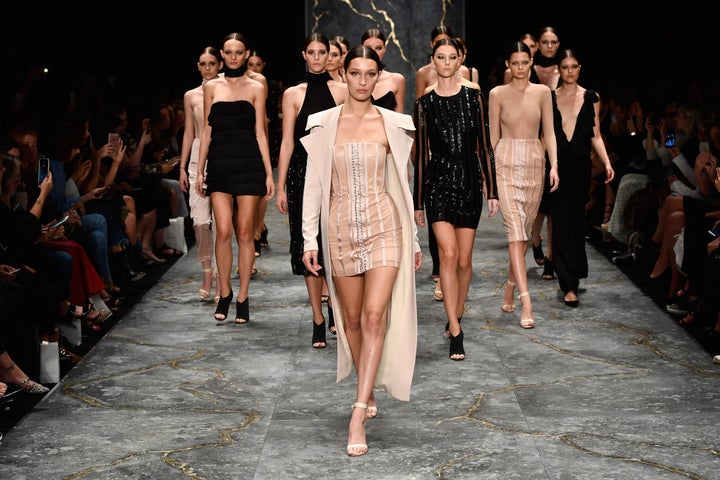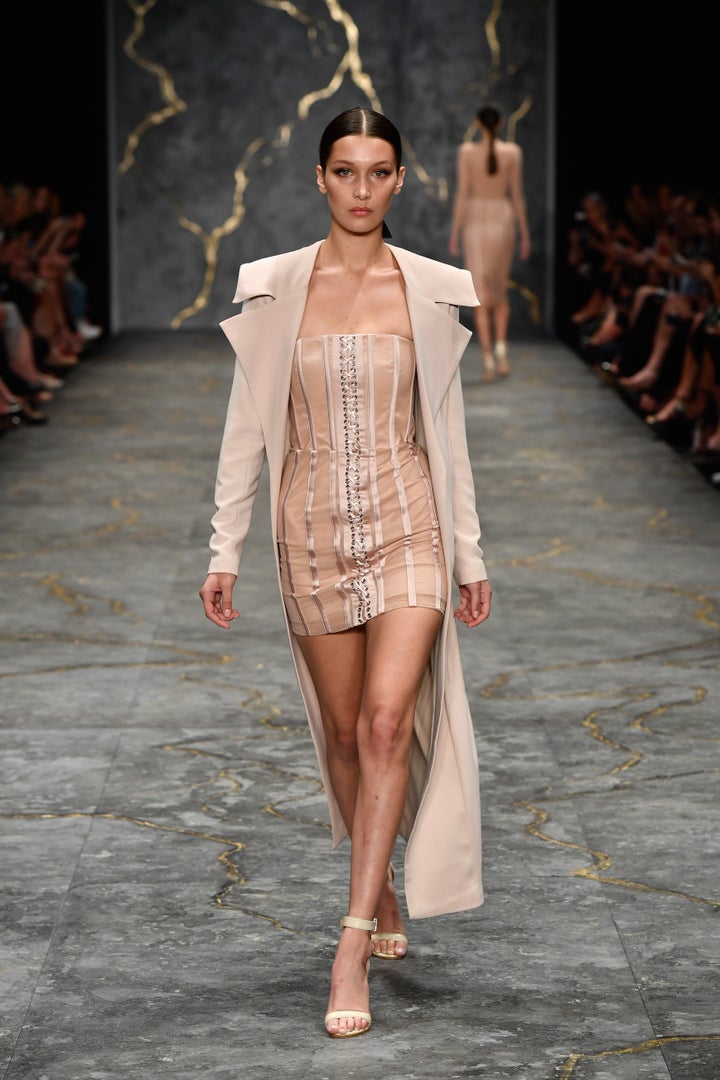 More black, white and yellow and more off the shoulder and bell sleeves at Rebecca Vallance.
A Sydneysider, Rebecca Vallance launched in 2011, showing her first collection in Paris. After showing on-schedule at New York fashion week in 2014 and again 2015, Vallance's threads have been worn by Sofia Vergara, Chrissy Teigen Rachel McAdams and Kate Beckinsale.
Her MBFWA 2016 collection featured ruffles, white lace, black leather and a really fun silver bomber jacket.
West Australian-based label Zhivago (meaning 'darling' in Russian) is co-designed by friends Lara Kovacevich and Lydia Tsvetnenko.
Launched in 2012 Perth Fashion Festival, the label made its MBFWA debut in 2013. Since then celebrities such as Lady Gaga, Katy Perry, Kendall and Kylie Jenner, Giuliana Rancic and Nicole Trunfio have all worn their wares.
Kicking off with a song and dance (literally), the show opened with a team of dancers and a singer taking the piss out of the superficiality of social media, basically (the irony of who were the majority of the crowd was not lost).
The fashion was bold, with lots of black (shock), royal and navy blue, as well as all spectrum of metallics in shimmering sequins and an interesting variety of sheer fabrics. Models wore crazy high stilettos with a cross for a heel, and fishing wire wrapped around their heads (maybe don't try that bit at home).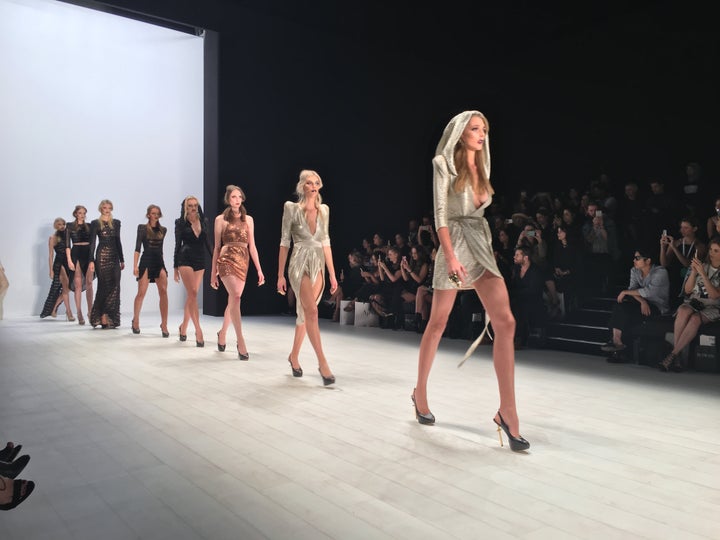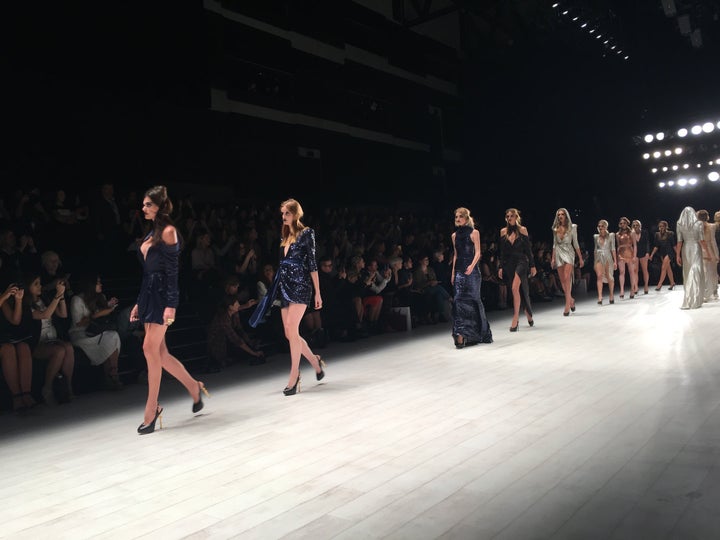 Stay tuned during the week as we update you live throughout the shows.