The dream is dead, long live the new dream. Jarryd Hayne has quit the NFL and will try to make the Rio Olympics with the Fiji sevens rugby team.
Hayne, 28, was an absolute superstar in Australia's National Rugby League. He was nicknamed the "Hayne Plane" for his trademark arms-outstretched try-scoring celebration, but the plane thing always seemed to have a second meaning. It implied his ability to lift his team along with him.
Twice, Hayne took teams that were going nowhere and carried them to glory, or near glory, through the sheer awesome power of his Jarryd Hayneishness.
The first was in 2009 when Parramatta Eels came from nowhere to eighth spot on the ladder, then from eighth spot on the playoff pile to a grand final berth.
Then in 2014, Jarryd Hayne snapped the famous eight-year Queensland State of Origin winning streak. The record books say it was NSW that won the series 2-1, but you can chalk it down to Jarryd Hayne. Take him out of that Blues team and they would have been nowhere.
Hayne the rugby league player was a scything runner, a noted tackle buster and a fearsome defender. Could he transfer some or all of these talents to America's NFL?
He could. Could he also develop quickly enough the tactical nous an NFL player needs? He could not.
The full story of Hayne's decision to quit the NFL overnight is yet to emerge. But you can bet someone tapped him on the shoulder and said something like "hey Jarryd, this thing's just not working out. We think you've got great skills but we need guys who really understand our game".
Hayne's declaration in 2014 of his intent to try his luck in the NFL came as a huge shock. He was earning the best part of a million bucks a year at the Eels, he'd bought his mum a house and he was a household name in the rugby league states. What more could a guy want?
To challenge himself. To see what else is out there and go "hey, I can do that too".
That's what made the Jarryd Hayne story so compelling and in many ways, a much more human story than your average sports yarn. In an aspirational age, people related to Hayne. Why be the best in Australia? Why not try to be the best in the world?
Hayne was the equivalent of the Home and Away star who cracked Hollywood and made it. Well, he made it for a while anyway. Or at least, from these shores it looked like he made it. His pre-season hit-outs with the 49ers in 2015 were incredible. The guy was quite literally the talk of the league for a couple of weeks there.
His form during the season proper? Not so good. Three fumbles and a whole lot of meh. Would he have improved this year? Definitely. Enough to contribute to a team which had the season from hell last year? Probably not.
"I am retiring from the NFL because the Fiji Rugby Sevens team reached out to me about the opportunity to join the team for the upcoming Olympics," Hayne said overnight in a statement.
"I simply could not pass that chance up. The Olympics has been something I have admired since I was a little boy, and it is an opportunity I feel very similar to me joining the NFL."
So will Hayne now make a difference for Fiji as it seeks to win its first ever Olympic medal in any sport?
That, too, is a difficult question. Hayne played four rugby league Tests for Fiji in 2008. Though born in Minto, an outer suburb of Sydney, his dad was born in Fiji, hence his eligibility for the island nation.
Fiji is good at rugby sevens. There's an international sevens league in which it regularly wins events and beats teams like Australia and New Zealand on the way. If Hayne had been playing the game for years, there's no doubt he would dominate. The guy really has amazing natural athletic talents.
But can he adjust quickly enough to another new sport with less than 90 days now till the Olympics? And even if he does adjust, will Fiji want him -- and the distraction he brings?
These are all questions for later on. For now, Hayne is out. The NFL dream is over. On balance, he probably didn't achieve as much as he would have liked. But he played eight games more than the rest of us ever will.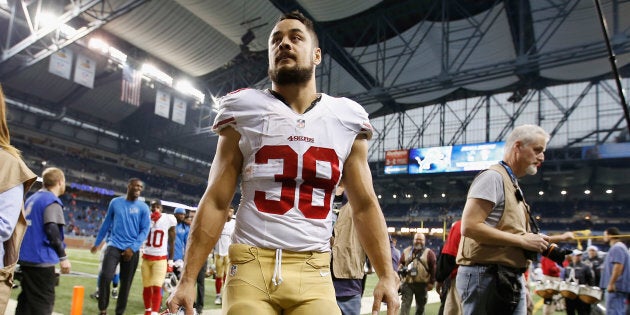 "The 49ers organization has been incredibly supportive throughout my journey and I cannot thank them and the support staff enough. I am especially grateful to the strength and conditioning coaches, trainers and medical staff, equipment guys, public relations crew, chefs, logistics, and merchandise staff for their countless hours helping me in many different ways, so I could focus on football," hayne said.
"Thank you to the fans from down under, as well as those around the world, who stood behind me and supported me along this amazing journey. I also want to thank the boys, especially my running back brothers, for their help and support in my transition to the NFL. I wish the team nothing but the best for the upcoming season.
"Last but not least, I would like to thank the 49ers Faithful for your unwavering support. From day one you have always been in my corner and I can't thank you enough for the love you've shown for the kid from down under. Signing off, your mate, number 38."