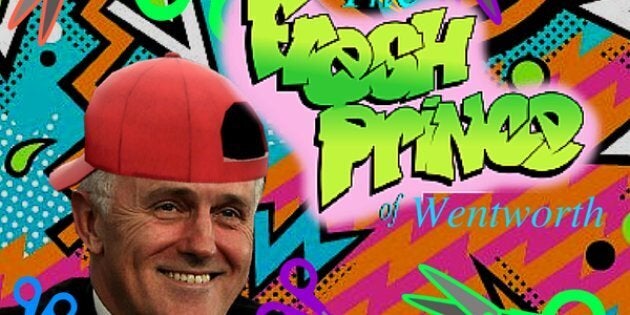 As journalists and politicians scramble to master the latest technology to shape federal election 2016, it is the humble internet meme that may prove to be a secret weapon of Australia's progressive factions.
While podcasts, Snapchat and Facebook Live become the latest fad as political types look to spread their message, certain corners of the Labor-leaning establishment are investing in their graphic design skills and social media teams, pushing out silly images with a serious policy undercurrent. Unions, political candidates and more are churning out memes poking fun at the government, often with intentionally bizarre and ridiculous concepts designed for maximum sharing or retweeting by confused or amused followers.
"Lots of unions are investing heavily in social media strategy, but we've taken dankness and totally doubled down on it," said George Simon, national strategy and communications director for the Australian Manufacturing Workers Union (AMWU).
('Dankness,' if you're not up with it, refers to a meme that is intentionally bad or bizarre; "an ironic expression used to mock online viral media and in-jokes that have exhausted their comedic value to the point of being trite or cliché," according to Know Your Meme. They know memes.)
The AMWU's Twitter account has become a haven for dank memes, according to Simon. The union has attracted attention online for their outlandish images, most of which mock Prime Minister Malcolm Turnbull.
"The idea around our Twitter is trying to find ways to cut through which are funny but with a serious message. The dankest of dankest memes," Simon told The Huffington Post Australia.
"It seems to be working. We've had a big growth in our Twitter following from people who we wouldn't have reached before, a younger audience who are becoming more difficult to talk to through our traditional means of talking. This is us delivering a message that is funny and has serious consequences."
The union's Twitter activity before April this year was largely limited to official union business and announcements, but things took a turn on April Fool's Day when they tweeted a joke about Turnbull. Since then, it has gotten weird. Moving from classic meme formats including the Willy Wonka "tell me more" and the Dos Equis man, their style moved to wild and colourful composite images. They now even tag journalists (including, on occasion, this reporter) and media organisations in their posts, seemingly in hope of a retweet or shout-out.
While Simon admitted reaction to the new strategy has been mixed -- "Just realised there's a 12 year old running the AMWU's twitter account," wrote political commentator Paula Matthewson on Monday -- he said the images had been shared not just by ordinary voters, but influential journalists and political types, which had boosted the reach of their messaging. He said the AMWU had 1.5 workers who spent the majority of their time crafting social media for the union.
"People keep criticising our Photoshop skills, but they just don't get it. We could create crisp, awesome images, but people are missing the joke here," Simon said.
"Nobody sits in the middle on dankness, you love it or hate it, but its starting some conversations and if that's the outcome, we're pleased."
Fellow industrial group the Australian Workers Union seems to have taken the strategy onboard too, putting together their own takes.
Keeping on the online silliness theme, AWU Queensland branch secretary Ben Swan told HuffPost Australia his union also registered 12 domain names for the government's new campaign slogan the 'Turnbull Coalition Team', after the PM's team failed to register the websites themselves. Sites including theturnbullcoalitionteam.com, theturnbullcoalitionteam.net and theturnbullcoalitionteam.org are now owned by the union, with Swan saying the AWU planned to populate the pages with anti-government information.
Labor candidate for Brisbane, Pat O'Neill, is getting into some dankness of his own. Brisbane is held by the Liberal Party with a 4.2 percent margin, but with current MP Teresa Gambaro retiring, and the Australian Electoral Commission classing it a marginal seat which would easily fall with a swing to Labor, O'Neill has a crack at wrestling the seat for his party.
O'Neill is getting into the meme game also.
'Shorten Suite,' the "Official Twitter Account of Bill Shorten's Media Unit" which seems to refer to Turnbull almost exclusively through the top hat emoji, is also getting in on the action.
As was the Young Labor organisation, which advertised for submissions to its "Meme Lord" competition in December 2015.
However, despite the primo content and the near-guarantee of retweets, these memes might not do the job that their creators hope. Con Stavros, associate professor of marketing at RMIT University, told HuffPost Australia that these images are, by definition, targeted at people who already support the organisations creating them -- meaning they likely won't necessarily translate into more votes, as supporters are already voting that way.
"A lot of that stuff ends up speaking to communities of like-minded individuals. If it's a union group, they're talking to their members. I suspect it doesn't have much of an impact. It might feel like you're contributing to the discussion, but it is likely going out to like-minded people, not the people who will decide the election, the marginal voters," he said.
"A bit like political rallies in the USA where they fill up aircraft hangers with cheering fans, you've already got these people on your side. You have to get stuff that cuts through to people who aren't already on your side. Here in Australia, it needs to be about targeting those people likely to change."
However, he did say that the instant reactions and easily assessable metrics -- whether positive or negative -- of social media mean that parties and interest groups can quickly know how their supporters feel about a certain topic.
"There's a lot of opportunity for these parties, they can see which issues are getting traction and hundreds of comments, compared to other ones. It allows you to be more data-driven, with more access to people, rather than calling up or doing surveys," Stavros said.
As early pioneers like the AMWU continue their strategy, expect others to cotton on and try it out for themselves. These won't be the last memes you see during #AusVotes2016.