Jarryd Hayne is now just another code-hopper. He's switched from reach-for-the sky-mode to take-whatever's-on-offer mode. This is no longer a story of a wild-eyed believer. It's a mercenary's tale.
When Jarryd Hayne was at his best in rugby league, no one was more exciting. Only Hayne could have lifted the unfancied Eels to the NRL grand final in 2009. Only Hayne could have snapped Queensland's eight-year State of Origin streak, as he did playing for the Blues in 2014.
The "Hayne Plane" nickname originated from Hayne's trademark arms-outstretched try celebration, but as we wrote yesterday, it always seemed to have a second meaning. It implied his ability to lift a team along with him. Hayne wasn't just good. He was inspirational.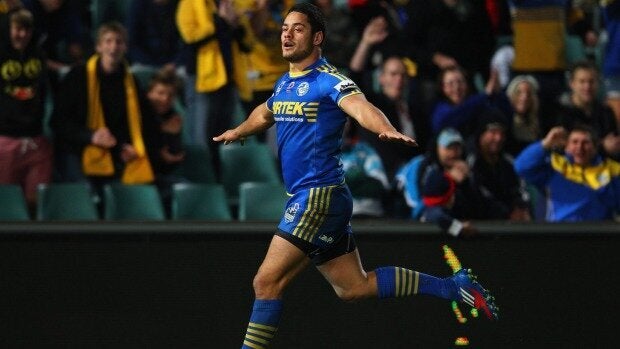 And there he sat, at the top of the heap of Australian sport. He'd played his way out of poverty, bought his mum a house, and was earning the best part of a million a year. He found God. Humility too. He was quite the package of a man.
But Jarryd Hayne yearned for more. Something inside him craved a greater challenge. In America's NFL, everyone dresses in lycra outfits like superheroes. Hayne wanted to be a superhero too.
And for a while there, he was. It might have only been the pre-season, but Jarryd Hayne became the talk of the NFL with his jinking runs and fends and hip-and-shoulder defensive hits.
While all this was going on, a strange phenomena engulfed the Australia. People started caring about everything Hayne and Hayne-related. Coach says this about Hayne. Retired NFL legend says that about Hayne. Hayne tweets thing. Hayne ties shoelaces.
We couldn't get enough of him. Any Jarryd Hayne story would inevitably be the most talked about story that day. Because Hayne was Australian aspirationalism writ large. Everywhere we turn these days, we are bombarded with the "dare to dream" and "be your best self" message. Hayne was the living embodiment of that.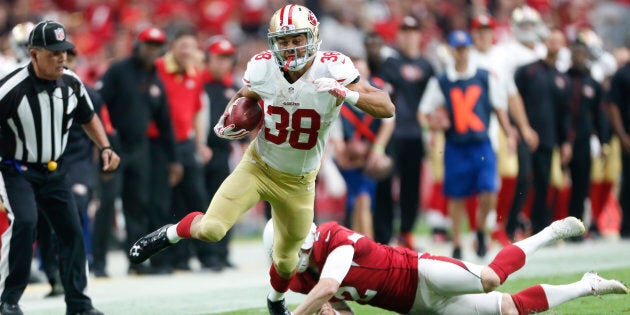 For sports fans, there was an added twist. Australian sports like Australian Rules football and the two rugby codes are much more off-the-cuff than the regimented world of NFL. Our sports are free-flowing and played largely on gut feel. American football is all about the playbook.
We sports fans wanted Hayne to triumph with his Aussie attitude the way Happy Gilmore triumphed by thumbing his nose at the way golf was supposed to be played. The underdog story is so much richer and more satisfying when it's an unorthodox underdog story.
Hayne was our Crocodile Runfree. "That's not a step, this is a step!"
But in the end, the playbook beat Hayne. The struggling San Francisco 49ers couldn't rely on a guy without a deep technical understanding of the game.
The physical side of things was a hurdle too. too. Earlier this year Hayne's personal team talked about "minimising useless movement" and "aligning his hip to his knee" and "running lower" and "not using his shoulder so much" and a bunch of other physiological gobbledygook that gave you a headache just reading.
Long story short, it was no failure of Hayne's that he never quite cut it in the NFL despite playing eight games. It was the accident of his Australian birth. Sometimes dreams aren't enough.
And now Hayne's trying to make it to Rio. There must be mixed emotions for the Fijians in the sevens rugby squad who are desperately hoping to win their country's first ever Olympic medal of any colour in any sport.
Hayne will tread lightly and say all the right things, but the circus has already started. An impromptu press conference was called in London this week at which Fiji sevens coach Ben Ryan talked about Hayne, then walked out.
On Monday the world thought Hayne wasn't eligible for Rio under a WADA drug rule, then woke up on Tuesday to discover he was.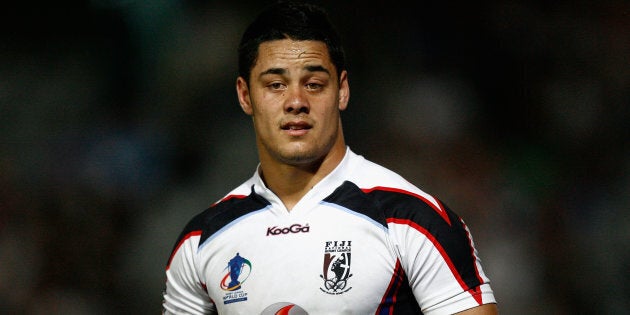 Meanwhile speculation rages about Hayne's post-Olympic future, Rio or no Rio. Does he return to rugby league? If so, to which club? There's also the story floating around this week of alleged off-the-record payments to Hayne totalling $500,000 when he was at the Eels. In light of the club's salary cap scandal, it's no small allegation.
"Us players have no idea what goes on behind closed doors," said Hayne in response.
This is a snapshot of where the Jarryd Hayne story is at now. Will he, won't he? Does he, doesn't he? Did he, didn't he? These were fascinating questions when Hayne was embarking on an impossible journey. Now they're just sporting spakfiller.
Jarryd Hayne has become unintriguing overnight. His switch to the NFL was inspirational, now it's "pass the pretzels". We wish him well. Who doesn't? But his story is now the tale of a 28-year-old deciding what to do with his life. Which let's face it, is basically every 28-year-old's story, and not a particularly interesting one.