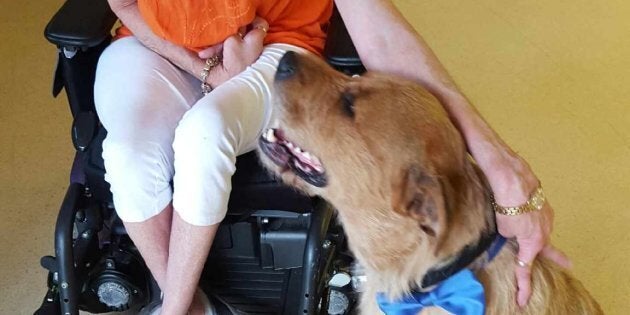 Judith Geppert is often woken up in the middle of the night, but she doesn't mind. Her canine companion, Teddy, just wants a pat. At six in the morning Teddy often wakes her up, too, staring at her wheelchair as if to say 'come on, let's get going'.
You see, Geppert finds it hard to make friends. She has cerebral palsy and lives at a disability care facility in Sydney's North called Venee Burges House. It's Teddy's home now too.
Teddy is the second dog from RSPCA NSW to undergo training allowing him to live as a companion at a care facility. And after two months trialling his new home, the Irish Wolfhound crossbreed will officially be handed over to Judith and the facility on Tuesday.
"We see it time and time again, people who may be reluctant to socialise and become isolated just light up when there is an animal in the room," RSPCA NSW CEO Steve Coleman told The Huffington Post Australia.
"Teddy was special from the start. He came to us as a stray named Rusty, but he was such a teddy bear we changed his name.
"He was a very smart dog from the get-go; he already walked nicely at our side without pulling, he knew how to drop, shake a paw and high five. He was such a quick learner so we knew he would be good to train."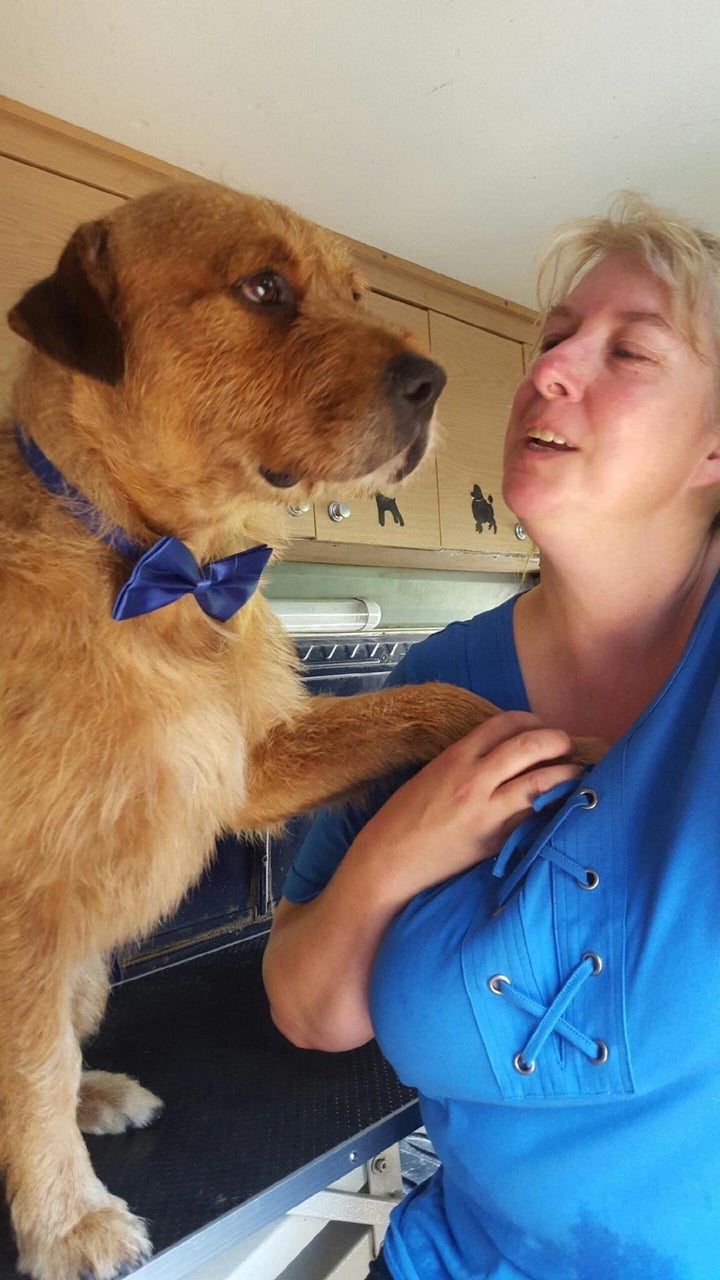 Teddy and Judith Geppert.
After Venee Burges House -- which is home to 32 residents -- lost Tyson, a dog who had been there for eight years, the facility's workers and residents were ready for another canine companion.
"I haven't got any family, so Teddy will be my whole family — just like Tyson was. His friendship means everything to me," Judith told The Huffington Post Australia.
"Because I have a disability, it's hard to make friends. But Teddy doesn't look at me any differently, he doesn't see anything wrong. He's my whole world."
The Irish Wolfhound crossbreed was trained by veteran dog trainer Steve Austin and is the only dog, minus his predecessor, to move from the shelter to a care facility with RSPCA NSW.
NSW Minister for Disability John Ajaka and local MP Brad Hazzard will welcome Teddy to the care facility on Tuesday.
"I know that Teddy will bring so much joy and happiness to Judith and the residents of Venee Burges House," Mr Ajaka said in a statement.
And it seems the feeling is mutual. Most days when Geppert comes home to the facility from a full day's work, she's greeted by the "biggest wag of the tail".
"Tyson understood everything so clearly; he could tell by the look on my face what sort of day I was having. And Teddy is picking that up very quickly," Geppert told HuffPost Australia.
"The joy of having a dog and the company and unconditional love cannot be compared to anything in this world."