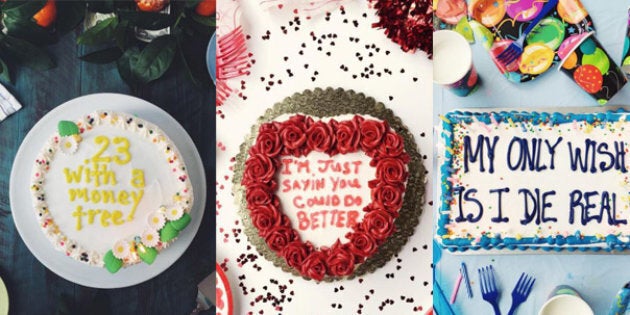 There are more than 8 million pictures under the hashtag 'food' on Instagram. Take into account that not that many people actually use said tag and it's safe to assume there's more than ten, maybe a hundred times that when it comes to pictures of people's meals on social media.
Frankly, it's kinda boring. If you've seen one birds eye view of a cappuccino, you've seen them all. Avo on toast? You're likely to see 10 shots of almost the same dish on your Sunday morning scroll.
That's why it's great to see people having fun with food. If you're going to post about it, make it interesting! Here, a selection of not-boring food related accounts.
Love Drizzy? Keen on cake? Then you need to follow Drake On Cake. A baker by the name of Joy takes Drake's lyrics and turns them into edible art by way of cake decoration. Why just listen when you can eat?
Those who enjoy their towels lined up perfectly at the bottom and everything facing forward in the pantry will enjoy this account. The UK based Grammer creates identical breakfasts for her and her boyfriend. Look close -- there's no mirror imagery going on here.
Food on a table is so 2015. Food in the air, as the name suggests, is pictures of meals floating on a well traveled hand with various holiday destinations in the background. So basically, it's travel and food inspo in one.
Holidaying in the Big Apple soon? This account documents all the best eats from around the city. Think of it as your own personal food tour of the five boroughs.
If you've jumped on the whole zucchini noodle train you need to follow this account. Who knew veggie noodles could be so versatile or even remotely interesting? Not us.
The name says it all. Pure (caffeinated) genius.
Run by Seattle-based woman Brittany Wright, it's her goal to teach herself how to cook with every ingredient. The result is stunning images of (often) one type of food on it's own. So pretty.