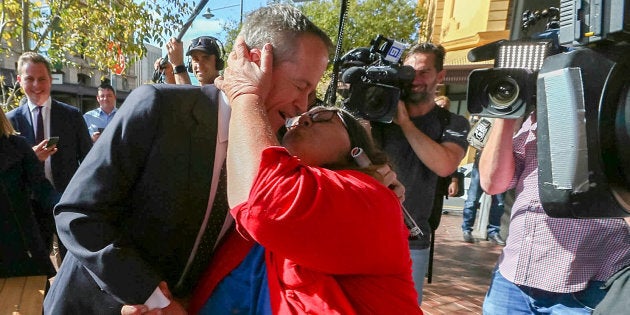 Election season means lots of shopping centre visits, picture opportunities and kissing babies, but it's not often the politicians are on the receiving end of the smooches.
Bill Shorten was caught off-guard on Tuesday as he wandered the streets of Adelaide, cameras in tow, as he spoke with local Margot Casey. The ABC reported she had earlier asked Shorten questions about public transport and people with disabilities, but she was in a much friendlier mood later as she pulled the Labor leader in for two extended kisses.
"Come on, give us a kiss and a cuddle for the cameras," she said, beckoning Shorten in for an embrace before quickly trying to plant one on his mouth.
As cameras flashed and photographers clamoured to get a better shot of the pash, a clearly embarrassed Shorten extricated himself.
"They need you playing for Collingwood," he joked, seemingly referencing her bear-hug tackle technique.
He then put his arm around her for a happy snap, before she pulled him in again, saying "come on, proper kiss," and got him again. Her delighted smile beamed.
"Good onya Margot," Shorten said, escaping before she could try for number three.