It was around the age of 14 that Gary Mehigan began to seriously consider a career in food.
"My granddad was a chef. I realised that he'd had a very happy and engaged life -- which makes real sense to me now -- he loved people and was always cooking beautiful things," Mehigan told The Huffington Post Australia, while reflecting on a photograph of his grandfather that George Calombaris has just reminded him of.
Gary and George are in Sydney on press duties for MasterChef and, after a late lunch at Balla are in their usual infectious spirits, finishing each other's sentences and talking about potatoes with the same kind of conviction teens have for new Snapchat filters.
It is not surprising, given these two men along with Matt Preston, the third "food nerd" that completes the trio, have been paramount in ensuring Australia's obsession with food -- whether potatoes or deconstructed desserts -- is much more than just a moment.
Their influence extends far beyond television ratings or daily foodstagrams, though the show, now in its eighth season is testimony to their unwavering success.
"The nice thing about our celebrity is that most people know us as George and Gary -- sure, they confuse us all the time which is ridiculous -- but they just treat us like their friend, and that response for us, really is second nature," Mehigan said.
Whether it's a hairy tradesman fleeing his building site for a quick selfie with "Gazza" (it's for his "missus", of course) or kids running up to say hello, the personalities you see on telly are exactly that in real life.
It's obvious both men place family above everything else, as we get to talking about sentimental culinary items.
For Gary, it's the photograph of his grandfather. For George, it's his grandmother's mortar and pestle that she brought over in her wooden chest from Cyprus in '58 ("I do weird things like go and smell it because it reminds me of her.").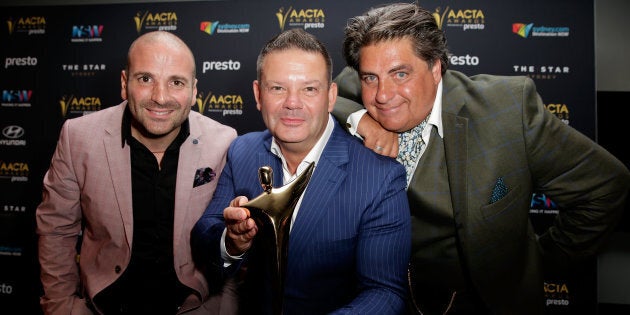 Like most high-profile television stars they've always been conscious of never looking too far into the future, though, as Calombaris points out, it might be time to a look at things more longer term.
"When we first started MasterChef it was filmed in Sydney. I had an apartment in Coogee which was great for the first few months -- we all just misbehaved and ate too much -- we'd finish on set and say 'right, where are we going for dinner?'," Mehigan said.
Fast-forward almost a decade and MasterChef remains (now with a hefty pool of advertisers and supermarket sponsors), though it is just one part of their respective self-made empires.
Calombaris heads up his beloved Press Club along with a myriad of other establishments, while authoring cook books, appearances and drawing up plans for a new Greek barbecue restaurant in Sydney (we can expect it by the year's end).
Between all of that, there's "kindy" drop-offs for his son, James, who unlike his younger daughter, Michaela, is not a big eater. Though when it comes to the business side of things, James, although only five, has things sorted.
Poh will ring me up and she'll tell me what she's up to -- she's just opened a cake shop in Adelaide's Central Market -- what's lovely about that is she hasn't forgotten her past and is sharing her experience with the rest of the world.
"I chatted with him just before, he was on his way to his grandparents' place and was busting to go to the toilet. He knows that Hellenic [Calombaris' restaurant] is on the way and told his mother to stop there -- so he can go to 'daddy's special toilet' -- it's the disabled toilet. I'll get a call from him soon telling me everything's OK there, 'toilet's clean and there's no paper on the ground, dad'," Calombaris told HuffPost Australia.
Sharing in with their career doesn't stop at family, either.
"Each year, we make new friends and colleagues in the contestants. They'll ring up for advice or text to catch up, and then suddenly we won't hear from them because they are just doing their own thing, most of them working in the food industry," Mehigan said.
George adds: "Poh will ring me up and she'll tell me what she's up to -- she's just opened a cake shop in Adelaide's Central Market -- what's lovely about that is she hasn't forgotten her past and is sharing her experience with the rest of the world. That's the power of this incredible show."
"Working and playing" is how Mehigan, who co-owns Melbourne's The Boathouse restaurant as well as hosting his own foodie travel series explains his day-to-day: "There's always something to look at. If you're getting a quick bite to eat with a glass of wine it might be the olive oil, the bread -- the apron the waiter is wearing -- or the floorboards."
"It's nice to go to work with people who love food as much as you do. To be surrounded by people like that everyday is really lovely. I drive along sometimes and see people at bus stops, or sitting in their car and I wonder what they must do. I feel very lucky," Mehigan said.
And if it was all to disappear tomorrow?
Just as he saw with his grandfather, if there's beautiful food and people, happiness is a given.
"I'd travel and eat for the rest of my life. That's just perfect."
MasterChef airs Sunday To Thursday, 7.30pm on TEN.