Most European press outlets are calling this a "scuffle", which a cynic might construe as their way of downplaying this violent fan outburst at the Europa League final in Basel, Switzerland, in which Sevilla beat Liverpool 3-1. Watch the video and decide for yourself.
Looks like a proper brawl to us. Scuffle is too weak a phrase. It suggests pushing and shoving and perhaps a face slap or two between a handful of participants. But as you can see in the video above, this was a case of full-on punches thrown by combatants too numerous to count.
At worst, a melee or fracas. But to our eyes, a definite brawl.
The official website of the Europa League, which is run by European football's governing body UEFA, makes no mention of the brawl in its extensive match coverage. That, despite a mission statement which states:
"UEFA's mission is to promote, protect and develop European football at every level of the game, to promote the principles of unity and solidarity, and to deal with all questions relating to European football."
This sure looks like a "question relating to European football".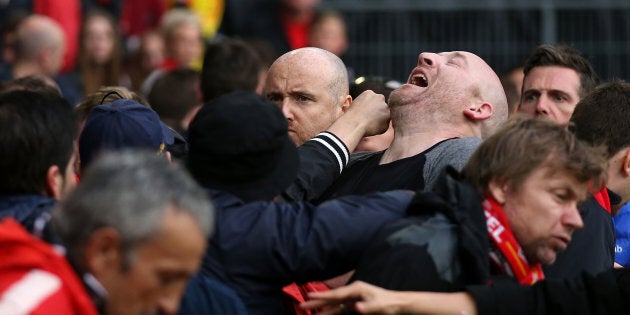 This was a bloody bad look for one of European football's big ticket events. The Europa League is a league for clubs which have finished high in their country's domestic leagues (but not high enough to qualify for the more prestigious Champions League).
Sevilla has won the last two Europa League finals, and made it three straight with three second half goals after being 1-0 down at halftime.
Liverpool's goal was lovely. Oh, that sweet, sweet curve.
But Sevilla's three were sweeter, especially for Sevilla fans.
But the overall taste from this match was sour, especially for true football fans everywhere who hate to see the sort of violence which erupted while players were practising on the pitch before the final.
The trouble occurred behind the Liverpool goal, where rival supporters were not segregated (as is usually the case) because Sevilla had sold only 7,000 of its 9,000 ticket allocation.
Riot police moved in, and to their credit, fans elsewhere in the St Jacob Park Stadium voiced their condemnation by booing.