Beards: warm, effortless and good for the environment? You bet.
Just ask James Stanton-Cooke who, for the past two years has used his beard to start a conversation about conservation by challenging the men of Australia to let their facial hair run wild throughout winter, and raise funds to plant trees across the country.
"I'm not a fan of razor blades -- it hurts me and it hurts the environment -- and I've always found my own beard has been a good way into an important subject," Stanton-Cooke told The Huffington Post Australia.
Founded in 2014 by Stanton-Cooke and his partner, Jessica Clarke, BeardsOn is a 90-day campaign beginning June 1, which encourages men and women "to get a beard on" with every $2 donated going towards a native tree planted in public green spaces like schools, councils and community projects.
When they first started they planted 1000 trees, the year following, 10,000 and the target this year? One million.
Quite a jump, but this year they've got a new tactic: get the New South Wales premier, Mike Baird on board.
"We're not too impressed with the amount of deforestation he's allowed to engage in so we're putting the challenge on him and hoping he can get a beard on and prove us wrong," Stanton-Cooke said.
There hasn't yet been a response from Baird's office, though it didn't stop Stanton-Cooke from going as far as creating placards of different beard styles he believes would suit Mr Baird.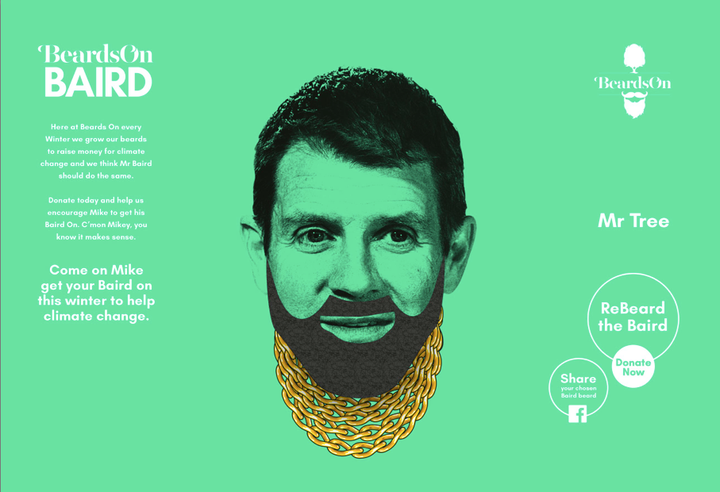 They are calling for Mike Baird to get his "baird" on.
"The idea was to say if you can't grow a beard -- you know, being the premier and all -- instead we'll put the money we raise to him and see if he can match it," Stanton-Cooke said.
The target is set at $50,000.
Both Stanton-Cooke and Clarke believe women are key to the campaign.
"We encourage them to tell their boyfriends, partner of brother to 'man up' to the challenge and obviously they can make a donation, too.
"Alternatively, if a female has a man in her life who's had a beard for some time, we ask that they make a fundraising target which, if reached, means he has to lose the beard."
This was the case for Stanton-Cooke, who reached his target of $10,000 and shaved off his beard of eight years last year.
The duo, both teachers who moonlight as passionate activists said the idea of future generations growing up unable to see wildlife or live on a safe planet is frankly terrifying.
Basically, it's one million more trees we wouldn't have had if we didn't start this.
"Climate change is a challenge, just like maybe growing a beard could be a challenge for some, but it's something we very much need to overcome," Stanton-Cooke said.
Being part of the solution and making an impact is key for the campaign.
"Basically, it's one million more trees we wouldn't have had if we didn't start this."
"We've got to think big at the moment. It's just about being a responsible human for climate change," Stanton-Cooke said.