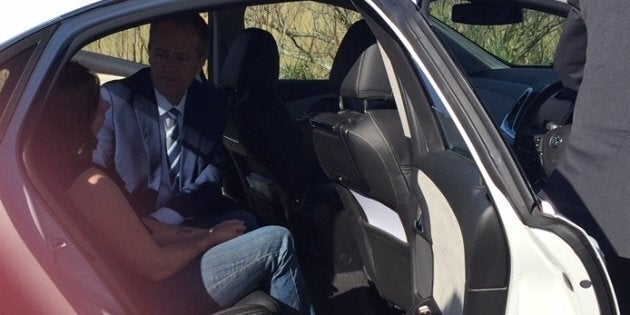 Bill Shorten has been snapped comforting the victim of a car crash, after his convoy was caught up in the mayhem of a head-on collision near Newcastle.
Shorten's schedule for the day was thrown way off when his travelling party was stuck behind a crash at Testers Hollow, near Newcastle on the NSW central coast. The opposition leader's convoy was reportedly pulling to the side of the road to hold a press conference, when his car was overtaken by another vehicle.
"The passing vehicle was then involved in a head-on collision," the ABC reported.
A woman in her 20s was trapped in her vehicle for a short time and suffered minor injuries in the crash, Ambulance NSW reported, while another woman and her child escaped.
As emergency crews worked to free the trapped woman, the other woman and her child were taken to Shorten's car to recover and rest.
The Newcastle Herald reported Shorten's car left the scene just before 2pm, with other media reporting the woman and her child had been taken from the scene in his vehicle.