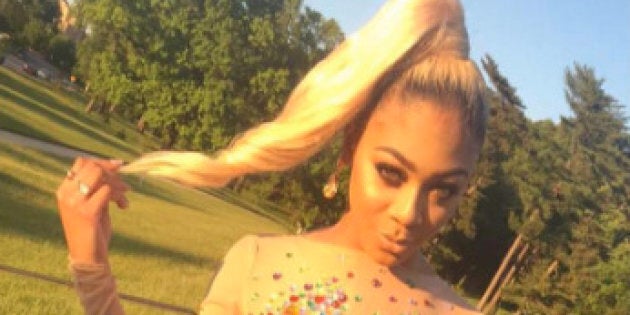 Prom has never looked so good.
India Ross, an 18-year-old high school senior in St. Louis, Missouri, changed the prom game forever when she stepped out in a Beyoncé-inspired dress last weekend. Ross' dress channeled Queen Bey's 2015 Met Gala gown by Givenchy Haute Couture, which was bejeweled with multicolored gems.
"When I gave my designer my money, I said, 'Can you make me feel like I'm Beyoncé?' And that's what she did," Ross told Cosmopolitan.
She nailed the look, side ponytail and all.
"Mesh material with over 2,000 hand-placed crystals was used to create my dress," Ross, who's reportedly set to double major in fashion business and fashion merchandising at Columbia College Chicago in the fall, told Us Weekly of the $800 custom creation. "I had a local designer, Toi Hall, create it with the assistance of her brother."
Ross said she and her date felt just like a certain famous couple.
"My date and I felt like Beyoncé and Jay-Z," she told BuzzFeed. "It wasn't prom, it felt like we were at the Grammys, everyone slayed."
No doubt Beyoncé would be proud.