Becoming a parent for the first time is surely one the most daunting things a person can go through. Wonderful, absolutely, but daunting all the same.
Not only are there changes to deal with emotionally, physically, socially and financially; there's also a whole new world to navigate and it seems every other parent has a manual except you.
(Un)luckily, you can expect those parents to share their knowledge (at times aggressively) which can actually unleash a whole new host of insecurities to deal with. And when it comes to baby gear, these are the sorts of decisions that are going to cost you money, so it's not like you can give something a whirl for a week or so before deciding what's best for you and your baby.
So when it comes to preparing for your first baby, what do you actually need?
The Essentials
"In terms of a hierarchy of importance, a good car seat is number one," Jamie Grayson, also known as The Baby Guy NYC, told The Huffington Post Australia.
"I'm a CPST [Child Passenger Safety Technician] in America so I deal with car seats all the time, and it's interesting because even though the manufacturers are the same here, the actual products are really different," he said.
"Generally, you want to look at weight and height restrictions, in particular, two things in the mechanics.
"The first is the shape of the base and how narrow it is. You can get car seats with really wide bases, and they don't actually fit in a variety of automobiles. You want to make sure the base is fairly narrow so it fits.
"You then want to look at the front-to-back depth of the car seat because most of the time you need to have an inch between the car seat and the automobile seat. So if your car seat is too big and you are in a small car, it doesn't work."
Grayson also recommends rear-facing car seats, even though in Australia it's legal to have a forward facing seat from six months of age.
"Even though you can legally do it at six months, it doesn't mean it's best practice," he said.
"I think it's wise to invest in a really good stroller, but [the type you get] can vary depending on where you live and how much walking you do as opposed to how much time you spend in your car," Grayson said.
"A lot of people think they are saving a lot of money by getting a cheaper stroller, but if you are going to push it around the city all day, it's going to fall apart and then you will have to buy a second or a third stroller down the track.
"If you invest in the beginning, then later down the road, you can re-sell your Bugaboo or whatever it is for almost full price."
"A really good baby carrier is important," Grayson said. "I am a huge advocate of baby carrying. It makes such a difference, to have two hands free, and you're not having to lug strollers around or on on public transit.
"In terms of brands, I would have to say there is no such thing as a 'best' one. You have to find something that fits you properly and that's comfortable and that your baby is comfortable in.
"People think all these carriers out there can lead to hip dysplasia and scoliosis but there is not data to back that up. There's also no data to back up that your Baby Bjorn is going to give your baby testicular infections like everyone says.
"My rule, when it comes to baby carriers, if the wearer is comfy, and the baby is comfortable, and you are following the manufacturer instructions, then you are fine."
A lot of people buy a really expensive crib. I mean if you can, great, but you should really be putting your money into the mattress, because at the end of the day your kid is not actually sleeping on the wood.
"Sleeping environments are pretty important, especially when it comes to mattresses," Grayson said.
"You want a really nice organic mattress or something that's as non-toxic as you can possibly get.
"A lot of people buy a really expensive crib. I mean if you can, great, but you should really be putting your money into the mattress, because at the end of the day your kid is not actually sleeping on the wood."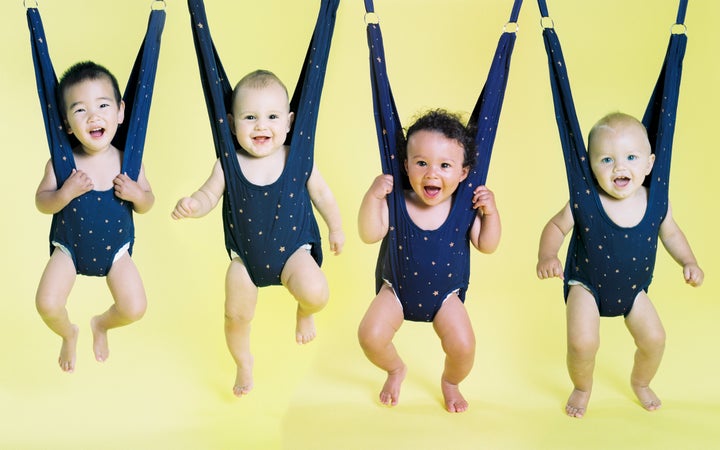 Desirables
"If you can invest in a better bouncer, that's only a good thing," Grayson told HuffPost Australia.
"My favourite one is the BABYBJÖRN Balance. There are three different angles in the seat, so as the kid gets older, you can prop it up more.
"You can also fold it up and store it, which not all bouncers do."
A high quality high chair
"You can obviously get high chairs at any price point, and you can can do just as well with a cheaper one. But, if you can afford it, I'd recommend spending a bit more money on a nicer high chair.
"My favourite high chair is the Stokke, it's nice. It's more expensive, but so much nicer than a flimsy plastic highchair, and it lasts for ages."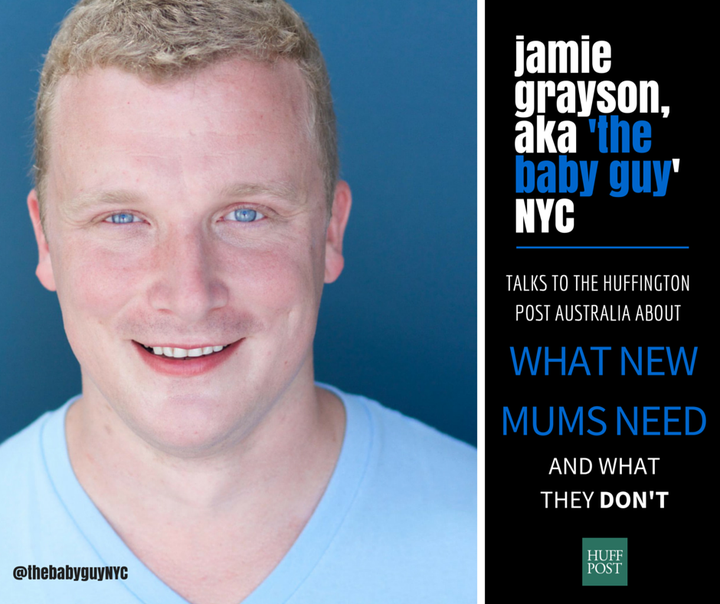 Things you don't need (but people will say you do)
"In all seriousness, diaper bags are just full of things to keep poop," Grayson said. "Get a bag that's easy to clean.
"Get a pack that's light in colour so you can see what's in it. Don't get a bag that's a black pit. You can always get a nice handbag later on.
"A lot of people buy these expensive expensive diaper bags and in reality they are filthy and full of food crumbs."
"Wipe warmers are a joke. They are little devices you can put your baby wipes in to warm them up, so the baby doesn't have to feel the cold.
"Then of course you go out in public and use a cold baby wipe anyway.
"It's completely stupid."
Bottle sterilisers and warmers
"We do not need these at all," Grayson said. "If you do not live in a third world country, you do not need to worry about sterilising your bottles.
"At the beginning, when you bring them home from the store, you can always just put them in a pot of boiling water, then you're done.
"Bottle warmers you don't need, either. I mean you don't want to microwave your bottles but you can always just use a pot of hot water."
Jamie Grayson is currently in Australia as a guest of Love to Dream.